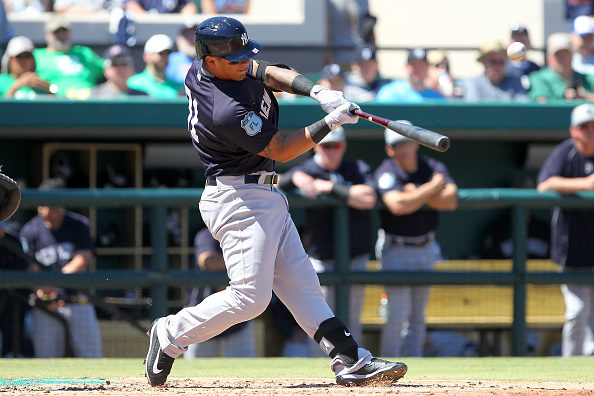 The New York Yankees farm system went through a complete rebuild last season. They made trades with the Cubs and Indians to pick up some of the top prospects in baseball. Here are the Top 5 Prospects in the Yankees farm system.
Top 5 New York Yankees Prospects
Jorge Mateo was sent to the Yankees as a part of the Aroldis Chapman deal with the Cubs.  He is a natural shortstop, but being blocked by Gleyber Torres, he has been moved to second base. Mateo is one of the fastest runners in baseball right now. Once he is on base his presence is felt. In 2015, he stole a minor league leading 82 bases. He has some solid raw power and will hit for a decent average. He also has some serious arm strength. Mateo will fit in as a solid top of the order guy.
Aaron Judge got a hint of time with the big league club last season. In 27 games he hit .179 with 4 home runs and 10 RBI's. Judge has some incredible raw power. At 6'7″, 275 pounds, Judge is a massive human being. He has average speed and plus arm strength. For Judge to stick around longer, he is going to need to take more of an advanced approach at the plate and hit for a little more average while not taking away from his power.
Blake Rutherford was the Yankees first round pick in the 2017 MLB draft. Last season in rookie ball, he hit .351 with 3 home runs. His smooth left handed swing is very quick through the ball. He is a line drive hitter but as he develops more he will channel his raw power. Rutherford came in as a centerfielder, however with his arm strength and speed he is expected to move to one of the corners.
Clint Frazier was acquired by the Yankees from the Indians as part of the Andrew Miller trade. Frazier has lightning quick bat speed and raw power. He has developed more of an advanced approach at the plate, becoming more disciplined. Clint has above average speed and arm strength in the outfield. Clint Frazier will be a key piece of the Yankees rebuilding of their outfield.
Gleyber Torres is one of the top prospects in all of baseball and the top shortstop prospect. He, like Mateo, was acquired by the Yankees from the Cubs as part of the Aroldis Chapman trade. Torres has some incredibly quick hands both at the plate and in the field. He has the ability to hit to all fields and has a terrific approach at the plate. Last season he became the youngest MVP in the Arizona Fall League, hitting to an average of .403. Torres has the ability to be an elite shortstop for a long time.
Main Photo: