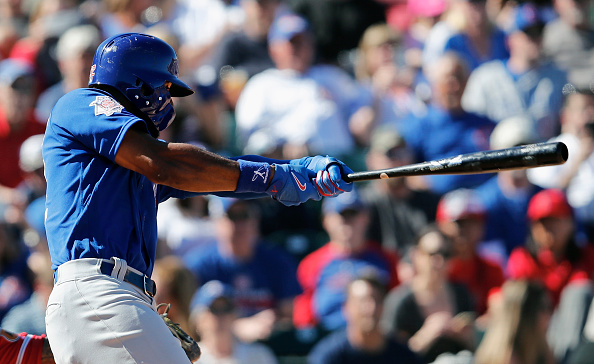 The Situation in the Cubs Center Field
Last season the Cubs had one of the more talented and skilled center fielders in the league in Dexter Fowler. He is gone now moved onto the Cardinals signing a contract for 5 years making $82.5 million. So, the question becomes who will be the everyday starter in Center Fielder? The Cubs have multiple options to choose from such as- Jason Heyward, Albert Almora Jr, and Jon Jay. All the options to choose from I would say Heyward is the best fit for Center even though he isn't a center fielder. He has the leadership skills and athleticism in order to play great defense.
Options 
Albert Almora Jr 
Albert Almora Jr is clearly a very good young talent for the Cubs to have playing the outfield. He has shown he has good range and heads-up defensive abilities, which really make him an appealing option for center. One play many will remember was against the Giants in Game 3 of the NLDS. Giants Catcher Buster Posey lined a ball that was dropping very fast. Almora showed his great range with a beautiful diving catch. He also had the the defensive awareness to double-up the man at first. The only drawback to him playing in center is his inexperience. Center field runs the entire outfield which requires a great amount of leadership skills. At his age, and how long he has been in the league, he should be playing a corner outfielder position.
Jon Jay
Coming over from the San Diego Padres, Jon Jay agreed with the Cubs on a one-year $8 million contract. Coming into his seventh season, Jon Jay is a proven center fielder playing on championship teams. The Cubs should feel comfortable with having him as the starting center fielder, especially since he is productive at the plate. Like Almora, Jon Jay has good range and heads up defensive abilities. The only difference is his experience and how long he has been playing. Jay is most likely going to play a platoon role for either right field or center, assuming Schwarber plays left.
Jason Heyward 
Jason Heyward is most likely to be the opening day center fielder, and for a couple reasons. Heyward is most definitely the Cubs best outfielder defensively and is one of the more veteran players on the team. He has amazing leadership skills, not dissimilar to Anthony Rizzo. For instance, consider Game 7 of the World Series during the rain delay. Heyward called a team meeting into the weight room. Raising everyone's emotions and confidence, he was able to help get the job done. Also note his range factor being 1.69, and among the highest of outfielders in the league. While also posting a .991 FPCT, it shows that he has consistency and the ability to make plays most people cant make. Bank on Jason Heyward and only Jason Heyward starting in center field.
https://youtu.be/ffo8ycmOrjY
Main image credit: