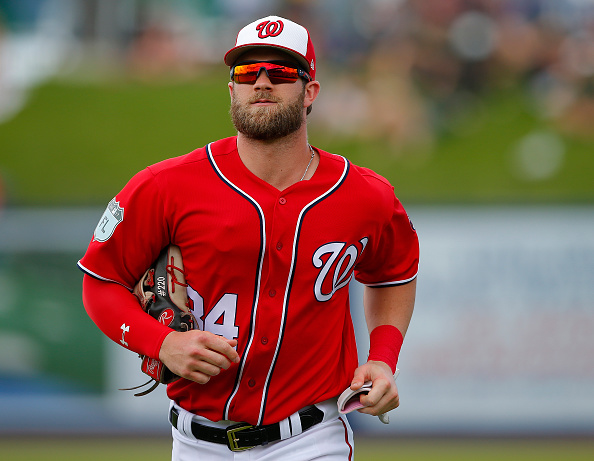 The NL East may only be a two-team race next season. However, the three other teams are still very talented ball clubs. Here are five reasons to be excited about the NL East this season.
Five Reasons To Be Excited About the NL East
5 The Phillies Young and Talented Rotation
Aaron Nola, Jerad Eickhoff, Zack Eflin, Vincent Velazquez. These could be four potential members of the Phillies' rotation this season. Nola is easily the top pitcher of this group. Velazquez showed some huge upside last season. The Phillies will not be a very good ball club this season, however you may see some positives things from this young rotation.
4 Giancarlo Stanton
Stanton is a powerhouse at the plate, there is no denying that. All he does is hit mammoth home runs. In fact last season he hit the longest home run of the 2016 season. He continued that this spring as he destroyed a baseball last week in the World Baseball Classic. He has hit 20+ long balls in every year he's been in the league. Is this the year he stays healthy and has his first 40 home run season of his career?
3 The Up and Coming Braves
The Atlanta Braves have been slowly but steadily climbing their way into a respectable ball club. With Freddie Freeman, Matt Kemp, and Brandon Phillips in the middle of that lineup the Braves are looking in the right direction. Shortstop Dansby Swanson is a favorite to win NL Rookie of the Year and the combination of Swanson and Phillips up the middle should be fun to watch. Atlanta's No. 2 prospect, Ozzie Albies, is also very quickly approaching his debut. The Braves will sure be fun to watch this year.
2 A "Comeback" Year from Bryce Harper
Harper struggled during the 2016 season. Despite hitting 24 home runs, he only hit to an average of .243. Coming off an NL MVP in 2015, Teams pitched around Harper a lot last season and it seemed to get into his head. At 24 years old, Harper looks primed for a huge bounce back season in 2017. 
1 New York Mets rotation
The New York Mets could have the bets rotation in baseball, if they could stay healthy. At some point in the 2017 season, the Mets are expected to have Noah Syndergaard, Jacob deGrom, Matt Harvey, Steven Matz, and Zack Wheeler all in the same starting rotation. 
Main image credit: