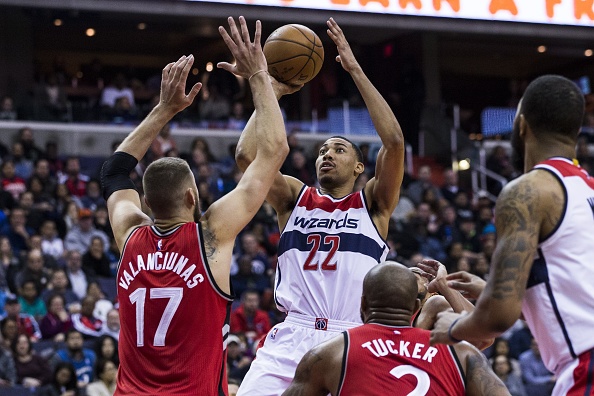 Many NBA players struggle to get the recognition they rightfully deserve, most often as a result of the team one plays for. On-air time doesn't always equate to getting the attention. Case in point: The New York Knicks. The lowly Knicks dominate the national TV schedule in spite of being one of the worst teams in the NBA year after year.  On the other hand, the Memphis Grizzlies are a perennial playoff team that doesn't get the exposure they deserve.  The players that get exposure but aren't good are overrated and the players that don't get exposure and are good are underrated.
Here I will discuss who I believe to be the most underrated players in the NBA and why fans should keep an eye on them.
The Five Most Underrated NBA Players
5. Seth Curry (SG, Dallas Mavericks) 
Seth Curry has probably had to live in his brother's shadow his entire life.  A few years ago I attended a Duke versus Virginia Tech basketball game where he was relentlessly heckled at the free throw line.   As he was preparing to knock down a pair of free throws the VT fans would chant "THIRD BEST CURRY!" over and over again.  As it turns out the third best curry is still pretty darn good.  After doing his time in the D-league and getting waived from numerous pro teams Curry has been balling out as a member of the Dallas Mavericks.  Over his last 10 games Curry is averaging 16.4 ppg 3.5 apg and 3.0 rpg as the Mavs continue their push for the eighth seed in the playoffs.
Why is it that Clint Capela's name never comes up when debating the top centers in the league?   Sure Capela relies on superstar James Harden for the majority of his points but his ability to finish at the rim is underappreciated.  He is currently sitting at second in the league in field goal percentage at 64.7% which is very impressive.  Capela fits the bill of the modern NBA center who can catch lobs, block shots, and run the floor.  If he can improve upon his free throw shooting that would really take his game to the next level.  Capela figures to be a major factor for the Rockets as they continue to establish themselves as one of the elite teams in the NBA.
3. Mike Conley (PG, Memphis Grizzlies)
When Mike Conley signed a five year, $153 million dollar deal this past offseason many NBA fans couldn't believe their eyes.  What were the Grizzlies thinking investing in a point guard who has never made the all-star team?  Although Conley might be a tad bit overpaid he is playing the best basketball of his career.  He has really embraced his role as a scorer and is averaging a career best 19.6 ppg while shooting 44.7% from the field and 41.1% from three.  He also plays excellent defense which is very hard to find in today's generation of point guards.  With so many elite guards in today's NBA it is easy to forget about how good Conley has been this season.
With all of this hype surrounding Kristaps Porzingis and Joel Embiid many people have forgotten about the greatness of Nikola Jokic.  That's right I said greatness and the numbers don't lie.  Over his last 10 games Jokic is averaging a monstrous 16.5 ppg, 6.3 apg, and 12.9 rpg.  Yesterday he recorded his third triple double of the season which is good for fourth most in the NBA!  What makes Jokic truly special is his incredible passing ability and soft touch.  He throws darts out of the post to cutters and shooters on top of finishing anything remotely near the basket.  Jokic is easily the best player on this young Nuggets team and is the reason why they are the favorite to land the eighth spot in the Western Conference.
1. Otto Porter (SF, Washington Wizards) 
The 2013 NBA draft was truly a mixed bag.  While there were duds like Anthony Bennett, Michael Carter-Williams, and Ben McLemore.  There were also studs like C.J. McCollum, Rudy Gobert, and of course Giannis Antetokounmpo.  Since being drafted, Porter's production had been inconsistent and I often wondered which bin he would eventually end up in.  Make no mistake about it Otto Porter is a stud.  He has made tremendous strides on offense starting with his three point shooting.  Porter is leading the NBA in three point field goal percentage making a blistering 45.7% of his threes this season.  He has established himself as the perfect third wheel behind John Wall and Bradley Beal with his multidimensional play.  At only 23 years of age Porter has plenty of room to grow and should be talked about as one of the premier small forwards in the NBA.
Main Photo: