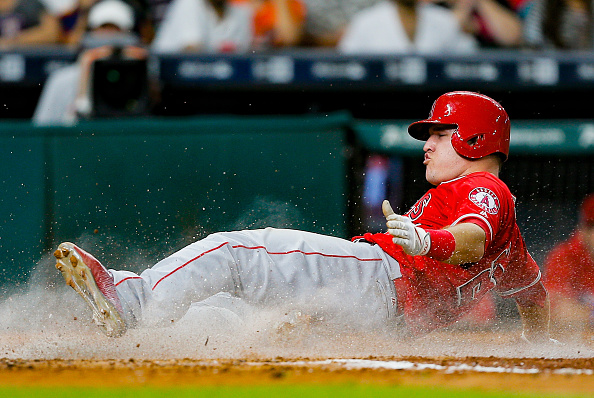 Defensively, centerfielders are one of the most important players on the field. They have to cover the most ground in the outfield. Offensively, they are usually solid all-around athletes. Here are the top center fielders in the MLB today. 
Top Center Fielders in MLB
10. Adam Eaton
The Nationals gave up a ton for Adam Eaton. Did they get their money's worth? Only time will tell. Eaton is a career .284 hitter and is coming off a season in which he finished 19th in AL MVP voting. You aren't going to see much in the power department from Eaton, however he gets on base, a lot. The past three seasons he has 25+ doubles and 145+ hits. Eaton may be the on-base guy the Nationals need to hit in front of Murphy and Harper.  
9. Dexter Fowler
Fowler is coming off a season in which he helped lead the Cubs to a World Series title. He hit leadoff in the Cubs young and powerful lineup. In 125 games, he hit .276 with 13 home runs, 25 doubles, 13 stolen bases, and 48 RBI's. Fowler signed with the St. Louis Cardinals this offseason. He is expected to hit leadoff to begin the season in St. Louis. 
8. Andrew McCutchen
McCutchen is one this list due to his name. Yes he had a down year last season, however he still has it in him to return to his MVP form of 2013. In 153 games last season, the center fielder hit .256 with 24 HR's and 79 RBI's. Late in the season the outfielder got hot as in the month of September he hit to an average of .324 while slugging .559. Two seasons ago, Cutch did hit to an average of .314 with 25 HR's, so it is likely the down year last season was due to injury. 
7. George Springer
The Connecticut kid has had trouble staying on the field in the first two season of his brief career. Last season, he was Mr. Invincible and appeared in all 162 games. He finished the season with an average of .261 with 29 doubles, 29 home runs, and 82 RBI's. He finished with the fourth highest amounts of times on base with 267. Springer was one of the best right fielders in the game, and he will be moving his talents over to center this season. Springer will be a huge part of the young and talented Houston Astros offense. 
6. Christian Yelich
Yelich is one of the brightest young outfielders in todays game. In each of the past three seasons, he has finished with 30 or more doubles. Last season he hit to an average of .298 and had a career high 21 home runs, 72 RBI's, and 172 hits. He own his first career Silver Slugger award and finished 19th in NL MVP voting. Yelich is mainly known for his ability to get on base, however his uptick in the power department is a tremendous sign for the Marlins. 
5. Lorenzo Cain
Cain broke out his offensive potential in 2014 when he hit .301 and stole 28 bases. Since then he hasn't looked back. In 2015, he finished 3rd in AL MVP voting after hitting .307 with 16 home runs, 72 RBI's, and 28 stolen bases. Bothered by an injury last season, Cain only appeared in 103 games. He still hit to an average of .287 with 9 home runs, 56 RBI's, and 14 stolen bases. Cain should have a bounce back year in a his contract year.
4. Adam Jones
Jones is still getting done at 32 years old. He is a five time AL All-Star, a four time Gold Glover, a one time Silver Slugger, and has finished in the top 15 in AL MVP voting three times. Jones still gets it done in the power department, as in his last eight season he has 19+ home runs. Last season he recorded an average of .265 with 164 hits, 19 doubles, 29 home runs, and 83 RBI's. 
3. A.J. Pollock
Pollock missed most of last season due to a wrist injury. In 2015, he broke through, being named to the NL All-Star team, finishing 14th in NL MVP voting, and winning his first career Gold Glove. He finished 2015 with the 8th highest WAR in the National League (7.4), the 2nd most hits in the NL (192), the 8th most extra base hits (65), and the most putouts in centerfield (347). Pollock showed some outstanding potential in 2015, and should have success in the future. 
2. Charlie Blackmon
Blackmon had a breakout year coming off the bench in 2013 for the Rockies, and has been a star since then. In his first full season as a starter in 2014, he hit .288 with 19 home urns and was named to the All-Star team. Last season, Blackmon broke threw after only scratching the surface in 2014 and 2015. He was awarded his first career Silver Slugger and finished 26th in NL MVP voting. In 143 games, he he hit .324 with 35 doubles, 29 home runs, 82 RBI's, and 17 stolen bases. Blackmon has some terrific home/road splits so his numbers are not just Coors Field aided. 
1. Mike Trout
Mike Trout is hands down the best athlete in the sport of baseball, oh yeah and he is only 25 years old. He won the AL Rookie of the Year in 2012, and is a two time AL MVP. In all five full seasons he has played in the majors, he has won a Silver Slugger and been named to the All-Star team. He was led the league in wins above replacement five times and runs scored four times. Trout is a career .306 hitter with 168 home runs and 497 RBI's. Trout is on pace to put up numbers up there with some of the greatest to ever play the game of baseball. 
Main image credit: