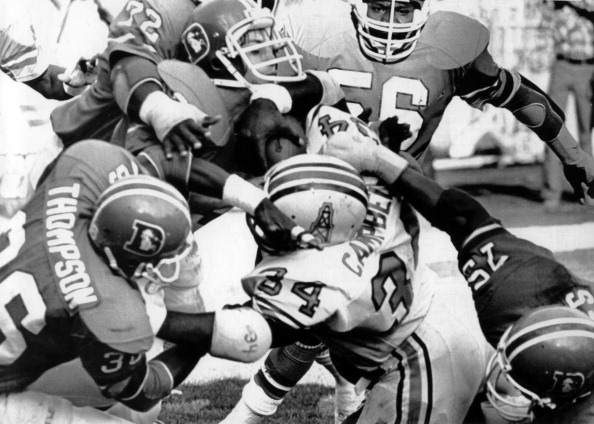 It's fourth down and you are down by four points.  You have the ball on the one and you have one play to put the ball in the end zone.  To which running back throughout history do you want to hand the ball?  There were a lot of great NFL running backs that were not great short-yardage backs—Barry Sanders and Emmitt Smith come to mind.  Here are my picks for the greatest short-yardage backs in NFL history.
The Five Best Short-Yardage Backs of All Time
5. Bo Jackson
When most people think about Bo Jackson, they think about the incredible breakaway runs.  They often forget that Bo knows running between the tackles, too.  Jackson was a big, strong running back that just happened to have speed to burn.  If you don't think that Jackson was a load to bring down, ask Brian Bosworth.  On fourth and one, I am very comfortable handing the ball to Bo.
4. Larry Csonka
Larry Csonka is not often mentioned among the greatest running backs of all time.  For starters, he was a fullback instead of a halfback, which is a far less glamorous position.  Secondly, he jumped to the WFL which cost him a year of his prime.  However, Csonka was one of the toughest backs in his era.  He averaged 4.5 yards per carry during his years with the Dolphins with most of those carries being right into the heart of the defense.  Csonka was a primetime short-yardage back.
3. Christian Okoye
The Nigerian Nightmare was to be the prototype for the new NFL running back in late 1980s.  Standing just over 6 feet and weighing more than 250 pounds, Okoye looked more like a linebacker than he did a running back.  Unfortunately, the Chiefs running back was plagued with injuries for most of his career, mostly due to his running style which was best described as 'smash mouth'.  In the end, Steve Atwater finished Okoye psychologically.  In his prime, Okoye was an awesome short-yardage back.
2. John Riggins
Riggins was among the toughest running backs to bring down during the 1970s and early 1980s.  Riggins enjoyed most of his success while in Washington, running behind the famed Hogs offensive line.  The Washington offense often just bludgeoned teams into submissions with a healthy dose of the Counter Trey, pulling offensive linemen, and John Riggins slamming into the defense time and time again.  His yards per carry average was a pedestrian 3.9 yards per carry, but Riggins had a nose for the endzone, scoring 104 Touchdowns during his career.
And the greatest short yardage back of all time
1. Earl Campbell
To this day, Earl Campbell is the most violent running back that I have ever seen. Campbell attacked the defense, often initiating contact with the defender instead of trying to avoid it.  During his time with the Houston Oilers, Campbell became an All-Pro running back for three consecutive years with the highest point being the 1980 season during which Campbell ran for 1,934 yards.  In a short-yardage situation, there is no back that I would rather have than Earl Campbell.
Main image credit: