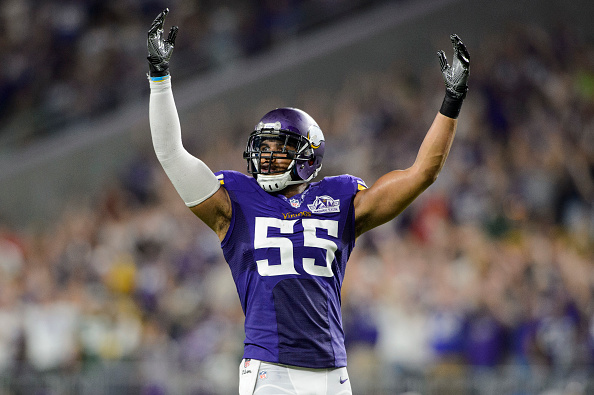 Over the years, the NFL has become more of an offensive league. However, there are still a number of teams that build around a tough and talented defense—just look at the Arizona Cardinals and Seattle Seahawks. A solid defense builds itself around a good, strong linebacking core, and outside linebackers are some of the most athletic, quickest, toughest and hardest-hitting athletes on the field. Recently I broke down the top 3-4 OLB's.
Top 4-3 Outside Linebackers in Today's NFL
#10 Telvin Smith
Smith is a freak athlete who is still very raw and has room to develop. He grabs your attention with splashy plays. The Florida State product has shown some very good eyes, anticipation, and that he trusts his instincts. He often arrives behind the line of scrimmage before the ball carrier sees him. Smith recorded 118 tackles, one sack, two interceptions, eight pass deflections, and 14 run stuffs this season.
#9 DeAndre Levy
If not for injuries, Levy could be one of the top OLB's in this league. He averages 135 tackles and 7 interceptions over his last two full seasons. This season, he recorded only 21 tackles in five games. Physical at the line, Levy takes on tight ends on the edge.  
#8 Malcolm Smith
Despite winning a Super Bowl MVP, Smith is still one of the most underrated OLB's in the league. Almost never on the sidelines, Smith is always in the middle of the Raiders defense. Throughout his career, he has shown tremendous skills in coverage and an ability to rush the passer. He recorded 103 tackles, two forced fumbles, one interception, and three pass deflections in his first season leading the Raiders' defense.
#7 Sean Lee
When healthy, Lee is one of the most consistent OLB's in the league. He is the heart of the Dallas Cowboys defense. Lee plays on pure instincts, he reads plays quickly, fills the lane, and takes quality angles to the ball carrier. This season he recorded a career high 145 tackles, 13 run stuffs, and was named PFF's First Team All-Pro.
#6 Mark Barron
Barron is a very talented OLB but has shown much room for improvement. He has improved significantly since moving to linebacker. He uses his size and natural abilities to make plays. This season he recorded 118 tackles, one sack, two interceptions, eight pass deflections, and six run stuffs. 
#5 KJ Wright
Wright is a pure instinct athlete. It is nearly impossible to move him in the run game. Nobody covers more ground faster in coverage underneath than K.J., and he is a huge part of the much talented Seahawks defense. He recorded 126 tackles, 4 sacks, 5 pass deflections, 10 run stuffs, and was named PFF's Second Team All-Pro this past season.
#4 Lavonte David
Lavonte has received comparisons to Panthers star LB Luke Keuchly. Thus far he has had an up and down start to his career. One issue he has had is his size. He recorded 87 tackles, 5 sacks, 4 forced fumbles, 2 fumble recoveries, 1 interception, 1 defensive touchdown, and 4 pass deflections this season. Since his rookie year in 2012, David leads all LB's in tackles, is second in INT's among linebackers and fifth in pass breakups. 
#3 Thomas Davis
Thomas Davis is an excellent blitzer as well as an excellent coverage OLB. He has shown some serious toughness, playing in the Super Bowl last year after having screws put into his arm to heal a fractured forearm. This year he recorded 106 tackles, 2.5 sacks, one forced fumble, two fumble recoveries, three interceptions, and four pass deflections.
#2 Jamie Collins
Jamie Collins is an absolute freak. He has shown excellent length, quick feet, and loads of power. This season between the Patriots and the Browns, Collins recorded 112 tackles, three sacks, two forced fumbles, two interceptions, and three pass deflections. 
#1 Anthony Barr
Barr is the most explosive 4-3 OLB in the game today. He has shown that he has some some great range, an incredible burst off the line, and he can stop and start on a dime. The second year man out of UCLA recorded 70 tackles, one fumble recovery, and two sacks in a down year, and has shown that he still has some room to grow.
Main image credit: