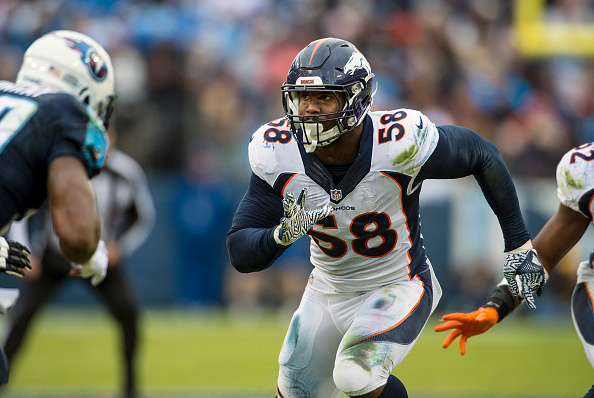 Over the years, the NFL has become more of an offensive league. However, there are still a number of teams that build around a tough and talented defense—just look at the New York Giants and Houston Texans. A solid defense builds itself around a good, strong linebacking core, and outside linebackers are some of the most athletic, quickest, toughest and hardest hitting athletes on the field.
Top 3-4 Outside Linebackers in Today's NFL
Top 3-4 OLBs
#10 – Whitney Mercilus
Mercilus is a phenomenal OLB who has developed from a pure pass rusher into a multi-dimensional player. He is quick off the line and has some serious explosiveness, which has helped him become one of the better pass rushers in the game today. Mercilus possesses some phenomenal pass rush moves, including the speed rush. He recorded 23 quarterback hurries, 7.5 sacks, four fumble recoveries, one forced fumble, and eight run stuffs this past season.
#9 – Brian Orakpo
Although Orakpo has a few notable flaws on the field, his killer combination of speed and a deadly shoulder dip has helped him develop into one of the best pass rushers this decade. He recorded 14 quareterback hurries, 10.5 sacks, and a forced fumble in his eighth season in the league, and his second in Tennessee.
#8 – Ryan Kerrigan
Kerrigan just consistently does it all for the Redskins. He brings the same level of hustle and performance week in and week out. With great size and speed, Kerrigan explodes off the line and has a great closing burst at QBs. He recorded 23 quarterback hurries, 11 sacks, and two forced fumbles this past season.
#7 – Jadeveon Clowney
Clowney is consistently an extremely disruptive presence for his opposition. Thus far in his brief NFL career his sack numbers have been a bit lower than expected, but they will undoubtedly creep up in time. Clowney is run stopper. The former South Carolina Gamecock recorded 18 quarterback hurries, 52 tackles, six sacks, one forced fumble, and 12 pass deflections in his second full year in the league, and all of that without the presence of teammate and star defensive end J.J. Watt.
#6 – Chandler Jones
Jones is an undersized, scrappy OLB. He is an effective tackler with a ton of range. He uses his arms to keep linemen away and shows excellent technique in hand fighting. An excellent pass rusher, Jones recorded 11 sacks and 22 quarterback hurries in his first season in Arizona. 
#5 – Melvin Ingram
Ingram has shown some real versatility, as the Chargers have used him in my different ways. He has become consistently better against the run as he develops. He has some excellent speed and athleticism as one of the bigger OLB's in the league. He recorded eight sacks, 29 quarterback hurries, four forced fumbles, deflected five passes, and had six run stuffs in his fifth year in San Diego. 
#4 – Tamba Hali
Nobody wants to get in the big man's way in pass protection. Hali has some explosive quickness off the edge, often creating havoc in the backfield. Known as an explosive hitter and a solid wrap-up tackler, Hali has recorded 590 tackles in his career. The sack numbers have gone down a bit for the 11-year veteran, as he only started two games this season. He recorded 3.5 sacks and 22 QB hurries in 16 games. Regardless, he's still very strong on the outside.
#3 – Clay Matthews
Matthews is a solid all around player, and has been throughout a fine NFL career. He has consistently been among the leaders in quarterback hits. Matthews can appear in any of the seven spots along that front seven and will still make an impact. He has always been an excellent quarterback spy. In 12 games he recorded 24 tackles, 5 sacks, one forced fumble, and 15 quarterback hurries.  
#2 – Justin Houston
One of the best pure pass rushers in the league, Houston is consistently wreaking havoc in the opposing team's backfield. He has good height, bulk, and shows some excellent athleticism. Houston gets off the ball quicker than anybody in the league, recording 21 tackles and four sacks in five games this season. 
#1 – Von Miller
Miller is just a freak LB. He all but single-handedly carried the Broncos to a Super Bowl title. He does absolutely everything. Miller received the honors of being named a First Team All-Pro after recording 13.5 sacks this season. Miller is a difference-maker, possessing the rare ability to completely change the course of a game on defense.
Agree with this list? Is there a player you would add? Have your say in the comments below.
If interested in writing at LWOSports, email a sample list to [email protected]
Main image credit: