As the NFL season gears up for its captivating matches, all eyes are set on the riveting game between the Giants and Cardinals.
This article delves deep into the crucial storylines and anticipations revolving around this highly-anticipated NFC clash. From individual performances to team dynamics, get ready to explore what makes this match a must-watch.
Giants vs. Cardinals
: A Clash of NFC Titans – What to Expect in the Upcoming Game
What
D
oes Daniel Jones
H
ave for an
E
ncore?
The journey of Daniel Jones with the Giants has been an intriguing one. After facing doubts about his future with the team, he silenced critics with a breakthrough season. Let's dive into this roller-coaster ride of Jones's career in the NFL.
The Fifth-Year Option
Jones faced skepticism when the Giants decided not to pick up his fifth-year option. Yet, the man had a surprise up his sleeve. Joe Schoen, having his reservations, was ready to pick a quarterback in the 2023 draft. Jones's subsequent performance made the Giants rethink. They struck a deal worth $160 million for four years.
Performance Expectations
With the contract sealed, the onus is now on Jones. Last season, he wasn't quite a top-10 quarterback but showed potential with 3,205 passing yards and 15 touchdowns, leading the team to the playoffs, and then beating the Vikings in the first round. The Giants bolstered his support, eyeing a leap into the top 10 this year. Time will tell if this faith pays off.
Will
L
ast
Y
ear
'
s
F
irst
–
R
ounders
S
tep
U
p?
The Giants have always been proactive in seeking young talent. Thibodeaux and Neal, their top picks from last year's draft, are no exception. But have they lived up to the expectations?
Selected to rejuvenate the pass rush, Thibodeaux managed only four sacks last season. Schoen's feedback on his summer performance was hardly a glowing review, hinting at the team's hopes for more this year.
Similarly, right tackle Evan Neal's debut year didn't quite meet the mark with a ProFootballFocus grade of 55.9. An integral part of the team's offensive line, much is riding on his performance this season.
Can the
B
ig
Pl
ays
R
eturn?
Big plays have historically been the Giants' hallmark. A slump in this department has fans yearning for those thrilling moments. Can the new roster reignite this spark?
Seeking Explosive Offense
The past Super Bowl runs were lit by the likes of Burress, Toomer, and Smith. But recent years haven't been as kind. The Giants sat at the bottom for explosive passing plays last year.
Revamping the Team
Schoen's strategy focused on revamping the offense. Drafting Jalin Hyatt and adding players like Campbell and Waller signifies intent. With Shepard, Robinson, Hodgins, and Slayton in the mix, the stage is set for a resurgence.
Cardinals
'
Turbulent Times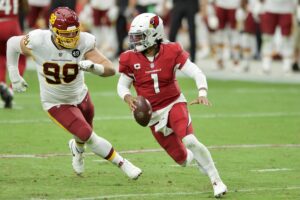 Transitioning from past glories, the Cardinals face challenges that test their mettle. From unexpected exits to roster shakeups, their journey to this game has been tumultuous.
Murray
'
s Injury and Beyond
The season went downhill after Kyler Murray's ACL injury. With the team's prospects looking grim, the cards seemed stacked against them, especially with Watt's retirement and Kingsbury's exit.
Organizational Shakeups
To further compound issues, General Manager Steve Keim departed, and there were murmurs about Murray's unavailability for Week 1. But with Colt McCoy, the Cardinals hope to find their footing.
Player to Watch
in Giants vs. Cardinals:
Saquon Barkley
Among the glitters of star players, Saquon Barkley stands out. As the season approaches, his unresolved contract situation adds an element of intrigue.
Barkley declined multiple extension offers, opting to play under the franchise tag. His discontent is palpable, making many wonder if this is his final stint with the Giants.
The nature of the running back position puts Barkley in a tight spot. Another stellar year would mean more wear and tear, potentially affecting his market value. That said, he's hungry to prove his worth and if healthy he can be the difference-maker in this game, taking some pressure off Jones.
If you want to get in on the action, BetMGM Arizona has several promotions available for new and existing users of the sportsbook. Dive into the action and elevate your game-watching experience.
Prediction
Predicting the outcome of a game is never easy, especially with so many variables at play. Yet, based on recent performances and roster enhancements, one can hazard a guess.
The Giants' playoff stint last season coupled with their reinforced roster hints at a favorable outcome. With a steadfast defense and the Jones–Barkley duo, they seem poised for a win.
Final Thoughts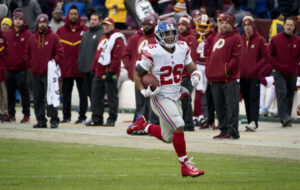 As we stand on the cusp of this exciting NFC showdown between the Giants and the Cardinals, there's an air of anticipation, underpinned by a series of compelling narratives. The story of Daniel Jones offers a classic sports tale of doubt, resilience, and redemption. Handed a hefty contract after seasons of uncertainty, Jones embodies the spirit of seizing opportunities and silencing critics. The Giants' belief in him, coupled with their efforts to surround him with a stronger team, will undoubtedly be a focal point of the game.
Similarly, the journey of the Giants' first-round picks, Thibodeaux and Neal, raises questions of growth, potential, and the pressure of lofty expectations. Their performances this year could validate the team's faith in them or suggest otherwise. Furthermore, the Giants' offensive revamp, aimed at restoring their former glory of explosive plays, will be another captivating storyline to follow. The additions to the roster are a clarion call for a resurgence.
On the other hand, the Cardinals, beset by challenges ranging from key player injuries to organizational shakeups, will be looking to rewrite their narrative. Their past season, marred by setbacks, serves as a backdrop for what could be a remarkable turnaround or a continuation of their struggles.
The spotlight on Saquon Barkley further enriches the tapestry of this game. His unresolved contract saga and the looming questions about his future with the Giants add an additional layer of drama.
The prediction leans in favor of the Giants, given their recent trajectory and roster enhancements. However, the unpredictable nature of football means anything can happen on game day.
In essence, this game isn't just a clash between two NFC titans. It's a rich mosaic of individual journeys, team strategies, and the age-old spirit of competition. As fans gear up for the match, they can expect a game filled with drama, passion, and moments that will be talked about for seasons to come.