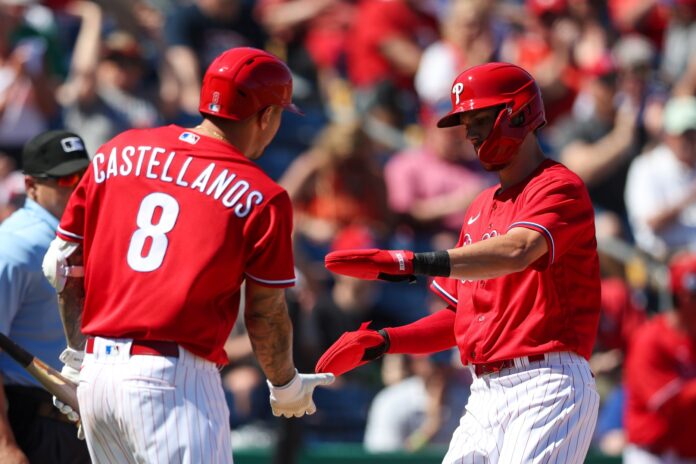 Spring Training began on February 25th for the Philadelphia Phillies as they played their first split series. After taking the NL Pennant in 2022, the Phillies are looking to get back to the World Series. Here are three things Phillies fans should be watching for as their Spring Training begins.
Three Things Phillies Fans Should Look For as Spring Training Begins
New faces
The Philadelphia Phillies have added plenty of new faces to be keeping an eye out for during these Spring Training games. The Phillies are viewed as the biggest off-season winners this year.
They signed Trea Turner to an 11-year contract in December and there are high hopes for what he may bring to the lineup. According to Phillies Manager, Rob Thomson, Turner will likely be in the leadoff position for the season. His high on-base and slugging percentages make him an ideal option.
Thomson said "but high on-base, we need that. That gives you more of a chance to have somebody on base when Schwarber gets up, and Hoskins, JT (Realmuto). I think that's probably where we are leaning right now." Turner also is expected to bring essential defensive skills to the infield as well. Turner made his spring training debut on Sunday afternoon. He went 2-3 and had an RBI, runs scored, and a stolen base.
The Phillies also signed utility player, Josh Harrison, who has high hopes for his season with the team.
Right-handed starting pitcher Taijuan Walker, left-handed relief pitchers Gregory Soto and Matt Strahm, and right-handed relief pitcher Craig Kimbrel were added to the Phillies bullpen during the offseason. These spring training games allow fans to watch some of these stars in action before the 2023 season begins.
Missing Harper
The Phillies will be without their MVP player until he recovers from Tommy John surgery that took place in November. Harper hopes to join his team in Florida sometime in March but isn't predicted to contribute in a big way until June. It will be fascinating to see who steps up for the team while their MVP is out.
Darick Hall was able to rise to the occasion while Harper was out for part of the 2022 season; we may see more of Hall this year in Harper's absence.
Familiar faces stepping up
The Phillies signed Nick Castellanos to a five-year contract in March of 2022, with high hopes for what the right fielder would bring to the team. In his 2021 season with the Cincinnati Reds, he had a .309 AVG / .362 OBP / .576 SLG.
Phillies fans were disappointed with his performance in the 2022 season, but a lot of anticipation has been instilled for his 2023 season. Several things could have impacted Castellanos' bad season, whether it was joining the club late, a few injuries, or big family events. Regardless, Castellanos has a new comfort level and has seemed to enter into spring training as a new guy. Castellanos participated in the game on Sunday and hit a two-run home run in the fifth inning. The solid home run was an encouraging sign for Phillies fans.
A second key player in the Phillies lineup that seemed to be the target of hate later in the 2022 season is Rhys Hoskins. He has his struggles in his first post-season run and endured a lot of hate from even his fans. What some people failed to acknowledge was how incredible he was for the team throughout the year. The young first basemen went .246/.332/.462 with 30 home runs, 79 RBI, 72 walks, and a .794 OPS.
He contributed significantly in the unexpected postseason and World Series run as well. Phillies fans hope to see him debut in spring training looking confident and playing well. Hoskins is set to become a free agent after the 2023 season, but his incredible performance last year and this season may be what it takes for him to get offered a long-term contract.
Main Image: Nathan Ray Seebeck-USA TODAY