Yes, the players make some big decisions, but the man on the sidelines can mean the difference between a wild-card bid and a championship run. So it's no surprise that more teams are active at the start of the offseason each year, rushing into the hiring cycle in search of the best NFL coaches.
The 10 Best NFL Coaches in History
Natural Fantastic Leaders
Titles alone cannot define a coach's place in history. One must consider the entire body of work throughout his career, including his individual seasons, performance with each team he coached, and contribution to the game. With these factors in mind, here are the top ten NFL head coaches.
1: Bill Belichick
Belichick has been the most successful head coach in the league for a long time. His prospects aren't bright without Tom Brady. With Mac Jones, he could resurrect his Super Bowl success. However, Belichick's handling of the offensive coordinator job has elicited scoffs from critics.
2: John Harbaugh
Harbaugh's head coaching career has included numerous iterations of offenses led by the typically solid but unspectacular Joe Flacco that lacked top-tier talent. Despite this, the Ravens have always had above-average offenses and outstanding defenses.
3: Vince Lombardi
The fact that the NFL championship trophy is named after Lombardi should tell you everything you need to know about his legacy. The Green Bay Packers won five championships in nine seasons under his leadership, including the first two Super Bowls.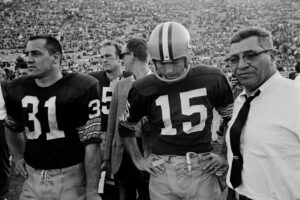 4: Andy Reid
Reid has always fielded competitive teams, and in 2020 he received his Super Bowl ring. Because of Reid's schemes, the Chiefs will always be considered a championship contender with Patrick Mahomes at quarterback. Losing Tyreek Hill will be difficult to overcome, but Kansas City's offense still has weapons. The NFL is about adapting, and Reid must continue to do so as opposing offenses adjust to his offense in 2022.
5: Don Shula
Talk about bridging generations. Don Shula began as a head coach in 1963 and continued until 1995. During that time, Shula amassed 328 victories and coached in six Super Bowls, two of which he won. He also has the distinction of leading the Colts and the Dolphins to their first-ever Super Bowl appearances. Shula was also the driving force behind Miami's unbeaten season in 1974. There should be no doubt that he belongs on the NFL coaching Mount Rushmore.
6: Tom Landry
Tom Landry is responsible for the Dallas Cowboys becoming America's team. Because of the system he used, what Landry did in Dallas was amazing. He believed that anyone could be replaced and that football was nothing more than a business. Landry coached the Cowboys for 29 years, winning two Super Bowls and amassing a 250-162-6 record.
7: Paul Brown
Creating the playbook is the equivalent of inventing the wheel in football. When Paul Brown was a high school coach, he developed the playbook. Brown did it before he founded the Browns, before he coached at Ohio State, and before he used military-base football as a strategic laboratory during WWII. Before anyone outside of Eastern Ohio had heard of Brown, he had modernized the sport. From the 40-yard dash to the facemask to the draw play, Brown went on to invent or revolutionize nearly everything associated with modern football.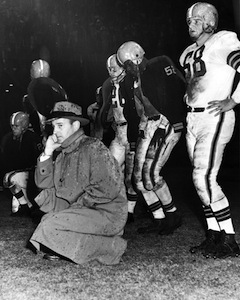 8: Bill Walsh
Bill Walsh, the "Father of the West Coast Offense," built the San Francisco 49ers into a dynasty in the 1980s. Walsh was hired as the 49ers' head coach and general manager in 1979. He led the team to six NFC West titles and three Super Bowls in ten seasons and was hired as their head coach and general manager in 1979. The 49ers were 2-14 the previous season, having won only 31 of their last 86 games. However, the 1981 team won the Super Bowl, which they repeated in 1984 and 1988.
9: Sean McVay
As Americans live longer lives, our leaders become older. And then there's Sean McVay. After half a decade on the job, McVay is still the league's youngest head coach, trailing only Bill Belichick and Andy Reid in Super Bowl appearances among active head coaches. He has won more conference championships than John Harbaugh and has the same number of championships as Reid.
10: Joe Gibbs
Joe Gibbs won three Super Bowls in four appearances during his 16-year tenure in Washington. He surrounded himself with elite coaching talent, paving the way for the first African-American quarterback to win a Super Bowl. We can say that Joe Gibbs is a class icon. Washington has yet to finish first since his second retirement in 2008.