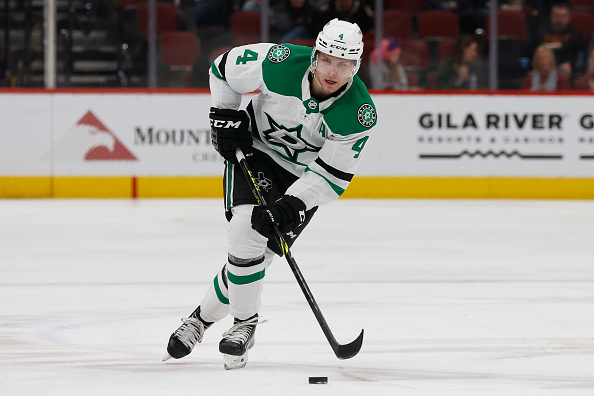 If the Dallas Stars didn't know how crucial left-handed defenseman Miro Heiskanen was, his return after missing 11 games has been felt on both ends of the ice. Heiskanen was out for 27 days after contracting mononucleosis. Heiskanen, arguably one of the best defensemen in the league, was drafted in the first round in 2017 by the Dallas Stars. He is just one of the players from the 2017 draft class that Dallas has gotten massive production from, which also includes Jason Robertson and Jake Oettinger. The Stars went 6-5 in Heiskanen's absence.
Miro Heiskanen's Impact on the Dallas Stars Upon and Their Push for Playoffs
On Ice Impact
Since Miro Heiskanen's return, the Stars are 3-1 on a four-game road trip on the West Coast. On March 29th, Heiskanen's first game back, the Stars head coach stated they were going to monitor his ice time to ensure the defenseman did not over-exert himself. Heiskanen's ice time in the 3-2 win against the Anaheim Ducks was 19:56. It is no secret that the young defenseman grinds out lots of minutes for the play-off contenders.
In February, he averaged roughly 25 minutes a game. In the next two games, Heiskanen skated for over 27 minutes in each game. On April 2nd, there were only two defensemen in the NHL that played more minutes that day, which were Cale Makar and Devon Toews of the Colorado Avalanche. When asked about Heiskanen's minutes, head coach Rick Bowness said "the leash is off," and it appears he is back to putting up the minutes he was before his illness.
Though he has only recorded one assist in the past four games of his return, which came in the 3-2 overtime win against the Anaheim Ducks, his presence is still felt in both the offensive and defensive zone. Miro Heiskanen's assist came in a massive shift in that overtime period. His shift included preventing a scoring opportunity, skating all the way back down the ice for a 2-on-1, in which he was able to get a shot on goal, skated back to the Stars zone, broke up a pass, regained control, and was able to make a pass to Jamie Benn, who scored the game-winning goal.
Despite Heiskanen's season-long struggle with producing offensively, he continues to be a solid defenseman, even playing on his weak side for a majority of this season. The twenty-two-year-old will be an integral part of the Dallas Stars fight for a playoff spot.
Every Point Matters for Playoff Push
With the Dallas Stars moving in and out of a Wild Card spot on a daily basis, every point matters in this tight race to make it to the 2021-2022 Stanley Cup Playoffs. The Stars are neck and neck with the Nashville Predators and the Vegas Golden Knights, all three teams just a point difference, for the two Wild Card spots. A deflating loss against the Seattle Kraken on their last game of the road trip put them out of the Wild Card spot for now.
If the Stars want to give themselves a chance at a playoff run, they are going to have to dig deep and grind out some wins in a very packed schedule for the month of April. The Stars have a total of 16 games in just 30 days; staying healthy is going to be key to a successful month.
Obstacles to Overcome before Playoffs
The Stars are going to have to work on some of their issues, two of which are a very bad power-play streak and an inconsistent lineup. The Stars sit at a power-play percentage of 22.1%, which puts them at 11th in the league. Dallas went 1/10 on their road trip to the West Coast, even giving up a shorthanded goal to Seattle Krakens Jared McCann.
The other main issue that has been seen in recent weeks is head coach Rick Bowness scratching different players, seemingly with no rhyme or reason every game. This goes for both offense and defense Offensively, the lineup rotates between Denis Gurianov, Jacob Peterson, and Marian Studenic, who was picked up off waivers from the New Jersey Devils, as well as Vladislav Namestnikov, a recent trade deadline acquisition from the Detriot Red Wings. Defensively, healthy scratches have been between Andrej Sekera, Thomas Harley, and Joel Hanley.
The shuffling of offensive lines and defensive pairings, some of which are attributed to Heiskanen's absence, has created a lack of chemistry and play that is not cohesive. The Dallas Stars return home for a three-game homestand, so they will be looking for some big games out of Miro Heiskanen and the rest of the team.
Main Photo: