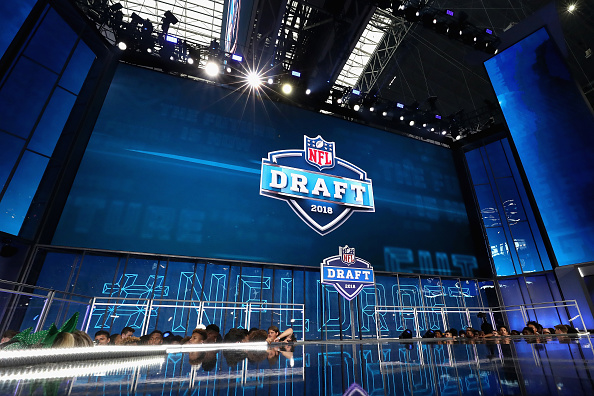 The NFL Draft is just over a month away. Free agency is in full swing and there are mock drafts and player profiles everywhere you look. The NFL Draft is a legendary part of the NFL season and is the source of many teams' optimism heading into the next league year.  It's a great place for prop betting and plenty of people look for a no deposit bonus from their betting platforms. 
The first draft took place in 1936 at the Ritz-Carlton in Philadelphia and Jay Berwanger was the first-ever player selected. Since then, thousands of athletes have been able to realize their dream and make it to the highest level of football. Each of these fun facts are as of the end of the 2021 NFL Draft, considering the 2022 draft has yet to happen and anything can happen. 
10 Unbelievable Facts About the NFL Draft
1. Many Different Locations
Since the 1937 NFL Draft, the event has been held in 10 cities thus far. The 2020 Draft was held virtually due to the COVID-19 pandemic. Las Vegas (2022) and Kansas City (2023) are the venues for the future, but which city has hosted the NFL Draft the most? 
New York City. The Big Apple was the face of the NFL Draft in 1937, 1939, 1945-1947, 1952, 1955, and from 1965-2014. The last two generations grew up knowing that the NFL Draft was in New York City. Of the 85 drafts, 57 were in NYC. Of those 57 drafts in New York City, there were 18 different venues. 
In a distant second place is where it all started: Philadelphia. On 15 occasions, the NFL Draft was held in the city of brotherly love. Those were in 1936, 1944, 1949-1961, and 2017.  
2. Teams With the Most Number One Picks
The most anticipated player in the draft each year is the first-overall pick. 29 of the 32 teams have picked first. So who has picked atop the order the most? 
Indianapolis/Baltimore Colts: 7 (1955, 1967, 1983, 1990, 1992, 1998, 2012)
The Indianapolis Colts, who moved from Baltimore in 1984, have selected first seven times in their history. With those picks, they selected: George Shaw (quarterback, Oregon), Bubba Smith (EDGE, Michigan State), John Elway (quarterback, Stanford), Jeff George (quarterback, Illinois), Steve Emtman (EDGE, Washington), Peyton Manning (quarterback, Tennessee), and Andrew Luck (quarterback, Stanford). 
Two of their selections have since been inducted into the NFL Hall of Fame. Although, the Colts can't take credit for Elway's career since he forced his way out of town.  
[pickup_prop id="13314″]
Los Angeles/St. Louis/Cleveland Rams: 7 (1938, 1952, 1960, 1963, 1997, 2010, 2016)
The defending Super Bowl Champions are tied atop this list thanks to years and years of mediocrity. The first pick was when the Rams were in Cleveland, the middle four was when the franchise was in Los Angeles the first time, and the final two were in St. Louis. 
With those picks, the Rams selected: Corbett Davis (fullback, Indiana), Billy Cannon (running back, LSU), Terry Backer (running back, Oregon State), Orlando Pace (tackle, Ohio State), Sam Bradford (quarterback, Oklahoma), Jared Goff (quarterback, Cal). 
Pace was the first great player the Rams selected first overall and ended up as one of the greatest offensive linemen in NFL history. They hit on their two quarterback selections…well, they would have if Bradford could have stayed healthy. An interesting note: the Goff pick is the last first-round pick the Rams have had. From 2017 through 2023 (as of now), the Rams have been without a first-rounder.  
Behind the Rams and Colts, there are three teams tied with five first-overall picks: the Browns, Buccaneers, and Cardinals. If the Jacksonville Jaguars end up using their 1.01 in 2022, it will be their second-ever first-overall pick and second consecutive. 
3. Teams Who Have Never Picked First Overall
Baltimore Ravens
The Ravens have only been around since 1996 and have never gotten to pick first-overall. Now, could one argue that the Cleveland Browns history pre-1996 should count for the Ravens and anything 1999 should count for the new Browns. Either way, the Ravens have never been the first-overall pick. 
The highest they've ever picked is fourth-overall and did so in their first two years in 1996 and 1997. Those players? Hall of Famer Jonathon Ogden (tackle from UCLA) and Pro Bowler Peter Boulware (linebacker from Florida State). Not too shabby for never picking atop the draft. 
Seattle Seahawks
There were some long years in Seattle but the team in the Pacific Northwest has never picked first. They were close, however. On two occasions, in 1976 and 1993, the Seahawks picked second-overall. On three occasions, they picked third (1983, 1990, and 1997). 
Those two second picks were a pair of guys from Notre Dame: Steve Niehaus (defensive tackle) and Steve Mirer (quarterback). The third-overall picks were Curt Warner (running back from Penn State), Cortez Kennedy (defensive tackle from Miami), and Shawn Springs (cornerback from Ohio State).  
Of those five high draft picks, Kennedy was the only Pro Bowler. 
Denver Broncos
The third team without a first-overall pick is in the Mile High City. While we could technically say they employed a first-overall pick in his rookie year (Elway), it was still the Colts who drafted him. 
Between the second and fifth picks, the Broncos have drafted five times. At second-overall, the Broncos drafted Von Miller (linebacker from Texas A&M) in 2011. At fourth-overall in 1983 and 1991, Denver selected Chris Hinton (guard from Georgia) and Mike Croel (linebacker from Nebraska), respectively. In 1972 and 2018, the Broncos selected Riley Odoms (tight end from Houston) and Bradley Chubb (EDGE from NC State) with the fifth pick. 
4. Most Quarterbacks Taken in Fir
st
Round
The first round is usually the best way to get a franchise quarterback. On five occasions, NFL teams were not confident in the prospects and no quarterbacks were selected in the first round: 1974, 1984, 1985, 1988, and 1996. In 1974 and 1988, no quarterbacks were taken in the first two rounds! 
[pickup_prop id="21409″]
In three drafts, five quarterbacks were taken in the first round: 1999, 2018, and 2021. Wonder who was selected in 1998 that turned the league on its head regarding elite quarterback play…Either way, there were legitimate thoughts that 2021 was going to, at the very least, tie the all-time record of six quarterbacks taken in the 1983 NFL Draft. 
In addition to Elway's selection by the Colts and subsequent trade to Denver, five other quarterbacks were taken in the first round. Todd Blackledge (Penn State to Kansas City), Jim Kelly (Miami to Buffalo), Tony Eason (Illinois to New England), Ken O'Brien (UC-Davis to New York Jets), and Dan Marino (Pitt to Miami) joined this legendary class. Elway, Kelly, and Marino went on to have Hall of Fame careers, though just Elway went on to win a Super Bowl. 
5. Biggest Bust
in NFL Draft History
What is a bust? A bust in the NFL Draft is a player who did not live up to their lofty expectations. When one thinks about the biggest busts, two names come up: Jamarcus Russell and Ryan Leaf.
Russell was taken first overall out of LSU by the then-Oakland Raiders in 2007. Heading into the draft, it seemed like selecting Russell would have been a slam dunk. He was a prolific passer, had size, and had a ridiculous Pro Day and Combine workout. He was slated to explode onto the scene and be the greatest Raiders quarterback of all time. Three years later, he was out of the league. Russell showed up to camp weighing a staggering 290 pounds, portrayed abysmal work ethic, and was just awful in every aspect. There is an infamous story that the coaches gave Russell a blank tape and told him to study film on an opponent's blitzes. He came back and said he watched it and learned a lot. Everyone whiffed on Russell. 
In the 1998 draft, the then-San Diego Chargers selected Ryan Leaf out of Washington State second-overall after trading a pair of future firsts to move up one spot. Perhaps due to a certain ESPN draft expert, Leaf was way over-drafted and he just wasn't the guy. While he was good in college, Leaf was dreadful in the NFL. His NFL career was marred by turnovers, injuries, and an inability to win the big games. Leaf's story isn't as drastic as Russell's. Russell was immature and just didn't love the game of football. The lights were just too bright for Leaf. 
6. Pick Forfeitures
Rarely, an NFL team cheats or breaks enough rules that warrant the NFL taking draft picks. From 1936 until 1979, no team ever had to forfeit a pick. That changed in 1980 when the NFL made the Eagles forfeit their third-round pick because they held an illegal tryout. Plus, the Raiders lost their fourth-round pick due to having too many players on the roster. 
In total, since 1980, 26 selections have been forfeited. The Patriots have been penalized most frequently with five forfeitures followed by the Broncos, Raiders, Saints, Chiefs, and 49ers who were penalized twice each. The Eagles, Panthers, Steelers, Lions, Falcons, Vikings, and Seahawks have all had one violation. 
The 2022 draft will feature a vacated sixth-round pick by the Saints due to repeated COVID-19 protocol violations from the 2020 season. 
7. Lastest Drafted Hall of Famer
A player doesn't have to be a first-rounder to eventually make it into the Hall of Fame. To date, 17 undrafted players have been enshrined in Canton. Players like Lou Groza, Kurt Warner, Warren Moon, and eventually Antonio Gates show that you don't even need to have your name called on draft night to make a difference. But what about the ones who HAVE? 
Before 1994, the NFL Draft was significantly longer. A record that is likely to never fall, Rosevelt Brown was selected with the 321st pick in the 1952 NFL Draft by the New York Giants from Morgan State. He spent his entire career in New York, played 13 seasons, and won the 1956 NFL Championship. Brown was inducted into the Hall of Fame in 1974. 
Since 1994, Terrell Davis owns the honor of being the latest NFL draft pick to don the gold jacket. Davis, a running back out of Georgia, was selected in the 6th round of the 1995 draft with the 196th overall pick. Davis played for the Broncos for the entirety of his career (seven years) and currently owns Broncos all-time rushing record with 7,607 yards and has the NFL record for most rushing touchdowns in a single postseason with eight in 1997. He was eventually inducted in 2017.
He will likely hold onto this honor for a few more years because there's a certain quarterback, selected at 199 in the 2000 NFL draft, who will be a first-ballot, unanimous Hall of Famer. 
8. Colleges With Most Number One Picks
Every major college boasts some kind of U. Is Ohio State or LSU DBU? Is Alabama WRU? Well, who is First-Overall-Pick-U? 
Currently, there are three schools tied with five each: Notre Dame, USC, and Oklahoma. A Notre Dame alumnus was the top pick in 1944, 1946, 1950, 1957, 1972. Those players were Angelo Bertelli (quarterback to the Boston Yanks), Frank Dancewicz (quarterback to the Boston Yanks…again), Leon Hart (end to the Detroit Lions), Paul Hornung (running back to the Green Bay Packers), Walt Patulski (EDGE to the Buffalo Bills). 
For USC, their top picks have been a bit more modern. A Trojan was a top pick in 1968, 1969, 1977 1996, 2003. They were Ron Yary (tackle to the Minnesota Vikings), O.J. Simpson (running back to the Buffalo Bills), Rickey Bell (running back to the Tampa Bay Buccaneers), Keyshawn Johnson (wide receiver to the New York Jets), and Carson Palmer (quarterback to the Cincinnati Bengals).  
Finally, the Oklahoma Sooners have been the top choice most recently of all. Their five years were 1976, 1980, 2010, 2018, 2019. Lee Roy Selmon (EDGE to the Tampa Bay Buccaneers), Billy Sims (running back to the Detroit Lions), Sam Bradford (quarterback to the St. Louis Rams), Baker Mayfield (quarterback to the Cleveland Browns), and Kyler Murray (quarterback to the Arizona Cardinals).  
Right behind this trio, there is a trio of schools with four first-overall picks: Georgia, Auburn, and Stanford. Given the possible first-overall picks in the 2022 draft, these marks will likely remain the same for another year. 
9. Schools With the Most First Round Picks
Even if a player is not selected first-overall, being selected in the first round is a massive honor. What schools have the most first-round picks? 
Ohio State: 85
The Buckeyes continue to churn out NFL talent and 2022 will be no different. Ohio State has had at least one first-round pick in each of the past six drafts, including Justin Fields in 2021. 
On two occasions, the Buckeyes have had five first-round picks: 2006 and 2016. In 2006, it was A.J. Hawk, Donte Whitner, Bobby Carpenter, Santonio Holmes, and Nick Mangold. That was an impressively loaded class but 2016 might have been better. They included Joey Bosa, Ezekiel Elliott, Eli Apple, Taylor Decker, Darron Lee. 
At least two Buckeyes should get added to this prestigious list in 2022. 
USC: 83
USC is right on the heels of the Buckeyes and may be able to keep pace in 2022. Despite not being at the level USC should be of late, the Trojans continue to have first-round talent. Last year, it was just Alijah Vera-Tucker. This year, they should be able to make it three consecutive drafts with a first-round pick. 
As great as the early 2000s teams were, no USC team has come close to the five first-round selections from the 1968 NFL Draft. USC sent Ron Yary, Mike Taylor, Tim Rossovich, Mike Hull, Earl McCullouch. 
Alabama: 74
Alabama is probably the bluest of blue bloods and their domination across the past 15 seasons has to be the greatest stretch in college football history. All they do is win and send first-round draft picks to the NFL. Six former Alabama players were selected in the first round of 2021 alone! 
That mark of six in one year is an Alabama record. Those six selected just last year were Jaylen Waddle, Patrick Surtain, DeVonta Smith, Mac Jones, Alex Leatherwood, Najee Harris. If their rookie seasons are any indication, this group is set to be good for a while in the NFL. 
10. School With the Most Overall NFL Draft Picks
So Notre Dame, USC, and Oklahoma have the most first-overall NFL Draft picks. What schools have had the most athletes selected all-time? 
Notre Dame: 520
Narrowly holding a lead is the Fighting Irish. Naturally, Notre Dame holds this record. Over the years (pre-BCS, of course), Notre Dame racked up National Titles and sent scores of players to the NFL. In recent history, maybe not as much…at least on the Championship front. 
In 2021 alone, nine Fighting Irish were drafted. To date, there are 12 athletes in the Hall of Fame from Notre Dame. Most notably, Paul Hornung, Joe Montana, Jim Brown, and Jerome Bettis.  
USC: 517
Right on the Irish's heels are the Trojans of USC. For decades, USC was a force out west. Once the BCS rolled around, USC looked on the verge of a dynasty. With Lincoln Riley now at the helm. Expect the Trojans to catch and pass Notre Dame in a decade or so. 
It's been rough for a once-proud institution of late. In 2021, five Trojans were drafted, tied for the most since 2015. 14 Trojans are enshrined in Canton, including Troy Polamalu, Junior Seau, Marcus Allen, and Anthony Munoz. You'd have a hard time telling the story of the NFL without USC. 
Ohio State: 473
In a distant third, but comfortably ahead of fourth, are the Ohio State Buckeyes. Over the past six drafts, Ohio State has sent 55 players to the NFL via the draft and they are not likely to slow down in 2022. It's expected that at least two former Ohio State players will be selected in the first round alone. 
The Buckeyes have been great almost every year. They are the only college football program to not lose eight games in a season and are in contention for the CFP every year. Currently, there are eight former Buckeyes in the Hall of Fame. Most notably, Orlando Pace, Chris Carter, Dick LeBeau, and Lou Groza. With how well they have been recruiting and developing players of late, Ohio State may be able to make a small dent in the deficit, but it's going to take a long time to catch USC and Notre Dame. 
Main Photo: