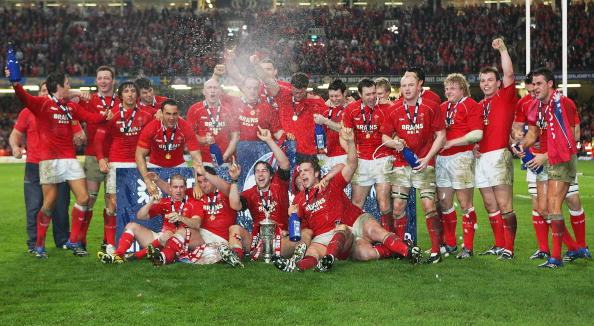 The Welsh won Grand Slams in both 2005 and 2008. Both Grand Slams showed the quality of players the Welsh has produced. For a country like Wales, which sees rugby union as the number one sport, it means a lot.
The Welsh Grand Slams and the stories behind 2005 and 2008
The 2005 Grand Slam
Looking at 2004 rankings, Wales ranked fourth of the Six Nations Championship and eighth overall according to World Rugby. They were behind England, France, and Ireland. In fact, in the 2004 rankings, England was ranked first in the world. The Welsh were considered underdogs in that tournament. They finished fourth in the 2004 Six Nations Championship with two wins and three losses.
This is what Wales great and World Rugby Hall of Famer, Shane Williams said about the 2005 team according to Guy Giles of Betway:
"In '05, that Grand Slam came out of nowhere. We weren't expected to do particularly well in that Six Nations."
They defeated top-seeded England 11-9 with a late penalty that was converted. They also defeated France by six points in round three. France, the previous Grand Slammers in 2004, had a 15-6 lead after the end of the first half. Stephen Jones used his speed to set up the eventual try by Martyn Williams. This try was a turning point in the game. Martyn Williams would score another try in the 45-minute. Because of the strong start in the second half, Wales got a big 24-18 win over France.
The Welsh also came up from behind England in the 2005 Six Nations. This is what Shame Williams said in Giles' article:
"We played tough rugby, we defended our hearts out. It was almost like a movie, winning that Six Nations, to be perfectly honest. That's up there with the best of them."
It was Wales's first Grand Slam win since 1978, a 27-year drought. It was a remarkable achievement for a team that did not play well in the 2004 Six Nations Championship.
The 2008 Grand Slam
As in 2004, Wales was ranked eighth overall in the Six Nations. Also, in 2004, Wales was ranked fourth in the Six Nations. This time the highest-ranked team was France, which was ranked second. Ireland was ranked fourth while England was ranked sixth. Also, like in the 2004 Six Nations Championship, Wales did not play well in the 2007 Six Nations Championship. They had only one win that year and finished in fifth place as they won the tiebreaker over Scotland.
Wales came from behind to win against England at Twickenham Stadium in London, England. The second-half comeback included getting two tries within four minutes. Lee Byrne and William Phillips were the try scorers during that time.
Wales led for most of the game. However, the difference came in the second half, when Wales scored two tries. Shane Williams scored a try in the 60-minute. Then, to close the game, Martyn Williams added a second try in the 77-minute. M. Williams showed terrific agility and speed, which helped him get past the French defence and solidify Wales's Grand Slam.
Welsh Grand Slams in 2005 and 2008 Overview
This is what Shane Williams said in the Betway article:
"Both of those rank in the top, top rugby achievements, I've got to be honest. It doesn't come around that often, so I'm very honoured to have done it twice."
It was a remarkable achievement for Wales in 2005 and 2008. After all, winning a Grand Slam is not an easy task for any team to achieve. First one must win the Six Nations Championship competition. Then, they must win all their games to consider it a Grand Slam. It takes many different characteristics as Williams said in the Betway article:
"And I think that was the difference in those Grand Slams. We backed ourselves, we backed our physicality, we were mentally tough, and we had a strong enough squad to get us through the tournament unscathed, and that was the difference."
Williams also hinted in Giles' article that many great players around the world finish their careers without a Grand Slam. It is a very hard thing to achieve, and it shows the quality of players in 2005 and 2008.
Main Photo: