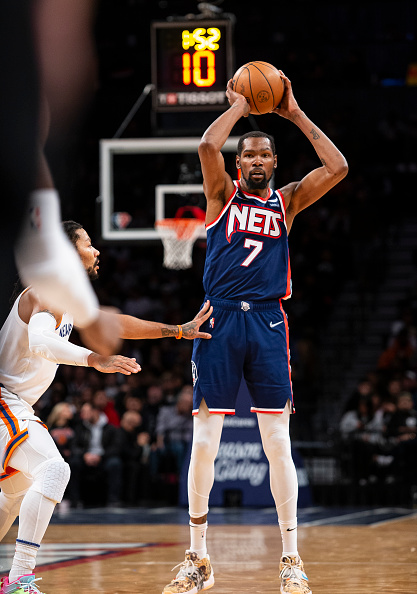 The NBA is quickly approaching the one-third mark of the 2021-22 season, and it has quickly gotten chaotic. Left and right, players are entering health and safety league protocols, and it has become a revolving door of players coming in and out of absences. Nonetheless, the East All Stars roster is bound to be as stacked as ever, regardless of who is healthy enough to suit up come the break. Here are our roster predictions as of the end of December.
Click here to see the 2021 NBA West All Stars.
2021 NBA East All Stars Predictions
1. Kevin Durant (captain)
The MVP race is currently run by two viable contestants, and both will more than likely be named captains for their respective teams. With Steph Curry being named on the West, Kevin Durant is the top choice in the NBA East All Stars, and it should come as no surprise. As of right now, Kevin Durant is the best player on the planet, far and away. He needs no further endorsement for what he does on the court.
Durant is in the midst of the best season of his career since his final season with the Oklahoma City Thunder. That is saying something considering how decorated his career has been to this point. At age 33, he's playing the most minutes of his career at 37 per game since his age 25 season, while leading the league in scoring at 29.7 a night. One would be wise to assume that Durant could be walking away with the league MVP this season.
2. Giannis Antetokounmpo
When Giannis Antetokounmpo receives enough votes to be named All-Star captain, it has not panned out well for him and his squad, as he may not have a future as a team GM due to his questionable drafting choices. Nonetheless, Giannis is a lock to return to the All-Star Game once more this year, and he may be the first off the board in the draft.
Arguably the best two-way player in the NBA, Giannis is on a campaign to repeat as champion and reclaim the league MVP trophy once more. The Greek Freak has already done so much in his young career, with two MVP awards, Finals MVP, Defensive Player award, among plenty of others. Now, Giannis will be able to add to his legacy with a sixth All-Star selection in nine seasons.
3. Joel Embiid
The Eastern Conference's top big man Joel Embiid is as close to a lock as it gets this year. Embiid's numbers this year are on par with the rest of his career, carrying the 76ers through this awkward bridge period while they wait for what to do with Ben Simmons and his bizarre saga. Nonetheless, Embiid and the Sixers look to remain competitive in an Eastern Conference that has become a battle no one saw coming.
Embiid is a monstrous specimen capable of backing opponents under the rim, shooting fadeaways from the mid-range, or spotting up from beyond the arc. Although slow, his pump fake is one that defenders have no choice but to bite on as Embiid can hurt opponents so frequently from that far of range. He is for sure a lock to be a starter, and likely among the first few picks chosen by the captains.
4. Jayson Tatum
Despite the incredibly underwhelming first-half of the season for the Boston Celtics to this point, Jayson Tatum is still putting forth an All-Star worthy year. Though not his best year in his own right, Tatum is for sure among the Eastern Conference's best. His numbers are right there with last season's production, and unfortunately, the same goes for his team.
Tatum has become Boston's franchise point of emphasis. The ball is in his hands the most, the offense flows through him, and he is the one that the team looks for to provide them with large scoring outputs. While effective at times, it has also been what has held them back from taking that next leap. Nonetheless, Jayson Tatum is a special talent with MVP potential in the future, and one should bet to see his name amongst the 2021-22 NBA East All-Stars.
5. James Harden
For the kind of performance standards that James Harden has set for himself over the years, statistically speaking, this has been Harden's worst offensive season of his career. Averaging a slight 22 points per game, the lowest since his final season in Oklahoma City, Harden shoots with a career low average from three at 34% and 41% from the field, his lowest since his rookie year.
Providing 22 points a night on your least efficient season still feels impressive, as Harden can stuff the stat sheet any given night. Playing second fiddle to an MVP candidate in Durant, Harden can be relied on to give instant offense, whether through scoring or his elite playmaking. Harden has perhaps been the greatest victim of the NBA's new fouling rules, as he has his foul-drawing skill stripped from him that gave him so many added points.
6. Jaylen Brown
The second Celtic to make the East All-Stars is Jaylen Brown. After making the All-Star Game a season ago, Brown may have established himself as a frequent flyer to make it back to the annual festivities. Brown and Tatum are two franchise cornerstones who have each come so close to success a handful of times in their young careers, but can't quite get over the hump.
Brown and Tatum are their building blocks, which is why they receive so much blame for the team underwhelming, but their supporting cast is just as much at fault. The thing about Brown's game that makes him unique is his Swiss-army skillset on offense and as a defender, while also having a rare sense of maturity and IQ that can be matched by a prestigious class in the NBA.
7. Jimmy Butler
Jimmy Butler is in the midst of a second prime in Miami. The veteran superstar is averaging the most points of his career since 2016 at over 23 a night, on his best percentage from the field at 51%. After some thought Butler and the Miami Heat overachieved in their lengthy bubble run in 2020, they have now established themselves as one of the East's best organizations, and Butler is largely responsible for that.
Jimmy Buckets and the Heat are looking to reach the top of the East once more. He leads a group that can attack from any which direction. He is sure to be rewarded for his efforts this year, regardless of the team's final outcome in 2022, as he will lock up his sixth All-Star selection.
8. DeMar DeRozan
Speaking of stars that have hit a second wind in a new location, DeMar DeRozan is a dark-horse MVP candidate for the kind of performance he is putting forth this year. Arguably a starting selection for the East All-Stars, DeRozan is playing the best ball of his career. He is scoring the most since his prime Toronto year in 2017 with 26.8 PPG, on his best shooting averages 49.7% and 36.4% from three.
The Chicago Bulls have become one of the bigger surprises in the East this year, as they have assembled one of the strongest, deepest teams in the league that can hang with the Brooklyns and the Milwaukees in the conference. With DeRozan back in the Eastern Conference, he is looking to have better luck than he did in the postseason in Toronto on this legitimate Chicago Bulls club.
9. Zach LaVine
In addition to DeRozan, fellow Bull Zach LaVine should be considered a lock for this years East All-Stars. Initially just considered a dunker with athleticism, LaVine has etched out a complete offensive game from all three levels, while also being a human highlight reel in the open floor. These last few years, LaVine has built upon larger and larger outputs than the season prior.
Despite sharing the floor with DeRozan and fellow stars Lonzo Ball and Nikola Vucevic, LaVine carves out a 26 PPG contribution on 50% shooting and 41% from the field. He is an elite offensive force hovering over 50/40/90 territory, as he shoots 84% from the stripe. LaVine himself may also see himself land as one of the starters for the East All-Stars.
10. Bradley Beal
After getting off to a hot start in the 2021-22 season, the Washington Wizards have slid down the Eastern Conference standings back down to reality. Some of that has been due to a bit of a down year from Bradley Beal. His point average is down about eight points from last year's finish, and his percentages took a slight dip. Still, Beal deserves All-Star credit for what he does on the court.
Bradley Beal is one of the league's best pure scorers. He is someone who can be counted on to go out and score 30, 40 points on any given night, whether it is from beyond the arc, within mid range, or at the rim. The All-Star Game does not put an emphasis on the other end of the floor, as Beal is not the most stout defender. However, his high volume offensive production should garner plenty of votes.
11. Trae Young
Despite an inconsistent first half of the NBA season from the Atlanta Hawks, Ice Trae Young has been a steady offensive contributor for a team looking to build off of last season's strong postseason performance. Young and the Hawks have shown that they are built for the NBA's limelight, as Young's game as a long-range scorer is a nightly highlight reel.
Young will always have the Steph Curry comparisons in terms of his long-range scoring ability, but Ice Trae has carved out a reputation of his own as his playmaking is perhaps at a higher level that Curry is. He can hurt opponents in the pick-and-roll better than nearly anybody in the league, as he can step back for an uncontested three, or find one of his roundtable of bigs at the rim for a show-stealing lob. Expect Trae Young to make the East All-Stars with ease.
12. Jarrett Allen
Rounding out the 2021-22 East All-Stars with a fresh face, Jarrett Allen deserves plenty of credit for the Cleveland Cavaliers surprising start to the year. Nobody expected this from Cleveland, as their rebuild since the LeBron James era has been slow and steady, but has brought them to the playoff picture for the first time since his departure. The Cavs will likely have one, maybe two representatives at the All-Star Game, but Allen will be a serious candidate for voters.
Allen is playing the best ball of his career. After a culture change from a championship contender in Brooklyn to an up and coming Cleveland bunch, Allen is now a part of a club with direction and legitimacy, and he has a big time role in that pursuit. Averaging a double-double of 16 and 10, with nearly two blocks a night, Allen is an impactful player that has become a legitimate All-Star candidate, and it likely would not have come if he never left Brooklyn a season ago.
Honorable Mentions:
Main Image Credit
Embed from Getty Images