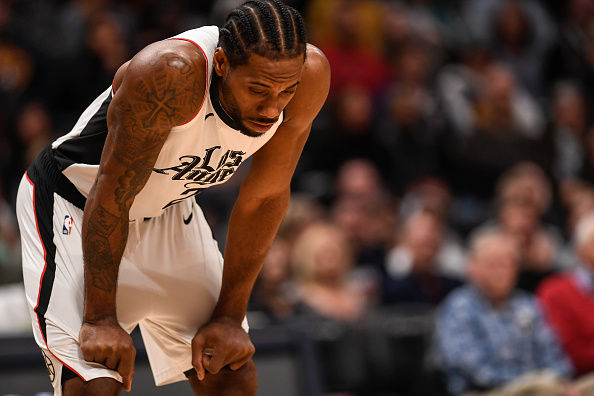 After being eliminated in the conference finals, the Los Angeles Clippers' focus shifts towards Kawhi Leonard. The likeliest suitors for Kawhi Leonard are his Clippers, the Dallas Mavericks, and New York Knicks.
The Miami Heat is being reported to make a strong push as well. But with paying two max contracts already, it's hard to see the salary working in their favor. The Knicks have cap space and a glaring need at small forward. Meanwhile, the Mavericks have an established MVP candidate in Luka Doncic and are looking for his co-star. In this piece, I'll be ranking the three suitors for Kawhi Leonard in terms of least likely to most likely.
Ranking The Three Likeliest Suitors For Kawhi Leonard
Least Likely: New York Knicks
As I mentioned above, the Knicks have a glaring need at Leonard's position. Leonard would be the leader of a new big three alongside Julius Randle and RJ Barrett. But promising young talent like Immanuel Quickley and Mitchell Robinson are also reasons Leonard could want to join the Knicks. Last year's seventh overall pick Obi Toppin, and two more incoming first-round picks round out the young core. The Knicks had the third-best defensive rating in their first year with Tom Thibodeau. Leonard's a two-time defensive player of the year and would fit like a glove on that end of the floor. Out of all the suitors for Kawhi Leonard, the Knicks have the best young talent.
What isn't working in the Knicks' favor relates to Thibodeau. One of the things all suitors for Kawhi Leonard will have to consider is load management. In the last three years, Leonard's missed 57 regular-season games. And most notably is coming off a knee sprain injury that caused him to miss the entire Western Conference finals. And in Thibodeau's career, he's had a history of overplaying his stars and not allotting them enough rest. The other reason the Knicks are the least likely option is their interest in Chris Paul. The Knicks are a top target for Paul if he opts out of his player option with the Phoenix Suns.
The Knicks are a team on the rise but aren't quite what Leonard will be looking for. Leonard's quiet demeanor wouldn't be a match with the New York media. And for as talented as Randle and Barrett are, Leonard knows to win an NBA championship in 2021, you need another superstar.
Have A Good Shot: Dallas Mavericks
It all starts with the best player in the NBA under 25, Luka Doncic. Out of all the suitors for Kawhi Leonard, no team can offer a better superstar co-pilot than the Mavericks. Kristaps Porzingis is the biggest obstacle, as he has a max contract of 31 million dollars and has a strained relationship with Doncic. But the Mavericks have proved they'll choose Doncic over anyone he's got tension with, just ask Rick Carlisle. That said, Leonard has a good relationship with the Mavericks GM, and that could be one of the difference makers.
Tim Hardaway Jr is going to be a free agent in high demand, creating a need on the wing. Leonard's defense would mask some of Doncic's weaknesses on that front while Doncic continues to grow. I really like Jalen Brunson's game and think those three could cause problems in the half-court offense. Leonard's physicality and rebounding would help a team that lacked a physical presence and identity a year ago. The Mavericks are without a first-round pick however and are a little short on depth.
Josh Richardson's shooting from deep has regressed the last three years. And Willie Caulley-Stein and Dwight Powell don't scare NBA frontcourts. In order to be more attractive to Leonard, the Mavericks will need to improve their big man rotation and make sure there's depth at the wing. There's a good chance of this marriage happening, but not as much as there is he stays put in Los Angeles.
Most Likely: Los Angeles Clippers
Ultimately, I think Leonard will give it another go with the Clippers. His player option is for 36 million dollars, but he'd be able to sign a long-term deal if he opts out. The driving force behind this decision is how close the Clippers got to the NBA Finals this year. Paul George played like the superstar Leonard personally recruited to help win a ring. Although he did have those two missed free throws in game two, George stepped up when his team needed him to.
One of the components the other two suitors for Kawhi Leonard lack is familiarity. Marcus Morris, Patrick Beverley, Rajon Rondo, and Serge Ibaka all figure to return next year. There's also reason to believe players like Luke Kennard and Terrance Mann to improve. The biggest name that needs to be re-signed is Reggie Jackson. Jackson carried the team in the playoffs alongside George, averaging 17.8 points on 48.4 percent shooting from the floor.
Leonard chose the Clippers over the team he won an NBA Finals MVP with. He chose the Clippers because he wanted to return to Los Angeles. And handpicked George to be his co-star which caused his team to lose five first-round draft picks! This year the Clippers came close, and with a healthy Leonard could've been in the Finals. Whether he signs for one, two, or four years is a mystery still.
[pickup_prop id="7300″]
Time Will Tell Which Of The Suitors Kawhi Leonard Chooses
The latest Leonard can wait to announce his player option is August 1st. All three suitors for Kawhi Leonard have something different to offer. The Knicks offer the chance to play at Madison Square Garden and form a big three with Randle and Barrett. The Mavericks would give Leonard a dominant offensive phenom in Doncic to play alongside. And the Clippers bring familiarity and another chance to get over the hump. History has shown Leonard's unpredictable and nobody truly knows what Leonard's thinking other than him.
Main Photo: