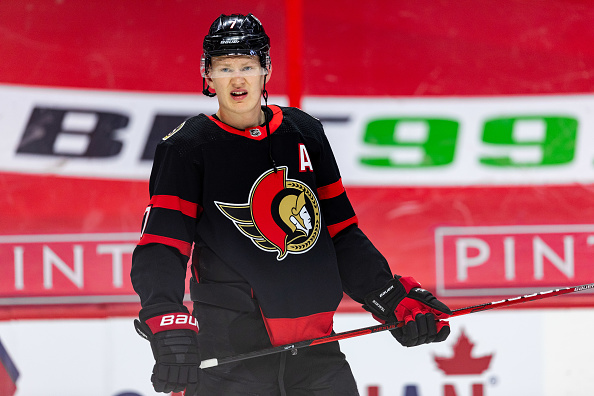 Many Ottawa Senators fans wonder what a new Brady Tkachuk contract might look like as the fan favourite he is. As the beloved 2018 Senators draft pick's entry-level deal has just recently come to an end, fans around the league are wondering what the going price might be for a gritty power forward like the youngest Tkachuk. In this article, I will take a deep dive into what the possible term length and price might look like for a new Brady Tkachuk contract, and what it will take for Ottawa to keep number 7 in the nation's capital for a long period of time.
What A New Brady Tkachuk Contract Might Look Like
Bridge Deal
Tkachuk is coming off a strong season where he placed second in the league for hits and shots on goals, indicating that he is continuing to play the game that is expected of him, hard and gritty. On top of being among the leaders in these categories, Tkachuk also finished his 2021 campaign with 36 points, leading the Senators in this category.
What does all of this mean? Well, essentially, Tkachuk has improved in each of his 3 seasons. Perhaps Tkachuk wants to see where his production goes before committing to a long-term salary. I mean look no further than his brother Matthew Tkachuk, who chose to take the bridge deal option with the Calgary Flames in 2020, electing to go for a 3-year deal.
As far as what this would mean for Tkachuk's future with the Ottawa Senators, it is difficult to say. Personally, I do not believe a bridge deal indicates a player's unwillingness to commit to a team long-term, I think in many cases it's just a player who wants a couple more years to prove that they're worth more on a long term deal.
When all things are said and done, it'll be hard to fault the Sens fanbase if they are left feeling a tad disappointed at the thought of a bridge deal. I mean, the team does have a record of losing fan favourite players, and Tkachuk has quickly risen to stardom in the nation's capital. The only sure-fire way to avoid a bridge deal as the Ottawa Senators is for the team to offer Tkachuk a long-term contract that's too sweet to turn down.
Long-Term Deal
Now the phrase "long-term deal" and the Senators' organization haven't exactly gone hand in hand in the past. The Senators have developed a reputation as a team that develops incredible talents but can't hang on to them. This narrative changed a little back in 2019 when the Senators inked all-star defenseman Thomas Chabot to an 8-year, $64 million contract. Now the question must be asked, are they willing to do the same for Tkachuk?
A Brady Tkachuk contract is obviously in the works over in the nation's capital, as the young player has spoken about it many times. Here is one thing I can assure you Sens Sickos, Brady Tkachuk is not going anywhere anytime soon. Brady has expressed his love for the city of Ottawa, and his excitement surrounding current contract negotiations. Does this guarantee he will sign long-term? No.
With the league salary cap getting ready to take a jump in a couple of years, It might be a wise financial decision for Tkachuk's side to sign a bridge and have Brady under a contract that ends in 3-4 years. From there I would expect Tkachuk to pull the trigger on a long-term deal.
But hey, I won't be totally surprised if the two parties do lockdown Tkachuk for 7-8 years. The Senators are in a position where their owner has promised "years of unparalleled success", which involves spending to the salary cap as early as next year. If the Senators want to communicate their commitment to following through on this statement, announcing a Tkachuk contract would be a sure-fire way to convince fans.
Final Thoughts
At this point in the process, no one really knows what's going on behind closed doors between Tkachuk and the Ottawa Senators, therefore it is tough to truly speculate what kind of contract the two parties will agree upon. I think the most important thing in all of this is that the Senators make sure this next deal results in Brady Tkachuk becoming a restricted free agent. Why? Well in my humble opinion, I see Brady's game continuing to develop, and I have a feeling if he really gets the chance to test the market, he'll like the numbers being thrown his way.
Assuming this next contract ends at least 3-4 years down the road, this will come at a time when Ottawa has players like Josh Norris and Tim Stützle coming off entry-level contracts, where big money will definitely be needed to keep them in the nation's capital. From a financial standpoint, I think the Sens need to make sure that they first go at the fiery left-winger, and prioritize getting a new Brady Tkachuk contract agreed upon ASAP.
Putting things into perspective, this situation is really not all that unique. These are the things that happen when small market teams stumble upon big-time players.
Main Image: Embed from Getty Images