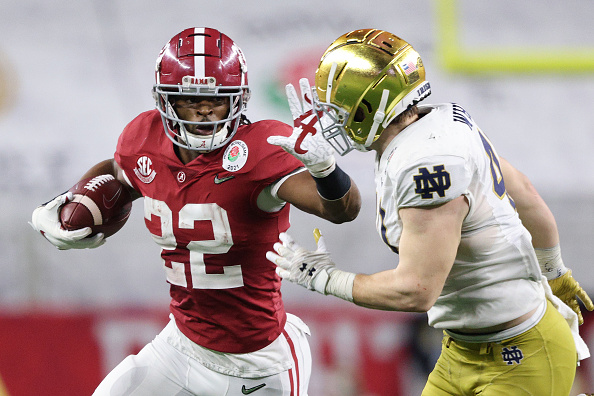 This year, the Pittsburgh Steelers had a good draft by addressing their most glaring need at running back. In addition, they got players who can play in 2021, and players who have chances for bigger roles starting in 2022. Yet this didn't stop legendary draft expert Mel Kiper Jr from grading the Steelers draft as the worst in the NFL.
Kiper's argument stems from disliking the value of Najee Haris as the round one pick. As well as a failure to address life after Ben Roethlisberger. But I view the draft differently from Kiper. The Pittsburgh Steelers had a good draft, and here's why.
Three Ways The Pittsburgh Steelers Had A Good Draft
The Pittsburgh Steelers Had A Good Draft Because They Didn't Overthink Harris
As was the case for Kiper, some Steelers fans might be down on this draft because of the stigma that comes with drafting a running back in round one. Stigma aside, at pick 24 the Steelers weren't in any position to trade up for a quarterback. The top five quarterbacks were gone after pick 15, as were the top o-lineman prospects, including Christian Darrisaw who was picked right before Pittsburgh. Meanwhile, Harris was a player Steelers brass has had an eye on since January. Knowing that James Conner's contract wasn't being renewed, the organization knew running back would be a top need.
Even without Conner's free agency, the Steelers would've looked to upgrade in the draft. In 2020 the Steelers were dead last in the league with an abysmal 82.5 yards on the ground. And the year before that, they were 29th in rushing. From Franco Harris to Jerome Bettis, to Le'Veon Bell, the best Steelers teams ever have had elite production from their backs. Harris will be a lot quicker than Conner was, and can be used in a Bell role out of the backfield.
In Harris's junior and senior seasons, he combined for 729 receiving yards and eleven receiving touchdowns. Harris ran a 4.41 40 yard dash, showcasing he has some home-run speed too. Considering Roethlisberger's age and signs of decline in 2020, having a security blanket out of the backfield again will be a benefit. Conner provided some pass-catching ability, but it's nowhere as electric as Harris can be. Finally, having a second-year running back to help a rookie quarterback in 2022 will make their transition much smoother. The Pittsburgh Steelers had a good draft because they didn't overthink things with this pick.
The Steelers Invested Two Picks In The O-Line
Alongside cornerback and backup quarterback, the offensive line was the biggest position of need this offseason. There will be four new starters from the 2020 offensive line with David DeCastro serving as the bridge into the new era. Kendrick Green was drafted in the third round to be a developmental center who can possibly start after the retirement of Maurkice Pouncey. Green is slightly undersized and raw at 300 pounds but has some athleticism for a big man that can be used well in a zone-heavy run scheme. He can also play guard if the center position doesn't work out. GM Kevin Colbert has a great track record in the draft, so now we wait and see.
But Green doesn't have to start day one if B.J. Finney, J.C. Hassenauer, and Kevin Dotson are good enough to fill the holes. These are players who are more familiar with the Steelers than Green at this point and should have a leg-up in training camp as a result. The other offensive lineman, fourth-round pick Dan Moore Jr may have to wait longer for a starting chance but was an investment nonetheless.
Moore came from Texas A&M which plays a similar zone running style to Pittsburgh. Moore gets to his blocks quickly and has enough natural size to make up for some deficiencies in his play. But getting stronger and better in pass protection will be his first steps. In the run game, he'll be strong, but in the meantime, Chukwuma Okarafor and Zach Banner will be trusted to put their draft selections to good use. The Pittsburgh Steelers had a good draft because these are two players who can start down the road. Green projects into that role more than Moore at this time, but regardless the Steelers did right trying to invest.
The Steelers Drafted Depth For Down The Road
By no means was drafting Pat Freiermuth in round two a position of need. This was the pick that surprised me most, as a cornerback or offensive lineman felt like it was a bigger need. My colleague laid out perfectly before the draft why Freiermuth would be a good pick, and he even predicted it to be in round two.
Eric Ebron is under contract for one more year and is unlikely to be brought back unless at a minimal cost. Ebron's drops in 2020 were costly, especially in the second half of the season. Freiermuth was compared to Heath Miller throughout the draft process due to his toughness, willingness to block, and safety blanket hands. Time will tell if this comparison is legit or if it's going to be another Jesse James scenario.
Fourth-round linebacker Buddy Johnson was a steal in the fourth round and has the skillset to be among the leading tacklers on the team with enough snaps. He could slot into Vince Williams's role for 2022 if the Steelers are looking to save money. The Steelers invested more in their defense in Quincy Roche who was a sixth-round choice. ESPN analyst Louis Riddick is so high on him he said he could have ten sacks this year. That number seems inflated with Alex Highsmith and T.J. Watt starting on the edge of the 3-4 defense. But he'll see snaps in 2021 and his role will only increase from there.
Time Will Tell if The Pittsburgh Steelers Had A Good Draft
In the end, we won't be able to make accurate assessments of the draft class until they play. Time will tell if the Pittsburgh Steelers had a good draft or not, but I think they did. They addressed their biggest roster need with the top-ranked running back in the draft. They also added a ready-to-play tight end in Freiermith who can step in for Ebron in 2022. On defense, they got two defenders who can start in a couple of years in Johnson and Roche. Isaiahh Loudermilk, Green, and Moore are projects, but the rest of the draft class looks solid with most importantly, room for growth.
Main Photo: