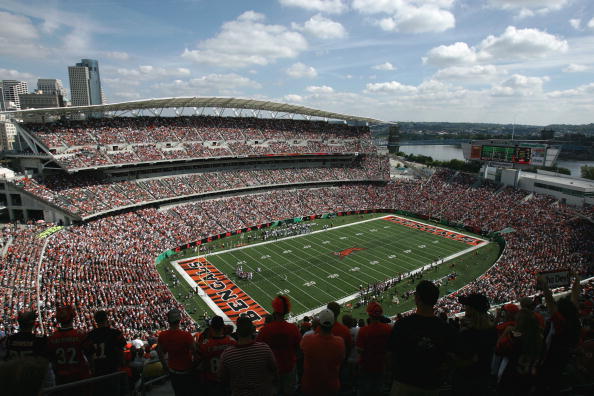 After much clamoring from fans for years, the Cincinnati Bengals Ring of Honor is officially in the works. On April 8th, the Bengals announced that they would finally begin honoring former players and coaches and started with the two most obvious picks they could have made.
The Cincinnati Bengals Ring of Honor is Official!
The father of the franchise and the lone Bengal in the Hall of Fame were the most obvious picks to headline the first class. Brown founded the team in 1968 and coached until 1975. Even after he retired from coaching, he remained the owner until his death in 1991. The man is a legend in NFL history.
He had a coaching tree that spanned names like Don Shula to Chuck Noll, Tony Dungy to Mike Holmgren, Bill Parcells, Bill Cowher, Marvin Lewis, and current great coaches like Mike Tomlin, Andy Reid, and Bill Belichick. A real who's-who of NFL history.
Munoz is still regarded as one of the greatest offensive linemen to ever suit up. The 1991 Walter Payton Award winner earned 11 consecutive All-Pro selections and 11 consecutive Pro Bowls. He started in both of the Bengals' super bowl appearances. Plus, he scored four touchdowns off of seven receptions!
Will They Stop at Two in 2021? Possible Additions:
With the announcement of Brown and Munoz, Bengals fans learned that season ticket holders will be able to vote for two more former players/coaches to make the Bengals Ring of Honor. Each ticket holder's vote equals the number of years they have been season ticket holders (ie. 15 years means 15 votes for whichever two they choose).
At the top of most fans' Bengals Ring of Honor additions is the 1981 NFL MVP, Kenny Anderson. When it comes to Bengals supremacy, Anderson remains head and shoulders above all others. He won the most games (91), passed for most yards (32,828), most pass attempts (4,475), second in completions (2,654), and second in touchdowns (197).
When he gets his honor, it will be just as painfully obvious as the first two. Anderson is by and away the greatest Cincinnati quarterback to suit up. His inclusion is not a matter of if, but when.
Ken Anderson played in a different era, so it's a little more palatable that he has yet to be honored. But the ignoring of Ken Riley grows more and more wrong by the day, so the Bengals Ring of Honor will be a welcome consolation prize.
With his 65 interceptions, he ranks fifth all-time in the NFL and most in Bengals history. At the year-end awards ceremony, the NFL did not acknowledge Riley's passing in their In Memorandum segment. Bengals fans were livid. More importantly, it got the attention of Katie Blackburn, Mike Brown's daughter-in-law who (seemingly) is calling the shots.
Riley has the attention and admiration of Bengals fans. The fact the league continues to ignore his storied career has infuriated many. It's a very popular opinion that both Kens should be the next to be honored.
Another name that will eventually be honored is Boomer Esiason. Along with Anderson, Esiason is the only other Bengal to win an MVP. His 1988 season was as magical as can be. Not to mention the fact that it was in the middle of a six-year streak of 3,000+ passing yards.
The crafty southpaw is easily a top-three quarterback in Bengals history. Even after he went on to quarterback the New York Jets and Arizona Cardinals, Esiason returned to Cincinnati in 1997 to help back up Jeff Blake. Esiason ended up winning the starting job back and won four of the team's last five games to elevate the season record to 7-9.
In his final five games, Esiason threw for 1,357 yards, 11 touchdowns, and completed 63% of his passes. He was also the benefactor of Corey Dillon's breakout rookie year and his record-breaking 246-yard performance against the Houston Oilers.
He may not seem like much when you see him on the CBS NFL shows, but Esiason was a stellar quarterback and will be honored by the Bengals Ring of Honor at some point. Will it be this year? Only time will tell.
[pickup_prop id="5449″]
In the history of Cincinnati Bengals football, there has yet to be a player as electrifying and eccentric as Chad OchoCinco Johnson. As a Bengal, Johnson constantly put up numbers and embarrassed corners on the daily. His 10,783 yards and 66 touchdowns remain the most in Bengals history.
9+85=7 was the go-to equation in Cincinnati when Johnson linked up with Carson Palmer. Week in and week out, he drew the opposition's best corner and double-teams and was still open. As he put it, "death, taxes, and 85 will always be open."
As with the rest of these potential selections, Ocho's selection for the Bengals Ring of Honor is not a matter of if, but when.
Just like with Ken Riley, the NFL continues to disrespect one of the best at the position. In his time in the league, Willie Anderson faced great pass rushers and dominated each of them. He paved the way for nine 1,000-yard seasons and didn't allow a single sack over a three-year stretch from 1999-2001.
Anderson was a semi-finalist for the 2021 Hall of Fame class but was passed over yet again. The noted #TeamSewell member, Anderson continues to fight for linemen in the league and has been coaching high school athletes in Georgia. In all reality, he should have joined Munoz in the Hall of Fame this year. He'll get there eventually, but potentially being a member of the inaugural Bengals Ring of Honor class will be a great honor for him.
Who Has Your Vote?
If you were a Bengals season ticket holder, who would be your vote? These five athletes are all very deserving of the honor, there is no denying that. Despite never winning a super bowl and being an overall disappointing franchise, there have been some great players and coaches to come through Cincinnati.
Other names who likely will eventually be enshrined could be coaches Sam Wyche and Forrest Gregg or players Tim Krumrie, Andrew Whitworth, Corey Dillon, and Isaac Bruce. Even recent players like Geno Atkins, A.J. Green, and Carlos Dunlap (burnt bridges notwithstanding) could have their names in the ring one day.
[pickup_prop id="5319″]
Main Photo: