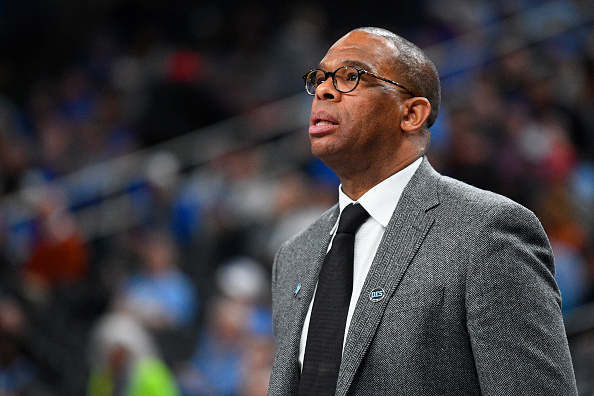 The news of Roy Williams retiring as head coach of the North Carolina Tar Heels still hasn't fully sunk in. And although I think Hubert Davis is the right hire for UNC, there's going to be a lot of questions asked in the coming weeks. Simply put it's a tall task replacing the coach with the third-most wins in men's college basketball history.
Let alone one who was the apprentice to Dean Smith, one of the biggest icons ever in the sport. Although the concerns are valid, Davis was given Williams's endorsement and has been groomed for the role over the last nine years as an assistant. So, here's why Hubert Davis is the right hire for UNC.
Hubert Davis Is The Right Hire For UNC Basketball
Davis Is Part Of The Carolina Family
Casual sports fans probably don't know how much the University of North Carolina really emphasizes and values its family and alumni. Every head coach since Smith's retirement in 1997 has either played for UNC or was an assistant coach at UNC. One of the reasons the school values this is because of the vast legends in their alumni.
The alumni at UNC are always finding ways to be involved with the current players by returning to campus in the summers to play pickup ball with them and things of that nature. Players get to learn from the likes of Tyler Hansbrough, Raymond Felton, and more. Hiring a coach with no past connections to the school could affect that relationship.
Davis talked about the importance of the Carolina family in his introductory press conference on Tuesday. He said, "You can't do this job unless you're a Carolina guy. You can't coach here, you can't recruit here unless you've been here, experienced it, and lived it." Considering Davis played from 1988-1992 at UNC and was an assistant coach the last nine seasons under Williams, he checks the boxes. Even compared to former UNC players and assistant coaches like Wes Miller and Jerry Stackhouse, the love Davis has for the program is unmatched.
In his press conference, he said he wanted to walk the same path as Smith, Bill Guthridge, and Williams before him. Even when it comes to assembling his new staff, Davis is requiring that they're part of the Carolina family.
Davis Fits Today's Recruiting Era
In college sports, recruiting has changed exponentially from where it was as recently as five years ago. Recruiting players and expecting them to be there for four years is now seen as a thing of the past. Players today are thinking about the NBA and the pros more than ever, and Davis will be able to resonate with today's recruits more than Williams perhaps was the last few years. Davis played 12 years in the NBA and knows what the pro game requires. He has connections to the NBA and ESPN after being a broadcaster for nine years. And although recruiting previously ran through Williams, Davis had the freedom to scout and be the lead recruiter on players.
Hubert Davis is the right hire for UNC because he's only 50 years old and more suited to lead UNC through these times of change. Because of COVID, the NCAA has allowed all athletes the ability to transfer this offseason and be immediately eligible to play anywhere next season. One of the five-star freshmen from this season Walker Kessler was the first to take advantage of this. Kessler was going to be massive for UNC taking a step forward next year, but Davis is already trying to persuade him to come back. Whether or not he's successful remains to be seen, but the effort is a good sign Davis will be aggressive on the recruiting trail.
Davis Can Tweak UNC's System
During Williams's 18 seasons at Chapel Hill, UNC played the same style of play just about every year. With the exception of the 2017-18 and 2018-19 teams, Williams always put two big men in his starting lineup. He emphasized offensive rebounding more than any coach in the nation as well as pushing the tempo on every play. And that led to UNC being one of the winningest teams of the last two decades. But on defense, Williams preferred his big men to hedge on ball screens which protects the paint and dribble penetration but leaves the three-point line exposed. This was one of the biggest causes for UNC's uncharacteristic record in 2019 and 2020.
Hubert Davis is the right hire for UNC because he can tweak the system some to help modernize it. For that matter, he can tweak it without completely straying away from the system he's played in and coached. Davis himself acknowledged that the game is changing and that he'll be changing along with it. Today's game relies on shooting and spacing more than it does size and throwing the ball in the post. Davis won't completely overhaul the system and change everything, but whatever tweaks he makes will be to help modernize the program and potentially bring in better talent on the recruiting front.
Hubert Davis Is The Right Hire For UNC: Wait And See
When the dust finally settles and Davis gets the chance to start working, he'll prove quickly he was the right hire. He said UNC will be more aggressive in the grad transfer market where he'll have over 1,000 names to look at. In addition, he's returning former All-Americans like Caleb Love and RJ Davis who have the chance to be completely different players after getting a normal summer of offseason work. I went out on a limb last year when I predicted UNC could be a Final Four squad. Although I was wrong and some players have left, this can be a team that's hot and on a roll come ACC tournament time.
Fans might have to be patient early on while Davis adjusts to being a head coach. One of the biggest concerns is that Davis has never been a head coach at any level. This is arguably the biggest thing everyone has to worry about. Davis said it himself, "Coach Williams is the greatest, I'm Hubert." But Hubert is cut from the same cloth as Williams, and time will prove that Hubert Davis is the right hire for UNC.
Main Photo: