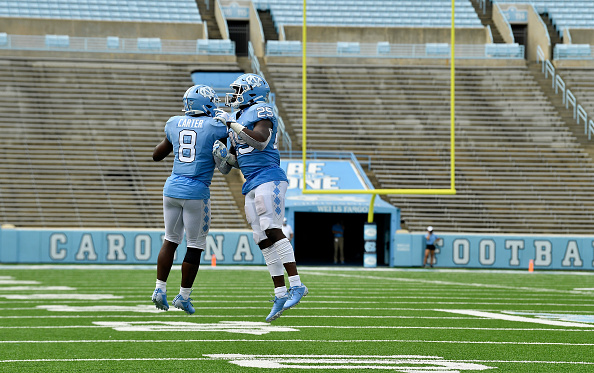 Every single NFL draft we hear, "don't draft running backs in the first round". And typically, that's true. Usually the class of NFL-ready running backs that year has about five to seven running backs who can start for most teams.
That isn't the case this year.
While there will undoubtedly be one or even possibly two running backs that are not in my top three who make it to a Pro Bowl or have a 1000-yard season, most of them will not. Some will be busts, others will be nice complementary pieces to other bell-cow running backs. This happens every year. But it's a crapshoot.
There are only three running backs in this class who are clearly an aforementioned bell-cow. Its pretty much a national consensus at this point. The question isn't "Who are the top NFL running back prospects in the 2021 draft class," it's "which of the top three is the best?"
Let's find out.
Who is the Best 2021 NFL Running Back Draft Prospect?
The Top 3 NFL Running Back Prospects
There are three running backs in this draft class that can be considered an every-down player. Other running backs like Javonte Williams' running mate in North Carolina, Michael Carter, are fine to above-average complementary pieces to a running game. But only three can tote the rock on every down, every drive, every game.
[pickup_prop id="5483″]
He likes to hurdle. A lot.
Jokes aside, most people consider him to be the best NFL running back prospect out of everyone in this class. He comes in at 6'2 and 229 pounds. You have almost definitely seen a highlight of Harris jumping over defenders. Many believe that he is the best running back in the draft. Bleacher Report regards him as their best running back as well. It's not hard to see why.
In the past two seasons, Harris ran for 2,790 yards, 39 touchdowns, and averaged six yards per attempt, with 490 attempts in that two-year span. Oh, and he can catch the ball as well. He had 70 receptions for 709 yards and 11 more touchdowns. Not bad. Not bad at all. He is also "pretty good" in pass protection, and I say that because there isn't a statistic that can tell us exactly how good at pass protection he is. That said, he is either the best or second-best pass protector in this class.
He runs with power, is shifty and explosive in the hole, and is an excellent receiver out of the backfield. He has improved his route running drastically over the last two years as well. The only thing that he lacks is top-end speed. His longest career run is only 42 yards. He won't be taking one to the house anytime soon, but that is the only downside here. Well, besides his age. He is 23 and, depending on the team, his age can push a running back down their board. Running backs age out quicker than any other position in the NFL. That may very well push him out of first place as you will find out soon.
Javonte Williams
Bowling Ball.
If you haven't seen any of his highlights, finish this article and then go watch some. Then you will understand what I mean. He is shifty, fast, an underrated receiver, and absolutely LOVES to pass protect. He also runs through people better than anyone else in this class. However, he is consistently underrated. Pro Football Focus ranked him as their second-best running back in this class, but besides PFF, most people and networks have him behind Harris and Travis Etienne.
Taking a look at his stats, it's not hard to understand that point of view. Before last year, he had never cracked a 1,000-yard season. For his career, he has rushed 366 times for 2,297 yards and 29 touchdowns. He has also accumulated 539 yards and four touchdowns on 50 receptions. The reason for the lack of touches is his running mate, Michael Carter. UNC split carries evenly across the two over the last two years.
The lack of touches means two things. One, less tread on his tires. That's a great thing for a running back because it means he will probably be able to play at a high level for a longer period of time in the NFL. The downside is that he has not really proven that he can be a bell-cow running back. He has fewer touches in his career than Harris had over the last two years. That brings some doubt to the mind when considering him for the number-one spot. I don't think that it will be a big problem, but it's a valid criticism.
Travis Etienne
Very fast.
I mean very, very, fast. By far the speediest back in this draft class Etienne offers an explosiveness that none of the other running backs do. His tape is absolutely fun to watch, and he has good power for a running back of his stature. Most networks and people have him rated as the second-best running back in this class. His stats back that up perhaps better than anyone else in this class.
On 696 attempts, he ran for 4,952 yards and 70 touchdowns. He is the all-time ACC leading rusher. The touchdowns really stand out to me. For a running back coming in at 5-10, 215 lbs, that number is impressive because smaller backs typically have a harder time finding the endzone. He also caught 102 passes for 1,155 yards and eight touchdowns.  He is also only 22 years old.
Looking at the stats, it would be easy to rank him as clearly the best running back in this class. His numbers look great. The problem is that he played at Clemson, on a loaded roster with Trevor Lawrence, probably the best quarterback prospect since Andrew Luck. He also displayed some worrying lack of vision at points. He is very hit-or-miss, either he sees the hole and makes a good run, or he misses it and doesn't do much. But his talent is very intriguing.
Who has the best chance to become an Elite NFL Running Back?
There really is no clear number-one running back. Najee Harris looks the most NFL-ready, Etienne has the most explosiveness, and Williams has the highest upside. But we have to come away from this with a number one, and I have one in mind.
Before I tell you who my number one NFL running back prospect is, I want to point out something. I think that the disparity between these running backs isn't that large. All can and probably will be above-average running backs on the next level. A lot depends on what scheme that the team who drafts them is running. For example, Etienne would be much better in a zone scheme than Harris.
The Best NFL Running Back Prospect is…
Javonte Williams. I did my best to lay out his explosiveness and his potential. He is the youngest running back out of the three, has the least wear and tear, and has the most potential. The potential is what intrigues me. He has great vision, his speed is good, not as fast as Etienne, but he can break off a long one here and there.
What puts him over Etienne for me is his ability to run down the middle. Williams has better vision than Etienne and as such is more consistent. That is important when ranking who the best running back is. Williams is also much better in pass protection than Etienne. On third downs, teams can leave Williams out there because they can trust him to pick up the blitz, whereas Etienne will probably be pulled off the field and replaced with someone else. That "someone else" will undoubtedly be less talented than Etienne, but Etienne simply is not that good at pass protection. And due to his stature, he probably won't ever be.
What puts him over Harris? Two things. Williams is younger than Harris, and Williams is faster. Harris won't ever take one sixty yards to the house. Williams can. Williams also has half the touches that Harris does, and Williams is two years younger. Williams will most likely last longer in the NFL and that is what pushes him to the number one spot for me.
In the end, though, all three of these running backs are great. They all add something valuable to a team. Williams is the best in my opinion, and Harris follows him with Etienne taking up the rear. Harris edges out Etienne due to his pass protection abilities. Ultimately, any of these running backs can and probably will be very good in the NFL. But I'd bet my house that Williams will be the best NFL running back out of them all.
[pickup_prop id="5476″]
Main Photo: