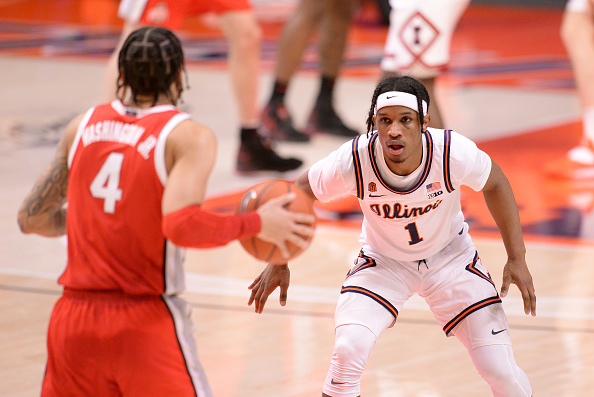 Selection Sunday has come and passed and the 2021 NCAA March Madness Tournament has set its field! Leading the nation in bids, the Big Ten boasts that 9/14 teams are dancing. Sorry Indiana, Penn State, Minnesota, Northwestern, and Nebraska.
Each B1G team has its strengths and weaknesses. With so many bids, paired with five top-four seeds, the best conference in college basketball has a great chance to cut down the nets at the end of the melee. Let's take a quick look at the 2021 NCAA March Madness odds for the nine Big Ten teams.
2021 NCAA March Madness: Odds for the Nine B1G Teams
Behind the Big Ten's nine teams in the 2021 NCAA March Madness tournament are the ACC and Big 12 (7), SEC (6), Pac-12 (5), and Big East (4) Conferences. After that, a smattering of two and single-bid conferences. The Big 12 also has five top-four seeds, so they could be a massive impediment for the Big Ten to earn its first title since 2000.
All odds via William Hill Sportsbook
Michigan (+550)
The regular-season Big Ten Champs (well, co-champs…it depends on who you ask) lead the way in terms of odds. As the top-seeded team in the Midwest region, Michigan will face off against the winner of the Mount St. Mary's and Texas Southern play-in game.
Unfortunately, the Wolverines will be without All-Big Ten Second Teamer Isaiah Livers due to a reaggravated foot fracture. Regardless, Hunter Dickinson and Franz Wagner will lead the way. With the duo of All-Big Ten Second-Teamers (Dickinson the conference Freshman of the Year), Michigan scored 76.2 points per game while allowing 65.4.
They'll be a tough out in the 2021 NCAA March Madness tourney, even without Livers. For my money, the Wolverines have a very solid chance to make it to yet another Final Four.
Illinois (+750)
Coming off of a classic of a game in the B1G Tournament Championship, Illinois is primed and ready to take it all. The Fighting Illini are the fourth one seed and are atop the Midwest Region (although, since all the games are going to be played in Indiana, the geography of the region holds no value).
The First Team All-Big Ten honoree, Kofi Cockburn, is a force to be reckoned with. He's 7'0″, 285 pounds and he uses every bit of it. Over the course of this season, he nearly averaged a double-double (17.6 PPG, 9.6 RPG). Pair him up with fellow First Team All-Big Ten Ayo Dosunmu and you have a lethal team getting hot at the right time.
Illinois will face off against 16th-seeded Drexel on Friday. Of the one seeds, it really looks like Illinois has the "easiest" route to the Final Four. Easiest in quotes because nothing is easy about this tournament, but if they can play their game, they're going to go far.
[pickup_prop id="3006″]
Iowa (+2000)
Home of the B1G Player of the Year, Luka Garza and the Iowa Hawkeyes played their way to a two seed in the West Region. They'll take their sixth-best scoring offense (83.8 PPG) and will work to dispatch Grand Canyon University.
What can be said about Garza? He scored at least 30 points seven times and even put up 41 in a win over Southern University. This is the second year in a row he's led the conference in scoring.
"Oh, all you have to do is stop Garza and you stop Iowa!" Well, for one, good luck stopping Garza. For two, let me introduce you to Joe Wiescamp and Jordan Bohannon. Not to mention a freshman up-and-coming, Keegan Murray. The West Region is full of teams who light up the scoreboard. Iowa is going to be a must-watch in the 2021 NCAA March Madness tourney.
Ohio State (+2000)
The Buckeyes were quite enigmatic this year, but their 21-9 record is as telling as can be. Seven of those losses came to teams on this list (Purdue twice, though they avenged that loss in the B1G Tournament; Illinois twice, including the OT thriller in the B1G Title Game). Their season is highlighted by a seven-game win streak…immediately followed by a four-game skid leading into the conference tournament.
Each game, a different Buckeye steps up. Duane Washington is the leader on the court is not afraid to take shots. When he gets hot, nothing is stopping him. E.J. Liddell was named to the First Team All-Big Ten and it's easy to see why. Transfers Justice Sueing, Seth Towns, and CJ Walker have grown into their own and are regular contributors.
The X-Factor for this Ohio State team is Justin Ahrens. The junior is a three-point sharpshooter. He took the season by charge and was essentially game-planned out of existence late because B1G teams saw what he could do. Chris Holtmann will draw up plays specifically for him against teams who have not had much time to prepare. Watch out for this team as they begin their run against Oral Roberts on Friday.
Wisconsin (+4000)
These ain't your daddy's Wisconsin Badgers. Something didn't click this year and their putrid offensive output showed. They averaged only 69.6 points per game, ranked 222nd in the nation. They'll take on another traditional power in North Carolina in a matchup of teams not playing quite as well as they should.
The only Badger to receive any All-Big Ten honors was D'Mitrik Trice. The fifth-year senior from IMG Acadamy hit 41.1% of his shots, 38.0% from behind the arc. Micah Potter, a senior who transferred from Ohio State, contributes 12.8 points per game as well.
The Badgers lost nine of its final fourteen games. It should be noted that eight of those losses came against teams on this list, so they are a bit better than their record may indicate. Regardless, should the Badgers get through the Tar Heels, Baylor likely awaits.
Purdue (+6000)
Despite being five seeds better than the aforementioned Wisconsin team in the same region, Purdue sits at +6000 odds to win it all. The Boilermakers will face off against the North Texas Mean Green as the fourth-seeded team in the South Region.
Trevion Williams is the man on this team. The junior forward averaged 15.6 points per game. In today's game, it's worth noting that he's attempted all of three shots behind the arc. Purdue is a big team, as evident by the fact the second-leading player is the 7'4″ Zach Edey.
This is a very solid Purdue team, there's no denying. They boast a pair of wins over Ohio State, though they couldn't beat any other top 2021 NCAA March Madness qualifying B1G teams, considering they only beat Michigan State twice and Maryland once. Honestly, +6000 underrates this team and you could get quite a lot of bang for your buck.
For my money, Michigan, Illinois, Ohio State, Iowa, and Purdue have legitimate chances to make a run.
Michigan State (+7500)
2021 was a year for traditional powers to take a step back. Michigan State was not immune to that, considering they are one of the First Four, playing UCLA (another traditional power) for the right to be the 11 seed and face off against BYU.
Led by Aaron Henry and Joshua Langford, the Spartans battled their way to a 15-12 mark and bowing out of the B1G tournament after getting smashed by Maryland. That's one thing about this team: their games are not close. Only ten of their 27 games were decided by fewer than ten points (but they went 7-3 in those games).
MSU still holds bragging rights in the conference considering theirs was the last title won. Even if they defeat UCLA, the Spartans will likely not make it past BYU. Even then, Texas likely awaits and they're as hot as anyone in the nation. Good luck, Sparty. At least you won't be losing early as a two seed…
Maryland (+10000)
Only two places below Michigan State on the bracket are the Maryland Terrapins. The ten seed in the East Region, Maryland will face off against UCONN for a date (presumably) with the Crimson Tide of Alabama. They'll have to do it without a single member of the All-Big Ten top three teams.
The only mention is an Honorable Mention for Aaron Wiggins, the junior guard who averages 14 points per game. Alongside him is Eric Ayala and Donta Scott who help pace the team along. Between them, they average nearly 40 of the team's 68.8 points per game.
In all reality, the Terps match up pretty well against UCONN, so we might get an upset on Saturday. They don't have a snowball's chance to win the whole 2021 NCAA March Madness tournament, but they won't go down without a fight.
Rutgers (+15000)
The final Big Ten team with the longest shot to win it all are the Rutgers Scarlet Knights. They'll face off against Clemson on Friday in a post-season game that, if it were to happen in football, we would know we were in The Upside Down.
Within the Big Ten, Rutgers was 10-10; perfectly balanced, as all things should be. Four of those wins came against teams on this list (including Illinois!). But their season was marred by a five-game losing streak and then losses in five of their last nine games.
They're led by Ron Harper and Jacob Young who together, average nearly 30 points per game. As a team, they score a little over 70 a night, so they are no strangers to putting up points. It's just that they allow just as many points. The Midwest Region is chock-full of high-flying offenses. Rutgers, unfortunately, does not have much of a chance at all.
B1G Teams, B1GGER Stages
There is no argument against saying this conference is the best in all of college basketball. On the list of the 15 hardest schedules in all of college basketball, all 14 teams are listed. That one other team is Kentucky at 14th. The gauntlet of the Big Ten schedule is grueling and exciting.
In a tough year, this will help these teams overcome adversity and there's a very, very good chance the conference has at least one Final Four team, for the 14th time since 2000.
Main Photo: