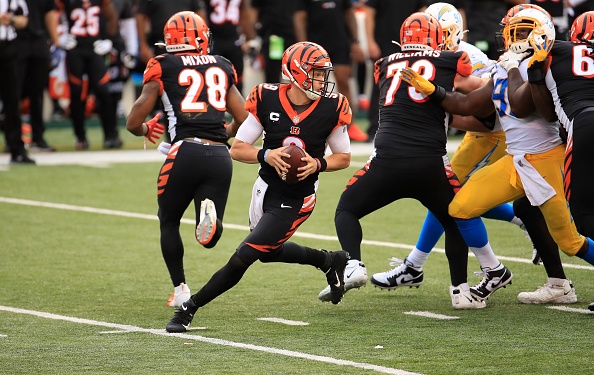 It's officially the NFL off-season and, thankfully, quarterback is not on the list of Cincinnati Bengals off-season needs (thank you Joe Burrow). Unfortunately, they do have needs just about everywhere else! We've looked at mock drafts and mock off-seasons, but when it comes down to it, what are the top Cincinnati Bengals off-season needs?
[pickup_prop id="4332″]
2021 Cincinnati Bengals Off-Season Needs
Offensive Line
There are two kinds of ways to look at the Bengals' offensive line: the eye test and stats. According to the raw stats, Burrow was sacked 32 times, hit 47 times, pressured, and 107 times (24.1% pressured rate on dropbacks) in only 10 games. And he didn't even finish that 10th game.
The eye test tells a different story and is why whenever you even consider anything but Penei Sewell with the fifth-overall pick, the Facebook comments come rolling in. It's true that the starting offensive line is bad.
Jonah Williams is good, but he's coming off a second serious injury in as many years. Michael Jordan is bad. Trey Hopkins is decent but the position could be upgraded. Quinton Spain was good and Xavier Su'a-Filo only played six games. Bobby Hart is still Bobby Hart. Billy Price is nowhere near what his first-round selection dictates. Hakeem Adeniji was significantly better than what a sixth-round pick should be but he's a serviceable back-up.
Sewell is the obvious answer with the first-round pick. There are plenty of good offensive line prospects in this draft. But free agents like Joe Thuney, Taylor Moton, Corey Linsley, or even Nick Eason could be ideal. On one hand, it shows fans that the franchise is serious about winning. On the other, it would provide the face of the franchise some actual protection.
Pass Rusher
If you watched Super Bowl LV, it was obvious that the Kansas City Cheifs' offensive line was subpar and the Tampa Bay Buccaneers' defensive line was playing out of its mind. There is a massive reason pass rush is on the list of Cincinnati Bengals off-season needs.
In 2020, the Bengals only pressured the opposing quarterback on 19% of dropbacks. They were dead last in the league with only 17 sacks. They were dead last with only 6.7% hurries per quarterback dropback. Naturally, the injuries to Sam Hubbard on the edge and D.J. Reader on the inside certainly had something to do with these bad stats.
Re-signing Carl Lawson is certainly an idea most Bengals fans have and I'd agree with it. But they need more help. Drafting a mid-round EDGE prospect is a popular sentiment, like Shaka Toney, Rashad Weaver, or Ronnie Perkins. They could even find themselves selecting Christian Barmore in the second round. This is the most likely route because guys like Trey Hendrickson, Romeo Okwara, or Leonard Williams may be a bit too expensive.
Weapons, Weapons, Weapons
At fifth-overall, another of the Cincinnati Bengals off-season needs can be addressed. Address the offensive line in free agency, plus the very good chance Sewell is off the board, and the Bengals could free themselves up to truly take the best player available in the draft.
Ja'Marr Chase, DeVonta Smith, and Kyle Pitts are very, very exciting prospects. Even Jaylen Waddle has been mentioned in Bengals mock drafts. Right now, the Bengals only have two wide receivers and one tight end under contract who have significant playing time. Likening it back to the Chiefs, look how far they got without an offensive line and a whole lot of weapons!
There are plenty of free agents who could find themselves in Cincinnati. Corey Davis, Curtis Samuel, Zay Jones (okay, not much of a splash but I'm a fan), or Chris Godwin would give the wide receiver room a facelift.
There are reasons to believe the team loves C.J. Uzomah and will likely bring him back to go with Drew Sample. There really is no tight end I see the Bengals targetting. Gerald Everett is likely the only name on the list that's feasible. Regardless, the Bengals have to give Burrow more toys
Cornerback
If you watched the Bengals in 2020, it was terribly evident that Cincinnati has a massive need at corner. As it stands, William Jackson, III and Mackensie Alexander are set to be free agents. Trae Waynes didn't play a single snap last year. It was a mess.
The expectation is that the Bengals bring back at least one of the aforementioned duo. Ideally, both can return because Alexander is a very solid slot corner and Jackson is still a very good corner, despite what Twitter may say.
The 2021 draft has a few corners worth a look at, but it is pretty top-heavy. The likelihood of the Bengals selecting a top corner in this year's draft is very low. They would have to trade back and all the other needs are filled.
Only Darius Phillips is under contract for 2021. Even if they bring back Jackson and Alexander, they'll need another. Patrick Peterson would be a very exciting addition, but a guy like Michael Davis would be more likely to land in Cincinnati. The Bengals have a history of taking chances on corners, especially late in the draft. It's very likely Cincinnati brings a corner in with one of its final four picks.
A #NewDey Is Around The Corner
The Cincinnati Bengals are at a crossroads. Will they do the right thing and build around the franchise quarterback or will they Bungle it? Despite last off-season's spending, Bengals fans are apprehensive that the team will pay for a proven free agent or hit on a bonafide draft pick. That pessimism may not be misplaced but the opportunity is there.
Cincinnati is getting new uniforms this spring. Now is a perfect time to jumpstart the franchise and open that super bowl window.
Main Photo: