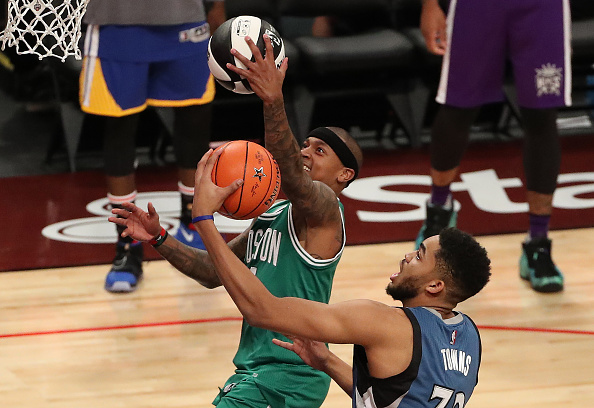 All 30 NBA teams are subject to the NBA's COVID-19 Health and Safety Protocols, which could leave them without a handful of players on a night-to-night basis. This season, the open market could be as active as we have ever seen it with teams looking to fill their roster spots by any means. With plenty of help at the league's disposal, which big-name NBA free agents could step right in and be of immediate help?
Best NBA Free Agents On The Market
Isaiah Thomas
Everyone's favorite "little guy". It is questionable as to why no NBA feels the need to inquire about Isaiah Thomas' services, especially with the league in the current state it is in. IT4 has been available since he was traded, and subsequently waived, last season to the Los Angeles Clippers from the Washington Wizards. With Thomas getting some extra time on television in the studio in sporadic appearances, many wondered if Thomas was transitioning to the next phase of his career.
Thomas, 31, was one of the league's best pure scorers just four years ago, and while he's accumulated a few nagging injuries since 2018, "The Little Guy" can be of some immediate bench scoring for a team desperately needing some at the point guard position. The Brooklyn Nets, for example, sacrificed much of their depth in order to trade for James Harden. That has since left them without a dominant ball-handler on the second unit. Should Brooklyn take a stab at the former All-Star point guard, it could provide some added insurance when Kevin Durant, Kyrie Irving, and James Harden are off the floor.
Hopefully, we have not yet seen the last of Isaiah Thomas on an NBA floor. His run with the Boston Celtics won over NBA fans across the league, and it's a shame that his career was met with the various hiccups it has to this point. Luckily for him, there is still time to salvage what is left and make a run on a team that needs him to compete. With many teams already linked to his name in tentative talks, expect Isaiah Thomas to be off the NBA free-agent market in a short time.
Kyle Korver
Despite being labeled a "one-trick pony" throughout his prolonged career, Kyle Korver's specialty as a deadeye three-point shooter should make him a sought after NBA free agent. At 39 years old, it may be likely that we have seen the last of Korver in the NBA. However, his game has never relied on his athleticism or vertical ability. His game as a catch-and-shoot wing is of the more ageless an NBA player can master, and it should treat him kindly both down the road and now as a seasoned veteran. He certainly could be one of the most trusted NBA free agents for any team.
Aside from his attributes on the floor, Korver is one of the most respected players in the league. His activeness on and off the floor when speaking out on injustices or addressing the younger, less experienced players has made him one of the most influential players in the league. Not to mention his championship experience, Korver could be of immediate help on and off the floor for almost any team. He would not be asked to do much physically, while also getting the opportunity to take on a Udonis Haslem-esque role with any team that asks for his services.
Korver is not nearly the player he once was, but he could be as good as he ever was just once. The need for three-point shooting in today's NBA cannot be stated enough, and in that regard, Korver is one of the best available NBA free agents on the market.
Andre Roberson
Despite not having played in over a year and a half prior to his short run in the NBA bubble last summer, there was once upon a time where Andre Roberson was one of the best guard defenders in the league. Although nowhere near the player he needs to be offensively, Roberson was a nightmare to matchup with on the other end of the floor.
Taking a shot at Roberson is a risky decision, as he is so valuable on one end of the floor and utterly useless on the other at times. In a lesser role where he is used sporadically, Roberson can be a valuable asset on any given night. He brings immediate help on the defensive end, and can matchup with several of the league's toughest covers on the wing.
His biggest obstacle is his durability. It is often said that the best ability is availability, and Roberson has not exactly been that lately. If he is able to stay healthy and shows some improvement in his game offensively, then Roberson should not find himself among the NBA's long list of free agents for long.
Thon Maker
Fairly new to the NBA free agent market, Thon Maker should find a new home in no time. The former Cleveland Cavalier only saw him suit up for eight games before being let go, as the team was too deep at the center position and had no minutes to offer Maker.
Maker is a great energy big to come off the bench for any team. His combination of height, length, and athleticism have made him an underrated and unappreciated defender in the paint. Like we saw in his days with the Milwaukee Bucks in the postseason, he has given opposing teams fits on both ends of the floor.
His services should be called on in no time, as the big man is just 23 years old with plenty of time to find his footing in the NBA. Any team in need of some rim protection on defense and floor spacing on offense, as Maker shot just under 35% from three a season ago, then Maker should be one of the first NBA free agents to be called upon.
Main Image: Embed from Getty Images