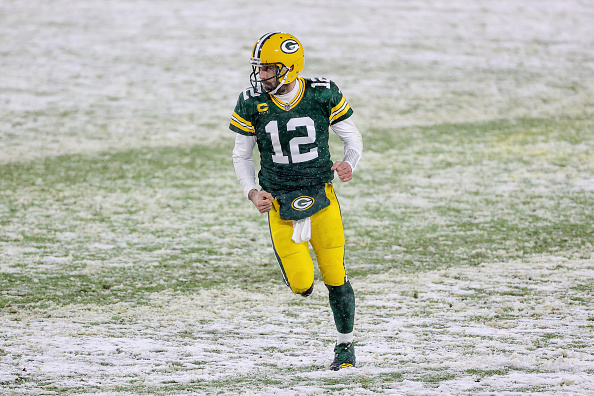 Super Bowl LV Favorites from Each Conference
With Kansas City locking up the AFC's top seed already and Green Bay just a win or a Seattle loss away from winning the NFC's top seed, Patrick Mahomes and Aaron Rodgers should be the Super Bowl LV favorites. These two quarterbacks are likely going to finish 1st and 2nd in MVP voting, with Rodgers with the upper hand as of now.
In terms of their stats, Rodgers is completing 70.8% of his passes while throwing for 44 touchdowns and only five interceptions. Mahomes has thrown for a league-leading 4,740 yards, with 38 touchdowns and six interceptions. If not for the historic season from Rodgers, Mahomes is likely taking home his 2nd MVP in three seasons.
But, while Rodgers may be having the better statistical season, Mahomes's team has won ten straight games, and they avenged their only loss this season to the Raiders. So, Kansas City has beaten every team they have played, and have a 14-1 record to show for it. Kansas City, along with Green Bay, should be the Super Bowl LV favorites from their respective conferences. For more on the NFL playoff picture, click here.
The Super Bowl LV Favorite from the AFC
As written above, superstar quarterback Patrick Mahomes has led the Chiefs to an incredible season. But, football is a team sport, and it takes more than an amazing quarterback to reach the Super Bowl. Fortunately, Kansas City has what it takes. Wide receiver Tyreek Hill can use his Olympic level speed as a vertical threat who can score every time he touches the ball. Tight end Travis Kelce, the best tight end in football, is able to use the middle of the field effectively while also excelling at gaining yards after the catch.
Additionally, Sammy Watkins compliments Hill and Kelce well and will be leaned on if the two aforementioned targets aren't open for Mahomes. While they rank a pedestrian 15th in rushing yards per game, Le'Veon Bell should be able to take a bit of the pressure off the passing attack.
This defense has been good all year, and it shows in many statistical categories. While they allow the 16th fewest yards per game, they also allow the 6th fewest points per game. If Chris Jones, Frank Clark, and Tyrann Mathieu can lead the defense to only allowing their average of 21.6 points per game, they should be in a great position to win the Super Bowl. Because the Chiefs' offense is great, their defense does not have to be. They should be the Super Bowl LV favorite from the AFC.
The Super Bowl LV Favorite from the NFC
Packers superstar quarterback Aaron Rodgers leads the highest-scoring offense in the NFL this season. Yes, even more than the Chiefs, who rank just behind them. Running back Aaron Jones has rushed for over 1,000 yards and wide receiver Davante Adams is having a career year with 109 catches, 1,328 yards, and 17 TDs. Tight end Robert Tonyan has ten receiving TDs this year and has been a great compliment to Adams in the passing game.
Their defense may not be the best in the NFC, but it sure has the potential to be. Kenny Clark is an elite defensive tackle who can stop the run while also rush the passer. Jaire Alexander is one of the best corners in the game and Za'Darius Smith is one of the best pass rushers in football.
With a win/tie over Chicago or a Seattle loss/tie, the Packers secure home-field advantage in the NFC. They are the best team in their conference, and winning at Lambeau in freezing cold temperatures as a road team is extremely difficult. This bodes well for the Packers to win the NFC and go to the Super Bowl for the first time since the 2010 season.
Big Picture
Aaron Rodgers and Patrick Mahomes are the two best quarterbacks in football right now and they play for the top-seeded team in their respective conference. It's only fitting they meet in Super Bowl LV.
Main Image: Embed from Getty Images