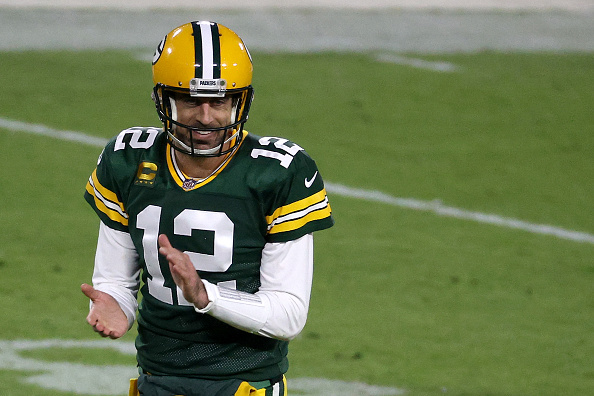 As always, before these best Week 14 fantasy matchups, there has to be a recognition of fantastic fantasy performances in the previous, so here they are.
Darren Waller played like a beast against the New York Jets as he had 200 receiving yards and two touchdowns for 45 fantasy points, while another great performance belongs to Corey Davis who had over 35 fantasy points. That doesn't matter anymore, because Week 14 is coming soon, and it is a very important fantasy week. For many leagues, it marks the start of the fantasy playoffs. These are important, especially for bragging rights and to potentially win money. The key to winning the playoffs is finding players with great matchups, so here they come. Here are the best Week 14 fantasy football matchups in points-per-reception leagues.
Best Week 14 Fantasy Football Matchups
Quarterback
In the past five weeks, Aaron Rodgers has played some of his best football, which has helped him be one of two frontrunners for the MVP award. Rodgers is one of the most trustworthy fantasy quarterbacks in the league because he brings his A-game almost every time.
Now in this time of the push for the playoffs, Rodgers should heat up even more. He is going up against the Detroit Lions who give up the 11th most fantasy points to quarterbacks per game. The Detroit Lions defense is so bad that it gave up 30 points to a horrendous Chicago Bears offense last week. Rodgers will tear this defense apart, in a game in which I expect him to throw for over 275 yards and three touchdowns or even more.
Running Back
The elephant in the room is in his previous matchup against Jacksonville, Derrick Henry only recorded 8.4 fantasy points. To counter this, this matchup occurred in the first half of the season, and well, Derrick Henry becomes "King Henry" in the second half of the season.
He lights up when he knows that he is the key to his team's playoff contention. Going back to the matchup, the Jaguars give up the sixth-most fantasy points to running backs per game, and there is just no one on that defense that can physically match up against Henry. Lastly, Henry is the Tennessee Titans' offense, he will get a boatload of carries and will cash in on them. I predict he rushes over 125 yards along with two rushing touchdowns.
Wide Receiver
Justin Jefferson has been a stud in his rookie season. He currently has seven touchdowns and 1,039 receiving yards which is fourth in the league. The concern with him is that his teammate Adam Thielen is also a threat and could take away opportunities, but I don't think he will.
I actually believe the Tampa Bay defense will be more focused on Thielen, allowing for Jefferson to be man-to-man. Speaking of Tampa Bay, they give up the ninth-most fantasy points to receivers per game. That sings points, meaning Jefferson should have a great day, especially because he is hard to stop. I expect him to get over six receptions for over 80 receiving yards and a touchdown.
Tight End
Recently Eric Ebron's volume has gone up. Last week he was second on his team in targets while in the past four weeks he racked up 22 receptions which is pretty impressive for a tight end. The Buffalo Bills have a solid defense that will focus on the boatload of Pittsburgh Steelers receivers allowing for Eric Ebron to be open. Additionally, the Bills give up the sixth-most points to tight ends in the league.
They actually gave up a touchdown to a tight end last week, so look for Ebron to potentially get a touchdown in this matchup. It's a game where the Steelers will have to throw a lot, and one of their most trustworthy pass catchers is Eric Ebron. He should get over five receptions for 50 yards and potentially a touchdown.
Defense/Special Teams
There has been no hotter defense in the past couple of weeks than the New Orleans Saints. They have been on fire, and now are the number-one ranked defense as they give up the least amount of offensive yards per game.
They are going up against rookie Jalen Hurts who is starting for the first time. With Hurts' inexperience, he will turn over the football a couple of times, and as was evident last week, he steps into pressure. That will not work against a deadly Saints pass rush. Now, the Eagles could take the football out of Hurts' hands and run the football, but they can't because the Saints have the second-best rushing defense in the league. The Saints will get sacks, turnovers, and will give up less than 20 points which means plenty of fantasy points for them.
Kicker
Younghoe Koo has been the best fantasy kick this year. Some weeks he has scored enough points to win tight fantasy games. He is a fantastic kicker that is accurate from almost anywhere. The Atlanta Falcons have a good offense, but in recent weeks they have not been able to score touchdowns in the opponent's territory allowing for Koo to kick field goals. The Chargers have a solid enough defense to stop the Falcons and do exactly as what was written above. I expect Younghoe Koo to have close to or over 10 fantasy points.
Main Photo:
Embed from Getty Images