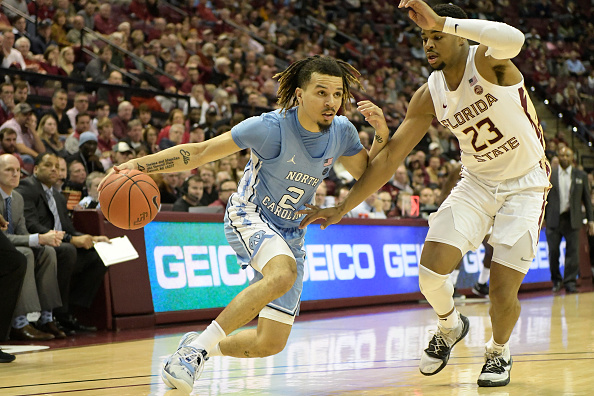 Last year at UNC, Cole Anthony was supposed to lead the Tar Heels to glory. Anthony was the number two ranked recruit by ESPN and was MVP of the McDonald's All American Game. In addition, he was co-MVP of the Jordan Brand Classic. With a former NBA player as his father to guide him, the sky was supposed to be the limit. But a severe knee injury caused him to miss eleven games, and the team finished with a 14-19 record. Although Anthony put up stats (18.5 PPG, 5.7 RPG, 4.0 APG), the perception from NBA scouts and media alike has soured. Instead of projecting him as a top ten pick, mock drafts have him in the late teens and early 20's now. But there's one team that fits Anthony's attitude more than any other: the Miami Heat. This is why the Heat should draft Anthony.
Why The Miami Heat Should Draft Cole Anthony
Why The Heat Need Him
When the Heat lost to the Los Angeles Lakers in Game Six, there was a glaring weakness to blame. The point guard position was greatly hurt by the injury to Goran Dragic and the loss of his 19.1 PPG. Specifically, how he can create offense for himself and his ability to drive into the paint. Because of his injury, Jimmy Butler, Tyler Herro, and Kendrick Nunn were counted on to do his job. But those players already had enough on their plates and having a player like Anthony would've been a huge help.
When we look at the present, Dragic is a free agent. Another important factor is Dragic's age. He's 34 and will be 35 at the end of next season. Right now, Dragic would like to re-sign with the team but is keeping his options open in the open market. Dragic will no doubt have suitors, but the Heat are more than likely to bring him back on a one year deal to make another run. In that scenario, the Heat would need to figure out their point guard situation again after the season. Nunn would have one year left on his deal and need to be re-signed.
Anthony, The Heat, and Giannis Sweepstakes
Now then, if rumors are accurate that the Heat are all-in on Giannis Antetokounmpo in 2021, having financial flexibility will be critical. By drafting Anthony this year, he'd have three years left on his rookie contract when Antetokounmpo would arrive. If the Heat decide Nunn is the better start, they can still use Anthony in a sixth man role off the bench like how Dragic was this year. If anything, it could be a benefit for Anthony to run the second unit. But for all the reasons the Heat needs Anthony, the rumors of Anthony being a bad teammate muddy the waters.
Addressing Bad Teammate Rumors
As someone who watched every UNC game last year, the gossip of Anthony being a bad teammate is baffling. When Anthony returned from his knee injury, his draft stock dropped as a result. But he returned because he loved his team, coaches, and the game. That kind of toughness and winning mentality is exactly what the Heat are built on and is what makes this pairing even better. Anthony is a fierce competitor and is more mature than people think. Back in April, he helped deliver food to front-line hospital workers during COVID. And after the bad teammate rumor picked up speed, his college teammates advocated for him on social media refuting the claims. Now that that's out of the way, let's focus on the nitty-gritty. What can Anthony do on the court?
Scouting Report On Anthony: Weaknesses
Anthony's college tape is the other reason scouts are unsure of him. His 18.5 points per game are impressive but came off of an inefficient 34 percent shooting from the floor, and 34.8 percent from three. His shot selection was questionable often, and he struggled to finish through contact after getting in the paint. By just looking at his game logs from his freshman season, he looks like a volume scorer at first glance. The last weakness in Anthony's game is his turnovers. In college, he averaged 3.5 turnovers compared to four assists.
But these weaknesses can't be blamed on Anthony entirely. After all, head coach Roy Williams did call UNC's team last year "the least gifted he's ever coached". Anthony didn't have other playmakers or shotmakers to help ease his burden. It wasn't until after he returned from injury in February that his teammates stepped up to start helping in terms of scoring. So his high number of shot attempts was due to terrible spacing by UNC's offense and there not being other options to shoot the ball. Injuries plagued the entire UNC roster all season too, meaning Anthony had to play a lot more minutes than planned.
Scouting Report On Anthony: Strengths
What I'm trying to say is Anthony has a lot of strengths that are being ignored because of one bad year. First, he averaged 5.7 rebounds a game and showed fearlessness when it came to battling for boards defensively. That's an intangible that not every point guard has. Next, he has a scoring first mentality. In the modern NBA, being able to score is just as important as facilitating if not more so for point guards. He can make tough, contested shots, and has room for growth as a passer. He has a ton of athleticism, elite handles, and can be a solid defender whence he learns to gamble less on plays. Finally, Anthony will get stronger the older he gets which will help him finish through contact. He's so young that to ignore all the potential scouts saw less than two years ago would be incredibly foolish.
Bottom Line: The Heat Should Draft Anthony
At the end of the day, Anthony will only be 20 years old in his rookie season. He has the pedigree and resume of a future all-star in the league. His weaknesses are fixable (turnovers, finishing in the paint, and shot selection) and will be smoothed out with experience. While he improves, he can still contribute in his rookie season by putting up double-digit points every night, competing on the boards, and competing on defense. The Heat is looking to win now as well as in the future. The Heat should draft Anthony and bank on him living up to his ceiling to carry on the tradition of Heat culture if he's available come pick 20.
Main Photo:
Embed from Getty Images