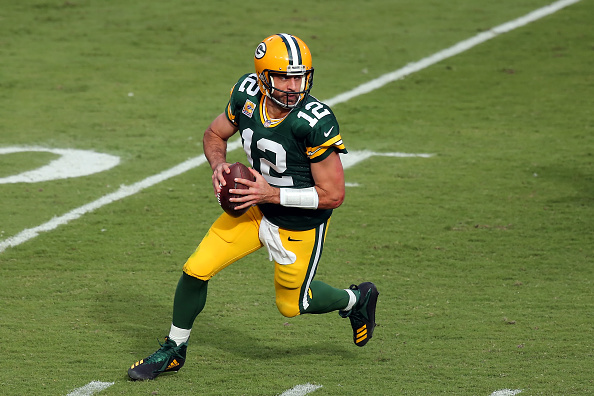 We are already here in Week 7 of this crazy NFL season. This year is truly flying by as we are almost at the halfway point in the schedule. So, we must enjoy every single game as much as possible because next thing you know, it'll be the Monday after the Super Bowl and we won't be able to watch football for several months. Now, that's still a while away, so don't worry just yet. With that, I give you my three best bets for NFL Week 7.
Three Best Bets For NFL Week 7
Dallas Cowboys @ Washington Football Team
Pick: Over (45)
Now, before you say anything, I get it. Why would one of my three best bets ever include a game that features two NFC East teams? It's a good question, as it is obviously the worst division in football and there should be a rule put in place by Roger Goodell right now saying that none of these teams are allowed into the playoffs. I mean seriously, a team from the NFC East will host a playoff game? Come on. Whoever the five seed is in the NFC will be licking their chops as they will have an easy first-round win.
You might still be questioning my theory of the over for this game, but stay with me. The Dallas Cowboys have been historically bad on defense. Through their first six games, they are allowing over 35 points on average and have been the main reason for almost every loss. We haven't seen those kind of numbers in decades. Before Dak Prescott got hurt, it was like the offense was doing everything they needed to do to win and the defense decided to step in and give up the game. I understand that the Washington Football Team isn't the prettiest offense. However, I believe they will hold up their end of the bargain regarding points. Even if it's Kyle Allen starting at quarterback, I really just can't see anybody playing too poorly against this defense. Not until they make the changes they so desperately need.
On the other side of the ball, Andy Dalton is getting ready for his second week of starting and will face rookie sensation Chase Young. Young has been simply amazing so far as we all have predicted. This will be another solid matchup for him as he goes up against a veteran quarterback. Going into this week, the Cowboys are trying to erase what had happened on Monday Night Football against the Arizona Cardinals when they got blown out at home. I think another week with the starters will only improve Dalton's confidence heading into this week and the rest of the season. Expect more than 10 points from Dalton and the Cowboys when they go up against a young, up and coming defense on Sunday.
Since I am not willing to trust either one of these teams enough to pick them, I am going with the over in my three best bets for NFL week 7.
San Francisco 49ers @ New England Patriots
Pick: Patriots (-1.5)
For this late-window matchup, Jimmy Garoppolo leads his San Francisco 49ers into Foxborough to take on his former team in the New England Patriots. This will be Garoppolo's first time playing the Pats since his departure in 2017. Jimmy G has to be licking his chops heading into this game trying to prove he should've been the quarterback the Patriots kept instead of Tom Brady. I'm sure he wishes this game was actually against Brady, but instead he will be taking on Cam Newton and the new-look New England offense.
The Niners come into this off of a win against the Los Angeles Rams after dropping two home games in a row prior. They are currently 3-3 on the year and have already had a season's worth of injuries. Jimmy G has already missed some games, young star Nick Bosa is gone for year. On top of that, starting running back Raheem Mostert's first game back from injury was last week. He was injured again during that game. Things just aren't going the 49ers way so far this year ever since blowing that lead in last year's Super Bowl. If this were a healthy team, we would be talking about them as one of the best squad's in the league again. Nonetheless, that's not the case. If this team can't find a way to contain the injuries, they will be an early-round playoff-exit, if they even make it there.
As for the Patriots, they come into this game having lost at home to the Denver Broncos last week. They didn't look anywhere near their best and that's exactly why I love them this game. New England hasn't lost back-to-back home games in seven years. Was that with Brady as quarterback? Yes, but Belichick is still there and he will have this team as prepared as ever especially after last week's performance. As I said previously, if the 49ers had a completely healthy team, maybe I have a different opinion. Since they do have that many injuries, I see the Patriots taking this one by seven points in my three best bets of NFL week 7.
Green Bay Packers @ Houston Texans
Pick: Packers (-4.5)
With my absolute favorite pick of the week, the Green Bay Packers are traveling to Texas to take on the Houston Texans. This line can't be real, right? I really can't believe Vegas is giving the Texans only 4.5 points. Aaron Rodgers is facing a 1-win team and is only favored by that much. Even if you don't like the spread, the line isn't too large to bet them moneyline. Simply put, if the Packers don't demolish this team after last week's performance, then I don't have a clue how to bet football. Let me dive in.
The Texans have wasted the talent of a potential all-timer in Deshaun Watson. I truly feel bad for the guy. Year after year, the Texans are usually a borderline playoff team (outside this year). Sometimes they would win the Wild Card round, but other than that, nothing. Houston's front office has failed Watson for the majority of his career. If he had a competent front office that added the pieces this team needs, they would be a consistent Super Bowl contender. Instead, they are currently 1-5 and have already fired their head coach, Bill O'Brien, this season. The rest of the year will be tough to watch for Texans fans, but that's not really new to them anyway.
Regarding Green Bay, they can't look much worse than they did last week at the Tampa Bay Buccaneers, at least I don't believe so. The Packers actually looked like they have all year in the first quarter of last week's game. After Rodgers threw two interceptions, the whole game turned on its ear. Nothing would go their way after that and Green Bay ended up dropping their first game of the year 38-10. That was not the real Green Bay Packers that will show up every week. I see people already freaking out over one poor performance saying this season is like every other. This team is different than one's in the past and will bounce back this week against a not-so-good opponent.
Because of all the facts I have stated above, I am laying the points and taking the Packers to dismantle the Texans in my three best bets for NFL week 7.