It was one of the best games we've seen so far in the 2020 season, but it didn't end how many New England fans would have wanted. Cam Newton and the Patriots loss to the Seahawks is without a doubt a heartbreaker, but it's one of the most important and confidence-boosting losses this franchise has ever had.
Takeaways From the Patriots Loss to the Seahawks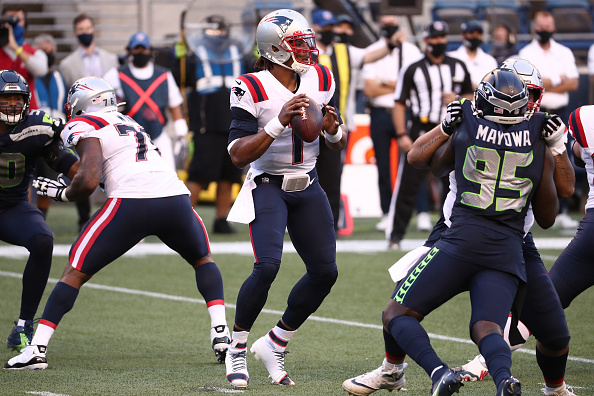 The Return of Super Cam?
If there is one takeaway from this game, it's that Cam Newton looked very good. No, I mean VERY good. Newton finished the night 30/44 and accumulated nearly 450 total yards to go along with three touchdowns. He was crisp with many of his throws and really never seemed off-beat at all throughout the game. It's a welcoming sight for every Patriots fan, who just seven months ago lost their franchise quarterback of 20 years to free agency and saw a massive hole needing to be filled.
There was certainly a lot of question marks regarding Cam Newton prior to week one. Even after the Patriots victory against the Dolphins, many were skeptical of Newton's throwing ability. I think that question has been answered. Newton looked on point with nearly every one of his throws. Aside from his poor read that led to an interception, Newton truly looked like his former self.
Now, the Seattle Seahawks secondary was decimated with injuries and one ejection, so there may be some room for speculation regarding his ability to do this against an above-average defense. However, for Cam Newton to throw for more yards in a game than Tom Brady did for the entirety of last year is certainly nothing to brush away.
There is a different dynamic in New England now. You've combined a dynamic quarterback in Cam Newton, with the greatest coach ever in Bill Belichick.
Newton went toe to toe with Russell Wilson and it took a goal-line stand from the Seahawks for Cam Newton not to end up on top. It's a Patriots loss Cam Newton would like to have back, but one that proved Newton can still compete with the best of them.
Aside from Cam Newton's electric performance, another name certainly stands out on the stat sheet. Julian Edelman totaled 179 receiving yards against the Seahawks and looked to be the blanket of security for Cam Newton, something that Tom Brady used for many years. Edelman's night was highlighted by a 49-yard reception late in the fourth quarter.
Edelman was all over the field catching short dump offs and over-the-middle darts all night. There were a ton of questions surrounding Julian Edelman this offseason. His rough play style mixed with his age truly had Patriot fans question his abilities for this season. This performance not only solidifies his ability to still play at a high level, but it shows the bond between Newton and Edelman already starting to solidify. It's a mirror image of what we saw for the past decade between Edelman and Brady.
This game said a lot about the relationship between Newton and Edelman, specifically on the field.
The Patriots are very limited with both their receiving depth and talent this season. N'Keal Harry, Damiere Byrd, and Jakobi Meyers were not an ideal cast for a quarterback looking to compete at a high level once again. But he's worked well with those three and has found Edelman to be his go-to-guy. It's something every quarterback needs, and both of these guys have formed that relationship quite well.
The Patriots Are Still the Patriots
The talk by many before the season started, was that the New England Patriots have finally "retired". And in typical New England fashion, the Patriots have proved everyone wrong once again. They look better than they did last year. Following this Patriots loss, one thing is for sure; the Patriots are certainly still the Patriots.
There was an overwhelming agreement in the sports world that a Seahawks win was inevitable. Absolutely no one (outside of Pats Nation), felt this game was going to be close, let alone that it would finish the way it did. Well, the Patriots went blow for blow with arguably the best team in football and controlled their own destiny with seconds to go. That is a hidden win in this Patriots loss.
Sure, you can look at their inability to stop Chris Carson or the fact that D.K. Metcalf smoked the secondary multiple times. But the fact that the Patriots were in this game until the closing seconds should be a frightening scene to nearly every NFL team.
The Bills now have to wonder whether they truly have this division locked up. The Chiefs now have week four circled on their schedule. This Patriots loss had a much larger impact than just a simple record change.
It has given the Patriots hope and confidence, something they certainly lacked going into the season.
Main Image: Embed from Getty Images