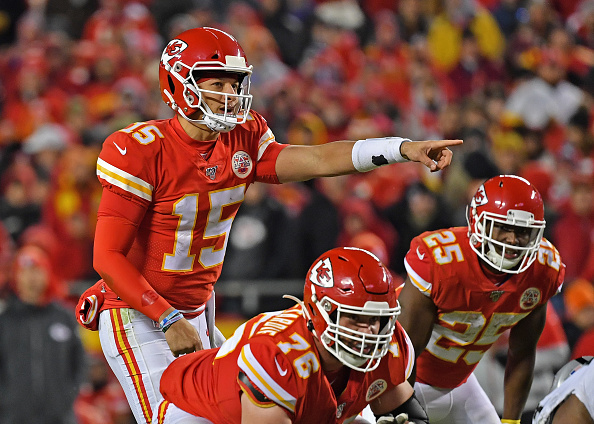 With the 2020 season 2 weeks away, in this article, there will be predictions for the leaders in major quarterback stats. These stats include passing touchdowns, passing yards, completion percentage, and interceptions. Additionally, besides predicting the leader, there will also be statistical predictions, for example, the number of touchdowns that quarterback throws. These predictions are based on the quarterbacks' talent, their play in the last couple of years, and their supporting cast. Here are the 2020 quarterback statistics leaders for the National Football League season.
2020 Quarterback Statistics Leaders Projections
Passing Touchdowns
Many people might be surprised by this prediction because of last year. Last season, Mahomes only threw 26 touchdowns which were 6th in the league. A key factor in this, though, was that he missed two games and his receivers underperformed. However, he did lead the Kansas City Chiefs to a Super Bowl LIV win.
If you look back to 2018, Mahomes threw a mind-blowing 50 touchdowns when he was fully healthy. I don't expect close to 50 because he has to play some great defenses, but I expect him to have a bounceback season. Additionally, he averages 2.45 touchdowns a game, which is very close to the top of the league. He also has one of the best receiving corps on the league and a great offensive line that combines fantastically with his super talent consisting of a powerful arm.
Passing Yards
Patrick Mahomes: 4,900 Passing Yards
Mahomes is the leader for this category too, for many reasons which all add up to that he is the best quarterback in the league. He did only have 4,031 passing yards last season, but, as mentioned, he was injured and his receivers underperformed. The last season in which he was healthy was 2018 where he threw an amazing 5,097 passing yards, good for the second-most in the league.
Mahomes has all the tools to easily get close to 5,000 passing yards. He has the second-best arm strength in the league. Though he is a gun-slinger, his field vision limits his interceptions. This throw power pairs up nicely with his number one receiver, who is also the fastest receiver in the league, Tyreek Hill. The pieces will fall into the right places and Patrick Mahomes will have himself a mind-blowing season.
Completion Percentage
This is probably the easiest one to predict on this list. Although Drew Brees is getting up there in age and is prone to regress this season, it's hard not to see the fact that Drew Brees is the most accurate quarterback in NFL history. His career completion percentage is 67.6%, which is 0.7% higher than second place. As stated before, he is getting older, but his accuracy pairs greatly with the offensive weapons the New Orleans Saints have at their disposal.
Over the middle of the field, Brees can throw to Michael Thomas and it will be complete. Thomas is one of the best possession catching receivers in the league and he will literally catch any football. Brees is likely to lose some arm strength, but he can still throw some short passes to Alvin Kamara, one of the best pass-catching backs coming out of the backfield. It is a perfect mixture that you cannot ignore. For those reasons, Drew Brees will lead the league in completion percentage.
Interceptions
This was a tough decision, but I have decided to go with the Los Angeles Rams starting quarterback Jared Goff. Last season, Goff threw 16 interceptions. Going more in-depth, over the past two seasons, he has averaged 14 interceptions (12 in 2018, 16 in 2019). Throughout his career, he has been regressing, especially in the interception category. I expect him to continue this regression.
Over the offseason, he had lost his number two receiver, Brandin Cooks, and running back Todd Gurley who were big factors in the passing game. His offensive weapons consist of a large number of players he hasn't formed a trust with yet. Additionally, Goff has to face two excellent secondaries in his division. Unfortunately for him, his division rivals have great pass rushers and his offensive line isn't great at all. These pass rushers can force him to make erratic throws. This especially doesn't go along well with his gun-slinger mentality. I expect Jared Goff to have a down year, due to many interceptions, that were forced and erratic throws.
2020 Quarterback Statistics Leaders Recap
In this article, I went over who my predicted leaders were for major quarterback stats. These stats included passing touchdowns, passing yards, completion percentage, and interceptions. I also included my prediction for each statistic. Going in order of the statistics, the predicted leaders were Mahomes, Mahomes, Brees, and Goff. Some of these decisions were tough, but others easier. They all were decided based on these quarterbacks' abilities and supporting casts.
Main Photo:
Embed from Getty Images