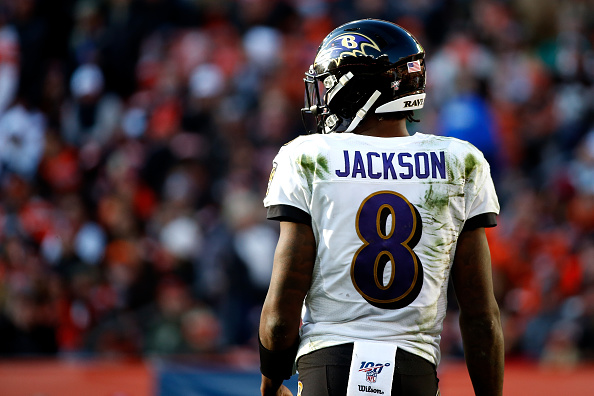 Typically one of the more competitive divisions in the NFL, 2020 will require unproven signal-callers to step up and prevent the Baltimore Ravens from running away with the title. A division that includes four former Heisman trophy winners should provide plenty of excitement in what will be a strange season.  Below is a look at my AFC North quarterback projections for the 2020 season.
AFC North Quarterback Projections
Baltimore Ravens
After an MVP season in 2019, Lamar Jackson looks to return in top form and will be seeking redemption if the NFL season is able to last into the playoffs. Expect Jackson to continue to improve in the passing game. His supporting cast is even stronger than last season and his ability to move the ball on the ground will continue to stress defenses and open up lanes in the passing game. Can Jackson sustain this style of play without getting injured? What happens when teams have an effective game plan and speed at the linebacker level to neutralize his ability to move the ball with his legs? Will it look like the playoff game against the Tennessee Titans? Until teams find a way to slow him down, they better be prepared for a shootout this fall.
Things look to get interesting in Pittsburgh this fall. As the Steelers move towards the end of the Ben Roethlisberger era, they will be looking to evaluate if any of the other quarterbacks on the roster are a possible fit to replace him. While it is unlikely that the quarterback of the future is currently on their roster, we can hypothesize that at some point Roethlisberger will miss time due to an injury allowing us to further evaluate the other options. Last season, Mason Rudolph and Devlin Hodges both were given opportunities to show what they could do as rookies. From a skill perspective, Rudolph is the superior talent, although his decision making was questionable at times. Was that just the rookie jitters or is that a trend that will plague his career? Paxton Lynch wasn't given an opportunity to redeem his first-round draft bust status last year, although a year in the system and an opportunity to compete in training camp may show that he is a better option than an undrafted Hodges. J.T. Barrett is a camp arm and doesn't stand much of a chance to make the 53-man roster.
Starter: Joe Burrow
AFC Rank: 11th
Want an example of all the eggs in one basket? Look no farther than the Cincinnati Bengals quarterback room. Finley did get some experience in 2019 and looks like he could provide some long-term depth at the position. Dolegala was able to use the 2019 preseason to earn a roster spot last year and may again find himself on an NFL roster come the regular season. While few people expect the Bengals to be competitive in 2020, it just has to be a matter of time before the Bengals bring in an experienced vet to provide some insurance and help in the development of their future franchise quarterback. Turns out, they did just that on August 1: they signed Brandon Allen.
This offseason has been quite the contrast to what was the circus that followed the Browns after all their additions last year. With what we know about the organization that calls themselves a football club in Cleveland, there may finally be a sign that they are on the right track. Mayfield is likely in the group of quarterbacks who are running out of time to prove they are the long-term solution at the position for their respective franchises. Much like the New York Jets, the Browns seem to be constantly overhauling their front office. With divisional foes like Baltimore, quite possibly Cincinnati, and in the Jets' case Buffalo; finding their franchise quarterbacks in recent years, the pressure will continue to mount. Case Keenum has started for four different teams over the past four years.  He will be looking to relive his 2017 season as he reunites with quarterback coach Kevin Stefanski. Stefanski was Keenum's coach with the Minnesota Vikings when he was able to lead the Vikings to the playoffs and pull off the Minneapolis Miracle.
Main Photo:
Embed from Getty Images