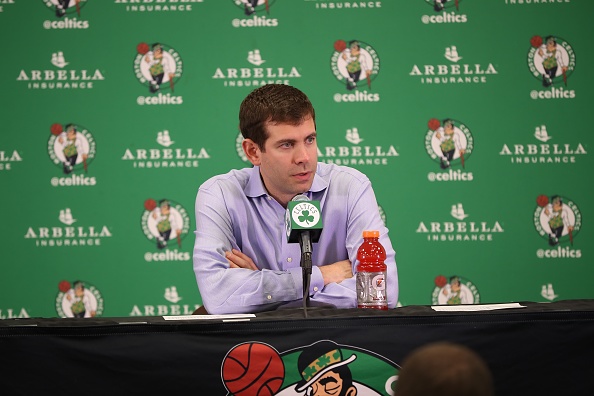 Celtics fans were blessed enough to witness NBA action for the first time since March 12th. Boston went up against the Oklahoma City Thunder in an exhibition scrimmage before the eight seeding games begin. As we all saw, there was a fair share of ring rust from both sides, and throughout the league. That makes it all the more important to take in everything we saw last night with a grain of salt and not get too over-reactionary.
Ultimately, Boston fell to the Thunder 98-84. While the outcome does not attribute to the legitimate standings, there are a few things the Celtics have to work on before these games start to matter more. Here are some of the big takeaways from the Celtics-Thunder scrimmage.
Biggest Takeaways From Celtics-Thunder Scrimmage
These scrimmages are absolutely necessary
It was evident that these players have missed playing basketball for the last four-plus months. For good and bad reasons. They looked eager to get back on the court and return to that level of competition, but physically, the game was slower and sloppier than we are used to seeing. And that's not a critique. That's what these scrimmages are for.
The Celtics-Thunder scrimmage became more of a run for the second and third-string players on both sides. None of the Celtics starters logged over 20 minutes, and only Enes Kanter scored in double figures. Before the angry Celtics Twitter mob tries to dismiss everything we've seen from this team this season over a non-impactful scrimmage, take a step back and assess the situation.
Running shape and game shape are not two in the same. Neither is scrimmaging within your own team and against another opponent. Mentally and physically, it is a different approach. It'll take a game or two for these players to return to a certain degree to their normal in-game shape. It may look a tad ugly at first, but it takes time.
Secondly is the outcome. Yes, the Celtics lost to the Thunder 98-84. It wasn't pretty to watch, or particularly fun at certain spots. However, it was nice to see NBA basketball back on TV. That being said, the loss shouldn't deter Celtics fans' opinions or hopes for their team approaching the seeding games and playoffs. The sports world is prone to overreact to anything and everything that comes their team's way, good or bad. While one can chalk this up to simply overexcitement for the return of sports, be careful not to invest too much stalk in the Celtics' play on Friday.
Who Looked Good?
Moving onto a more optimistic conversation, there were a few bright spots to come from this Celtics and Thunder scrimmage. Jaylen Brown, in particular, looked very strong. He opened up the game with a nice spin into a step-back jumper over Chris Paul and looked very confident throughout the first half. He finished with 9 points and 3 boards while sitting out the entire second half.
Marcus Smart went back to his usual ways. In 18 minutes, Smart shot 3-8 on 0-5 from three and finished with 6 points, 3 assists, and 3 steals to go with it. So it's nice to see that Smart is capable of staying consistent despite the lengthy four-month absence. Gordon Hayward looked relatively good, nothing too impactful. He logged 7 points on a relatively quiet night. Which I guess is a good sign.
When the starters went to the bench, it allowed for Boston's youth and bench to get some bulky minutes in. One of the key contributors during that stretch was Tremont Waters. Personally, before everyone hops on the Waters bandwagon after his strong performance, I've long been on the "give Tremont Waters more minutes" train since his arrival in the summer league.
The main reason I have been and still am a strong advocate for Waters' minutes is how impactful he is for only the few minutes he plays. He always has that identity as the scrappy, workhorse, dogged undersized point guard who can actually pass very well as we saw Friday. Waters logged 5 assists, a team-high, which was nice to see given the cast of players he played with.
Lastly, the final player worth noting is Enes Kanter. As stated before, Kanter was the only Celtic to finish in double figures with 11 points, but he also pulled down 10 rebounds to go with it. He still has much room to improve on the defensive end, but it was nice to see Kanter contribute in big fashion last night.
Who Looked "Bad"?
Scratch the word "bad" and instead swap it with rusty. The most obvious player that comes to mind that looked the rustiest in the Celtics-Thunder scrimmage was Jayson Tatum. Tatum played 18 minutes and only had 3 points on 1-6 and 4 boards. I'm not the least bit worried or concerned about his struggles Friday night. It wouldn't be fair to assume everyone would immediately return to form in a random scrimmage after 4 months off.
He'll regain that All-Star level offense shortly and the Celtics will be fine. Fortunately for Tatum, he managed to still be effective on the defensive end when his shots weren't falling. He came away with 2 steals and played very strong on-ball defense. While it was only a small sample size, it was nice to see Tatum continue to play hard even when his game was off.
Rookie Carsen Edwards also struggled mightily Friday night against the Thunder. His offense isn't in a real flow and he struggled to make a real impact. Edwards was a dominant scorer at Purdue and we saw him put up points in a hurry last summer league and preseason. However, that type of scoring didn't translate to the NBA his rookie year. His highest scoring output is 18 points thus far, but that hasn't been his usual impact.
Hopefully, this restart is what Edwards needs to regain that type of confidence. With no fans in the stands to distract, it allows Edwards to refocus and hone in on what brought him to the league in the first place.
Final Thoughts
Obviously, Celtics fans would've liked to see them escape with a win against the Thunder. However, what needed to be focused on was what transpired on the court. And in that regard, we saw some good spots that will excite Celtic fans for the upcoming restart. The Celtics now have less than a week with two more scrimmages to prepare for the seeding games and playoffs.
Sunday, they square off with the Phoenix Suns and Tuesday against the Houston Rockets. Continue to pay attention to each player's progression, as that is what is most important as we work towards Friday's restart. If we learned anything from Friday's scrimmage between the Celtics and Thunder, it's that we need to be reminded that it's been four months since on-court action took place and that it is still too early to get a full read on anyone.
Main Image: Embed from Getty Images