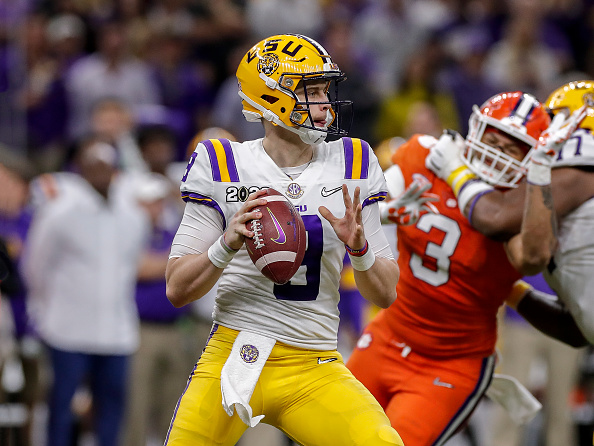 The 2020 NFL draft saw many offensive weapons drafted across the league. Some will have small roles initially and may struggle to make a significant impact on their team. Others will have a bigger role and will make an immediate impact on their offense. These young stars who make these impacts will show that they are apart of the NFL's future and should help make this another exciting NFL season. Here are five NFL offensive rookies who will make an immediate impact.
NFL Offensive Rookies Who Will Make an Immediate Impact
The Bengals' new face of the franchise will likely be the team's starter in his first NFL game this season. Burrow is the top pick of the draft and with it comes high expectations. Luckily for Burrow, the Bengals have a surplus of weapons on offense for him to use. A.J. Green is expected to be fully healthy and ready to return to his elite status. They also have Tyler Boyd and fellow rookie Tee Higgins to help with slot work and deep balls. He can also rely on Joe Mixon to help balance the offense and contribute to the passing offense. Burrow found success with LSU prior to being drafted and he will look to bring that success to Cincinnati starting in year one.
A big need for the Jets this off-season was to get weapons for Sam Darnold. They lost Robby Anderson to the Carolina Panthers but signed Breshad Perriman from the Tampa Bay Buccaneers. They also return Jamison Crowder to go with Perriman and Mims. Mims averaged 900 yards and nine touchdowns in his last three seasons at Baylor and was a big contributor to their success on offense. He's loaded with potential and possess the skill needed to contribute in year one. Mims is 6-foot-3 which will make him a big target on the outside for Darnold. The Jets will hope that Mims and Darnold develop a relationship early and that they can generate some success on offense with the duo for years to come.
The Colts have also struggled to add weapons on offense outside of T.Y. Hilton. Even Hilton has his own issues with injuries, which keeps him from contributing on a consistent basis. The Colts were able to get Pittman in the second round of the 2020 NFL draft hoping he could help improve their receiver group. Pittman has a big opportunity in his rookie season to make an impact for the Colts. The Colts lost Devin Funchess and Eric Ebron to free agency this off-season; however, Zach Pascal found some success last season with Jacoby Brissett. Pittman can easily become a top-three option for the Colts' offense this season if he can perform like he did at USC.
The Rams have moved on from Todd Gurley and will look to the future at running back. The Rams took Akers in the second round of the 2020 NFL draft and clearly have some expectations for him. Akers had 1,369 yards and 18 touchdowns from scrimmage in his final year at Florida State. He can play the same role Gurley had help keep consistency on the Rams' offense. The loss of Brandin Cooks should open up more looks for running backs in the passing game and Akers should be able to handle a receiving role with 30 receptions in his last year of college. The Rams may not make Akers a workhorse back immediately, but he will have a strong role on offense and if he shows he can handle the pressure, his role will continue to increase throughout the season.
The Detroit Lions selected D'Andre Swift in the second round of the 2020 NFL draft. Even with Kerryon Johnson on their roster. Johnson is one of the NFL's remaining power backs who can run through a defender better than he can around them. He contributed a solid amount in the passing offense too, but Swift will fit the role much better for Detroit. Swift is the latest running back to enter the NFL out of Georgia and should be able to contribute like his fellow bulldogs in his rookie year. He will add a great change of pace to the Lions' offense and should take the receiving pressure off of Kerryon Johnson which should help Johnson stay healthy long-term. Swift has the potential to be a top running back in the NFL and his rookie season should see flashes of that high potential.
Main Photo:
Embed from Getty Images