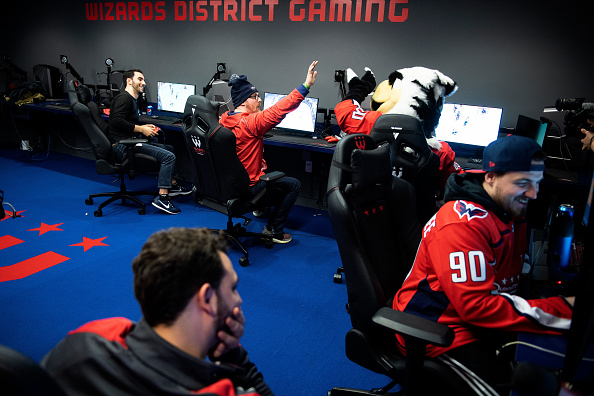 The competitive gaming and Esports sector saw a huge increase in viewership figures after the Covid-19 pandemic caused the mass cancellations of sporting events across the globe. Fans of traditional pursuits like basketball, tennis, and golf turned to esports to fill the void, giving the gaming industry yet another shot in the arm.
Streaming platform Twitch achieved a maximum concurrent viewership of 2,090,713 on March 10. The following day, the NBA announced that it was suspending the season indefinitely. March Madness was then scrapped, and sports leagues around the world fell like dominoes.
The migration to competitive gaming was swift. By April 10, the maximum concurrent viewership at Twitch – the dedicated streaming platform for gaming content, which typically boasts a 70% share of gaming viewers – had increased to 4,328,389, according to Twitch Tracker. On June 11, it shot up to 6,059,527.
To be clear, concurrent viewership does not represent the full picture. Many more people were watching gaming content on those days, but concurrent viewership is a reliable growth metric. Every chart available shows viewership at Twitch and YouTube gaming soaring since the coronavirus lockdown began in March.
Not all of the gaming at Twitch is competitive, but esports accounts for a significant chunk of it. Anecdotally, this is the content that traditional sports fans have migrated towards, as they have been desperately seeking competitive action to watch.
The Rise in Esports Amidst Live Sports Uncertainties
A Long-Term Trend
The competitive gaming sector had been on a tear long before the coronavirus crisis turned the world on its head. Esports have been around for decades, but the concept of professional gaming has only really taken off in the past decade. Its rise to prominence was facilitated by two key developments: the advent of high-speed broadband, which has connected gamers around the world; and the launch of Twitch, the platform that Amazon purchased for $970 million in 2014.
That year, the global esports audience grew to an impressive 250 million, according to analysts at NewZoo. They were mainly concentrated in China, South Korea, the USA, and parts of northern Europe, but it has since become a cultural phenomenon on every continent.
The number of esports fans grew to 335 million in 2017, then increased to 395 million the following year and hit 454 million in 2019. NewZoo projected that there would be 495 million esports fans spread across the world in 2020, but it might want to revise that estimation after the huge uptick seen since the pandemic gripped the world.
Stratospheric Growth
The esports sector has also faced significant challenges in 2020. Several events have been called off, including a CS:GO Major, the Fortnite World Cup, and The International, the most lucrative esports event of the year. Fans have not been able to pack into stadiums to roar on their heroes within the fields of League of Legends and Overwatch.
However, the competitive gaming industry is run by young, agile, tech-savvy types, and they quickly pivoted to hosting tournaments online. Some high-profile events have fallen by the wayside, but viewers have never lacked exciting action to enjoy.
The global nature of competitive gaming means that there is always action taking place somewhere in the world. It is perfect during a pandemic, as everything can take place in a socially distanced fashion.
The sector incorporates a wide range of extremely different games: multiplayer online battle arena titles like LoL and Dota 2, first-person shooters such as CS:GO, Overwatch and Call of Duty, battle royales including PUBG and Fortnite, plus real-time strategy games, fighting games, and sports sims.
The latter category has proved extremely popular among traditional sports fans. Games like FIFA, NBA2K, and NHL-Esport have enjoyed stratospheric growth. Virtual Formula 1 Grand Prix races have racked up 30 million viewers in the absence of traditional motorsports. Traditional sports stars have even appeared in tournaments such as the ePremier League Invitational.
Building An Ecosystem Around Traditional Sports
EA Sports has managed to introduce Madden and FIFA to far larger audiences since March, according to Todd Sitrin, senior vice president and general manager of EA's competitive gaming division.
"The TV distribution opportunity increasing dramatically, along with celebrities and people being at home, represent tectonic shifts in the esports industry going mass market," he said. "The games that we produce allow us to build an ecosystem around traditional sports because there is less barrier to entry for fans" stated Sitrin.
Total broadcast hours for FIFA, Madden, and Apex Legends – the company's other key esports title – grew by 250% in April on a year-on-year basis. Sports fans have relished the opportunity to watch high-octane, competitive action during the lockdown. Anyone really keen to scratch the competitive itch can even indulge in skill gaming at esports site Unikrn, which allows you to bet on yourself playing video games.
The big question is whether it will mark a permanent shift. People are starting to return to work and they have less time to stare at screens. Traditional sports leagues are starting to return.
The Bundesliga in Germany was the first major tournament to resume when Borussia Dortmund and Schalke locked horns in May. The Premier League, Serie A, and La Liga followed in its footsteps a month later, while the PGA Tour recommenced and a few tennis matches were held.
The NBA is now poised to restart in Orlando, while MLB stars have finally agreed on a deal for a truncated season beginning this summer. Will fans simply return to baseball, basketball, tennis, and so on, or will they stick with esports?
Future Projections
It seems like nothing can halt the inexorable rise of competitive gaming. Sports like golf, horse racing, and baseball have aging fan bases, and they are in terminal decline. Meanwhile, esports is overwhelmingly popular among teenagers and young adults. Many youngsters that have grown up with technology identify more readily with pro gamers than traditional athletes. The gap will continue to narrow in the years ahead. Some people even believe that esports will one day overtake traditional sports in the popularity stakes.
If that sounds far-fetched, the League of Legends World Championship has already racked up more viewers than the Super Bowl. You just have to consider how dynamic the esports sector is to see how much growth potential it has. New games are launched on a regular basis. Valorant is just the latest in a long line of new titles taking the world by storm.
Video gaming is worth $159.6 billion, making it bigger than Hollywood and the music industry combined, and esports is at the forefront of it. Technological improvements mean the games are always getting better, whereas traditional sports are largely standing still by comparison. Developments in virtual reality will help the esports sector to hit new heights, and augmented reality could even bring esports and traditional sports together to form a new category.
Esports stars are already earning millions of dollars for their exploits. Sponsorship deals have soared in recent years, prize money has increased accordingly, and the scene is growing increasingly professional. It is a brave new world, and it might be time to join the 495 million people that already enjoy esports.
Main Image: Embed from Getty Images