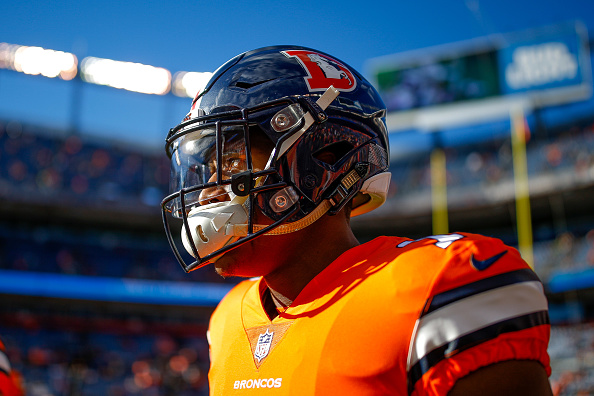 Every season, a new batch of NFL stars are born from the pool of current players. Many players who entered the league in the previous few seasons have had time to develop their skills and build chemistry with their teammates. These future stars transition into current stars before out eyes and forge the future of the NFL each season. There will, of course, be new stars made this season and some stars who are able to make their mark as true superstars. Here are five NFL players who will breakout in 2020.
Five NFL Players Who Will Breakout in 2020
Sutton made a big leap in 2019 that led to a pro bowl, but 2020 can be even bigger for Sutton and the Denver Broncos. Sutton had 72 receptions in 2019 and with more threats added to Denver's offense to spread the field, Sutton could see even more targets his way. The Broncos' top receiver also had 1,112 yards last season to go with six touchdowns. These numbers could see an increase this season as Drew Lock continues to develop with Sutton as his go-to receiver. If those two can grow their chemistry quickly, then Denver could see an improvement in the win column to go with the improvement of their offensive stars.
The Buffalo Bills drafted Singletary in the third round of the 2019 NFL draft. Singletary began his season behind veteran Frank Gore but quickly began to see more touches later in the season. Singletary became Buffalo's go-to rusher by the playoffs and showed that he can be a significant threat for the Bills' offense. Heading into his second season, Singletary has the ability to emerge as Buffalo's workhorse back if he can find a way to build off of his rookie campaign.
Daniel Jones posted solid numbers for the New York Giants in his rookie year and showed promise for the future. Jones was a big question mark for many when New York selected him 6th overall. With 3,000 yards and 24 touchdowns to his name, Jones is looking to build on that success. Giants fans hope he can translate it into wins for 2020. These numbers also came in only 12 starts for the young quarterback. Jones should have an even better time in 2020 with another off-season to build chemistry with his favorite targets. Saquon Barkley will also be back at 100 percent and will help shoulder the load on offense for New York.
The Tampa Bay Buccaneers have completely transformed their offense and the biggest beneficiary of that might be Ronald Jones. Jones has had a rough start to his career but found some footing last season in the receiving game. Now, Jones has Tom Brady, one of the best quarterbacks in NFL history and a master of utilizing running backs in the passing game. Combined with head coach Bruce Arians' offense, Jones should have a great year through the air and should see improvement on the ground as well.
The Pittsburgh Steelers' long-time starter Ben Roethlisberger will be back this season and that should help the production of all Pittsburgh receivers. Washington is a former 2nd round pick who had 700 yards last season with 44 receptions. This all came during an awkward Steelers season that saw a few quarterbacks start under center. Washington has the chance to breakout similar to his teammate JuJu Smith-Schuster. If Washington can build chemistry on the field with Steelers' quarterback Ben Roethlisberger, he can eclipse 1,000 yards this season.
Main Photo:
Embed from Getty Images