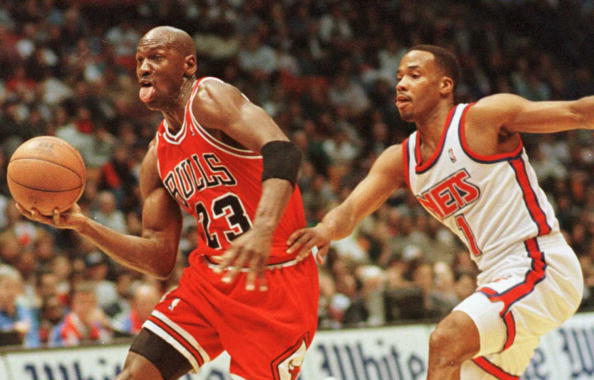 Throughout sports media and NBA debates, the arguments to decide who the Greatest Of All Time, or, as some would say the "GOAT," is never-ending. You have your usual suspects from Michael Jordan, Kobe Bryant, and Lebron James, to Kareem Abdul-Jabbar and Bill Russell. The list goes on, but just who is truly worthy of the illustrious title.
Who Is Worthy Of The Title "Greatest Of All Time?"
It's Gotta Be The Rings
If you use the rings argument as the de facto go-to for determining who the greatest of all time is then you have to go with Bill Russell who has an NBA-best 11 championships. But then things can get a little tricky.
Finals Records
Michael Jordan – 6-0
Bill Russell – 11-1
Tim Duncan– 5-1
Kobe Bryant – 5-2
Shaquille O'Neal – 4-2
Kareem Abdul-Jabbar – 6-4
Larry Bird – 3-2
Magic Johnson – 5-4
*Lebron James – 3-6
Wilt Chamberlain – 2-4
All the players listed here have at one point or another been associated with being listed as a top ten player of all time. But, as you can see, even though Bill Russell may have the most rings with 11, Jordan clearly has the best finals record out of everybody by going undefeated. The problem with using the ring argument is it's all subjective. Although winning a championship is the ultimate goal, it is, at the end of the day, a team accomplishment.
Show Me How Valuable You Are
Winning the Most Valuable Player award is viewed as one of the highest honors a player can achieve. From the 10 players, I previously listed above, the list of MVP awards goes like this.
Most Valuable Player Awards
Abdul-Jabbar – 6
Jordan – 5
Russell – 5
*James – 4
Chamberlain – 4
Johnson – 3
Bird – 3
Duncan-2
Bryant – 1
O'Neal – 1
When looking at that list, one would determine Abdul-Jabbar is the front runner for the GOAT as he has an NBA-record six MVP awards. But can you really look at Kobe Bryant and Shaqille O'Neal with one award apiece and say that makes sense? Consider the illustrious careers both players had. The voting for MVP has always been in question and there is even the argument of sympathy MVPs, as O'Neal likes to say. A better way of saying it would be "voters' fatigue."
A prime example of that is when Steve Nash won back-to-back MVPs winning over O'Neal. Some may agree with that but many had an eyebrow raised as to how that was possible. Or when Karl Malone, as great as he was, won MVP over Jordan. This isn't to say Nash or Malone weren't deserving of the award, this is more highlighting the fact that a player can be so good and dominant that sometimes people want to see another winner.
How Good Is Your Game
Many people like to add individual stats into the equation when discussing players, which makes sense. Now for this topic, we are going to look up career stats using just points, rebounds, and assists, respectively, and not worry about advanced metrics and things of that nature.
Career Numbers
Chamberlain – 30.1, 22.9, 4.4 (11 seasons)
Jordan- 30.1, 6.2, 5.3 ( 15 seasons)
*James – 27.1, 7.4, 7.4 (currently playing)
Bryant – 25.0, 5.2, 4.7 (20 seasons)
Abdul-Jabbar – 24.6, 11.2, 3.6 (20 seasons)
Bird – 24.3, 10.0, 6.3 (13 seasons)
O'Neil – 23.7, 10.9, 2.5 (20 seasons)
Johnson – 19.5, 7.2, 11.2 (13 seasons)
Duncan- 19.0, 10.8, 3.0 (19 seasons)
Russell – 15.1, 22.5, 4.3 (13 seasons)
All these players have put up phenomenal numbers throughout their careers. LeBron James is still currently playing in the NBA so his numbers are prone to change one way or another. By looking at these numbers it would seem Chamberlain is the GOAT. His numbers seem to pop out at you the most and it was done in the least amount of time.
Who's Your GOAT?
The truth of the matter is when it comes to the argument of who the Greatest Of All Time is, it truly can become a very subjective argument, to say the least. There is a multitude of different factors that can play into account that I haven't even begun to touch upon like injuries, teammates, and so on and so forth.
If I had to voice my own opinion I would say Jordan is the GOAT. The way he took over the league and dominated on both sides of the floor. With all he accomplished from going undefeated in the finals, winning numerous MVP awards, all team defense selections, and being one of the only guards to win defensive player of the year. The list goes on and it's just hard to overlook that factor.
Kobe Bryant, although he may not be the GOAT, I feel he is a top-five player of all time. He doesn't get the respect he deserves for all he accomplished. I mean, if he's the closest thing we have seen to Jordan and everyone ranks Jordan so high, why rank Bryant so low?
When it comes to Chamberlain and Russell, it's always hard to rank them. They are, in a sense, the pioneers of the NBA, playing in an era that consisted of less than 20 teams where players also had part-time jobs. That is not to take anything away from their dominance during their eras. They paved the way and helped get the ball rolling but because of their stature, I feel they are in a class of their own.
A lot of people want to propel Lebron James in that category. Although he is great, I feel like that is a stage he is not ready for at this point in time. Maybe if he can clean up his finals record and win a few more rings, he can create a stronger case. Right now, I don't even have James ahead of Kobe Bryant and Magic Johnson, but that's a conversation for another article. Then again, these are just my opinions. Who you decide is your GOAT is entirely up to you but just be ready to defend your pick like it's a game seven.
Main Photo:
Embed from Getty Images