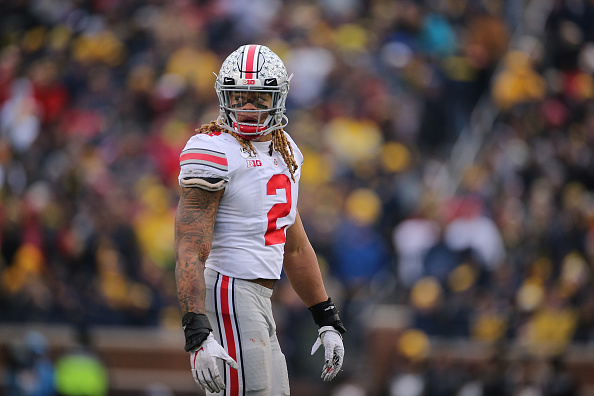 A wild NFL draft has finally given us something to talk about. Here's a look at the 2020 NFL draft first-round recap and how each pick will work with their new squad.
2020 NFL Draft First Round Recap and Analysis
1. Cincinnati Bengals – QB Joe Burrow (LSU)
The presumptive #1 pick has now given the Bengals an absolute stud behind center. Burrow provides Cincinnati with a huge upgrade at quarterback and is realistically the future of their franchise. There is literally nothing you can find wrong with this pick. A great move by the Bengals.
NFL Draft First Round Recap Grade: A+
2. Washington Redskins – DE Chase Young (Ohio State)
At one point in time, Chase Young had been the unanimous top pick for this year's draft. Obviously, Joe Burrow took that over this past season. But that doesn't take anything away from how talented Young is. Young totaled 17.5 sacks in just 12 games last season and has similar hype to that of Nick Bosa. He is without a doubt the frontrunner for rookie of the year on the defensive side. The Redskins got their pass rusher and quite a good one at that.
NFL Draft First Round Recap Grade: A+
3. Detroit Lions – CB Jeff Okudah (Ohio State)
The Detroit Lions were surrounded by trade talks in the past weeks, centering around this pick. They elected to keep it and draft the best defensive back in the class. Okudah was elected to the all-American defensive team in 2019 and has some outstanding potential to be a shutdown cornerback in the NFL. That's normally something you can't pass up, but the Lions may have been better off trading down a couple picks and grabbing a later first with some other picks.
NFL Draft First Round Recap Grade: A-
4. New York Giants – OT Andrew Thomas (Georgia)
An interesting pick from the Giants. They absolutely needed to take an offensive lineman here, but was it the right choice? Many other linemen were touted as top in their class, so the Thomas pick here is a bit surprising. However, the Giants desperately needed quick help on their offensive line and I believe that Thomas has a much higher floor than Wirfs. Good pick, but I believe they could have gotten Thomas at a later selection.
NFL Draft First Round Recap Grade: B
5. Miami Dolphins – QB Tua Tagovailoa (Alabama)
In my opinion, this will be the steal of the draft. Tua was once competing for the number one pick earlier on in the season, but an injury totally threw his draft stock into a spiral. Still, Tua has an extraordinary amount of talent and has shown that in recent years. He was at the top of a crowded quarterback class and he was passed on by 4 other teams. I think, excluding the Bengals, all of those teams will regret that decision.
NFL Draft First Round Recap Grade: A+
6. Los Angeles Chargers – QB Justin Herbert (Oregon)
The final quarterback in the top ten, Herbert now gives the Chargers their Phillip Rivers replacement and a good one at that. Herbert was certainly the best of the quarterbacks left, and the Chargers really had no choice but to draft him.
He had one of the best college seasons of all the quarterbacks in 2019, throwing for 32 touchdowns and just six picks. He's been all over mock drafts because of the grey area from 10-20 for quarterbacks, but the Chargers made a great move taking their quarterback and not waiting on it.
NFL Draft First Round Recap Grade: A
7. Carolina Panthers – DT Derrick Brown (Auburn)
A bit of a shocker came from the Panthers here. Most felt LB Isaiah Simmons from Clemson was going to be taken by Carolina. Personally, I would much rather have Simmons on my squad if I were Carolina. Still, Derrick Brown is a force. He sits at 6'5″ 318lbs and was a key piece to the Auburn defense last season. I do however disagree with the decision here to take him above Simmons. Not my favorite pick.
NFL Draft First Round Recap Grade: B-
8. Arizona Cardinals – LB Isaiah Simmons (Clemson)
The most versatile player in the draft squeaks in the top ten and is taken by the Cardinals. Simmons played four different positions at Clemson and he'll provide Arizona with some great versatility. Arizona had been rumored to possibly be looking at drafting WR Jerry Jeudy with the eighth pick, but I certainly think they got the best value possible with this selection. Simmons is the best linebacker in the draft and can help the Cardinals in every aspect on the defensive end. Fantastic pick.
NFL Draft First Round Recap Grade: A+
9. Jacksonville Jaguars – CB CJ Henderson (Florida)
The Jaguars were once one of the best defenses in the league. That is no longer true. Both Jalen Ramsey and AJ Bouye have left Jacksonville and the Jags have done nothing to make up for those losses.
Henderson is a fantastic corner and gives the Jags exactly what they needed. Henderson excels at man coverage and is an extremely quick defensive back. Are there some skill positions the Jags could've addressed? Sure. They had a plethora of wide receivers to choose from that could have made a huge impact on their team. However, the void at cornerback was something they needed to address before next season. They've done that.
NFL Draft First Round Recap Grade: A-
10. Cleveland Browns – OT Jedrick Wills Jr. (Alabama)
Wills was the second of a number of offensive linemen taken in the first round. Wills has been ranked by some as the best offensive lineman in this class, and the Browns definitely got something special.
Cleveland once had one of the better offensive lines in the league, highlighted by Joe Thomas and Joel Bitonio. However, they regressed immensely this past season. They finished the regular season well below their projected pass protection grade and finished bottom ten in run-blocking grade. It was a definite problem for the Browns this past season and they get a great lineman to help them out. Wills protected Tua's blindside last season and I'm sure Cleveland will try and line him up to protect Baker Mayfield next season.
NFL Draft First Round Recap Grade: A
11. New York Jets – OT Mekhi Beckton (Louisville)
Another poor offensive line gets some much-needed help. The Jets ranked 31st in run-blocking last season and with an elite running back like Le'veon Bell, that's just unacceptable.
Beckton is absolutely massive, sitting at 6'7″ and weighing in at 364 lbs. He ran an astounding 5.1 at the combine and has proven to have the ability to play both left and right tackle. The Jets could have used some much-needed help at the wide receiver position, but again just like the Browns, they do address a huge problem. A good pick for the Jets and a problem (partially) solved.
NFL Draft First Round Recap Grade: A-
12. Las Vegas Raiders – WR Henry Ruggs III (Alabama)
The inaugural pick for the new Las Vegas Raiders turned out to be a great one. The first of the "big three" receivers was finally taken and in my opinion, he is the clear favorite of the trio.
After an outstanding combine, Ruggs has seen his draft stock skyrocket these past couple of months. His 4.27 at the combine put him on the map of many teams and pushed his draft position way up. He was overshadowed at Alabama last season by his partner in crime Jerry Jeudy, but he absolutely shouldn't be over looked. Ruggs was my number one receiver in this class and he gives Derek Carr a threat all over the field. He may just be the next Tyreek Hill. What a first pick for the team from Las Vegas.
NFL Draft First Round Recap Grade: A+
13. Tampa Bay Buccaneers – OT Tristan Wirfs (Iowa)
The Buccaneers have had one of the most eventful offseasons, adding Tom Brady and Rob Gronkowski to their already explosive offense. Going into the draft, the Bucs had a couple of issues they address. On defense, their secondary is certainly something they could've looked at. However, protecting their veteran quarterback was a need as well and that's what they chose to address.
Wirfs became the fourth offensive tackle taken in the draft and has been touted as having the most potential out of all the offensive linemen. On the contrary, he may also have the rawest talent at the moment. Either way, his pass-blocking ability is unmatched among most of the linemen and he gives Tampa Bay a brick wall to protect Tom Brady with. It was a needed pick, but I do believe their issues on defense could pose a huge problem.
NFL Draft First Round Recap Grade: B+
14. San Francisco 49ers – DT Javon Kinlaw (South Carolina)
This is the first pick in the draft that I truly questioned. Kinlaw has some great talent and was one of the best defensive talents in the class. But, the 49ers had little issues on the defensive side last season.
The move was obviously to replace recently traded DeForest Buckner, but I'm not sure this was the time or pick to do so. With Jeudy, Lamb, and Jefferson all available, I truly question this pick by the Niners. If they felt the need to use this pick on defense, cornerback was the way to go. They chose to target the defensive line, a mistake in my book.
NFL Draft First Round Recap Grade: C+
15. Denver Broncos – WR Jerry Jeudy (Alabama)
The Broncos had been projected to take a wide receiver with their pick for a while now, was just a matter of which one they'd take. It turned out to be Jerry Jeudy out of Alabama. Many had Jeudy ranked number one for wide receivers, and rightfully so. Jeudy won the Fred Biletnikoff Award in 2018, which honors college's best receiver. He decided to return to the Crimson Tide for another season and tore it up this past year. His partner Henry Ruggs III was taken just a few picks before him, but both receivers have some immense talent to work with.
Jeudy now joins Courtland Sutton and Drew Lock on a developing young Broncos team that is looking to make a true push for the playoffs next season. Jeudy is a fantastic pick especially at 15. Great selection by the Broncos.
NFL Draft First Round Recap Grade: A
16. Atlanta Falcons – CB A.J. Terrell (Clemson)
The Falcons were stuck in between a receiver-heavy part of the draft and I don't think they made the correct move. The loss of Desmond Trufant created an obvious hole at cornerback, but I'm not sure Terrell was the correct move. Terrell has struggled in many aspects of the game and has been pinned as being somewhat of a "weak" corner. His speed is intriguing, but it doesn't seem to be enough to truly credit the Falcons with picking a future elite cornerback.
The Falcons should have moved this pick and grabbed maybe a later first-rounder and a couple of later picks. Teams like the New England Patriots may have been intrigued with CeeDee Lamb still on the board and with the plethora of picks New England had, it would've allowed the Falcons a bit more flexibility. Atlanta used the pick because they had it, not cause they truly needed to draft Terrell. I don't think they handled this pick as well as they could have.
NFL Draft First Round Recap Grade: B-
17. Dallas Cowboys – WR CeeDee Lamb (Oklahoma)
The Cowboys had one of the more surprising picks of the draft. It was surprising not for the lack of talent, but the lack of need at that position. Recently extended Amari Cooper headlines the Cowboy offense, and I don't think many expected Jerry Jones to use their first-round pick on another wide-out. Nonetheless, CeeDee Lamb is a Cowboy.
Lamb was the last taken from the trio (Ruggs/Jeudy/Lamb) and dropped considerably further in the draft than many expected. Lamb was outstanding for Oklahoma, breaking the 1000 mark in receiving yards for the second year in a row last season. He's got immense talent, but the Cowboys may have been better off trading this pick or going after a safety like Grant Delpit.
I don't like the pick simply because of the crowded nature of that Cowboys receiving core, but it still grades well due to Lamb's elite potential.
NFL Draft First Round Recap Grade: A-
18. Miami Dolphins – OT Austin Thomas (USC)
Miami used their second first-round pick on their offensive line. They most certainly did so to help protect newly drafted Tua Tagovailoa. In addition, Thomas helps fill the void of Laremy Tunsil, who was moved this past season to the Houston Texans.
This was certainly an underrated pick and one that should get some credit given to Miami.
NFL Draft First Round Recap Grade: B+
19. Las Vegas Raiders – Damon Arnette (Ohio State)
Damon Arnette marked the third Buckeye to be taken in this year's class. Arnette was rarely seen in any first-round mock drafts leading up to the draft and was a surprise pick for many. From a need standpoint, this pick sense. The Raiders ranked 25th in pass defense last season and needed some desperate help on the defensive end. However, the talent of Arnette simply doesn't scream first round.
NFL Draft First Round Recap Grade: C+
20. Jacksonville Jaguars – DE K'Lavon Chaisson (LSU)
The Jags kicked off the final 13 picks of the draft with a much needed defensive end. Chaisson had some of the best rankings going into the draft, generally considered the second-best defensive end behind Chase Young.
Chaisson will most likely replace soon to be departed Yannick Ngakoue, who has made it clear he doesn't want to play in Jacksonville anymore. DE Josh Allen was outstanding for the Jags last season and their pick here solidifies their focus on an elite defensive line. This is a fantastic pick by the Jaguars.
NFL Draft First Round Recap Grade: A
21. Philadelphia Eagles – WR Jalen Reagor (TCU)
Yet another wide receiver was taken in the first round, this time by the Eagles. The Eagles had arguably the biggest need for a wide receiver, with a beaten up and struggling core. The Eagles, unfortunately, were unable to grab one of the top wide receivers in the draft, but they still got their hands on some talent. Reagor played well at TCU, highlighted by his sophomore season where he broke 1000 yards.
I don't believe Reagor was the most talented receiver on the board at pick 21. Justin Jefferson snapped this past season with LSU and I believe he slipped further than he should have.
This pick isn't bad and Reagor certainly fills a void, but I don't think the Eagles got as much talent as they could have.
NFL Draft First Round Recap Grade: B
22. Minnesota Vikings – WR Justin Jefferson (LSU)
The Vikings had their first shot at a 2020 rookie and they made the most of it. Minnesota recently traded star WR Stefon Diggs and certainly had a hole in their receiving core because of it. They could not have done better at filling that void than taking Justin Jefferson.
Jefferson snapped last year at LSU, totaling 1500 yards and 18 touchdowns. He had one of the best 2019-20 seasons for wide receivers and had been projected anywhere from 15-25 in the draft.
Jefferson now joins Dalvin Cook and Adam Thielen in the explosive Vikings offense. Jefferson is a fantastic addition to the Vikings and was the most talented receiver left. Outstanding pick by Minnesota and one of my favorite in the first round.
NFL Draft First Round Recap Grade: A+
23. Los Angeles Chargers – LB Kenneth Murray (Oklahoma)
Orginally belonging to the New England Patriots, the 23rd pick saw the second linebacker taken in the NFL Draft. Kenneth Murray joins a developing and young defensive core for the Chargers and will look to help them especially on the run-stopping end.
Los Angeles wanted Murray bad enough to move back into the first round, so he's obviously highly touted in their front office. I think this was a great pick and should dramtically improve their run defense.
NFL Draft First Round Recap Grade: A-
24. New Orleans Saints- C Cesar Ruiz (Michigan)
New Orleans grabbed the best center in the draft at 24. Ruiz is undoutably the most talented center in the draft, but he joins a Saints offensive line that doesn't have much room at the moment. The Saints offensive line saw both of their guards attend the pro bowl and used a second round pick on C Erik McCoy last year. It doesn't make much sense to me why this was the Saints pick.
Ruiz will certianly provide future talent for New Orleans, but I'm not sure how much this helps them out right now.
NFL Draft First Round Recap Grade: B-
25. San Francisco 49ers – WR Brandon Aiyuk (Arizona State)
The 49ers did not address their need for a wide receiver back at pick 14, but they did here.
Aiyuk was one of the top receivers left and the 49ers jumped on it. He broke 1000 yards with Arizona State last season and certianly raised his draft stock this past year. Aiyuk is a bit on the short side, but he was given a 6.38 prspect rankby scouts, indicating some legit potential with the right system.
I don't think the 49ers had much of a choice, so to give them a ton of credit for this pick I don't think this is necessary. But, they did grab a promising wide receiver to joing a young and developing offense.
NFL Draft First Round Recap Grade: B+
26. Green Bay Packers – QB Jordan Love (Utah State)
One of the biggest shockers of the draft. Jordan Love has become a potential steal, slipping all the way down to pick 26. Love is now slated to back up current quarterback Aaron Rodgers, which has now turned into an interesting development over the past 12 hours. Rumors have now started to swrill regarding Rodgers' future with the team, given the talent Love presents.
I had Love as QB #3 in my ranking so I think this pick was fantastic by Green Bay. They grab their quarterback of the future, whether that be immediate or not.
NFL Draft First Round Recap Grade: A
27. Seatle Seahawks – LB Jordyn Brooks (Texas Tech)
The Seahawks needed immense defensive help coming into the draft. They grabbed Brooks and now have arguably one of the better linebacking cores in the league.
Was he the most talented player at 27? No. Did he help the Seahawks with their struggling defense? Absolutely.
NFL Draft First Round Recap Grade: B
28. Baltimore Ravens – LB Patrick Queen (LSU)
The Ravens did not have an immediate need anywhere, but linebacker was certainly a lack luster position on their squad. Queen is a fantastic talent and provides great run-stopping and pass rushing talent.
Baltimore had been rumored to be looking at a possible move towards wide receiver, but it simply wouldn't have been the right move to reach for one.
NFL Draft First Round Recap Grade: A-
29. Tennesse Titans – Isaiah Wilson OT (Georgia)
The Titans literally ran their way to the AFC championship last season. Their offensive line was a huge part of it. Highlighted by Taylor Lewan, their line was fantastic and adding tackle Isaiah Wilson provides a ton of support.
Wilson should help strengthen an already fantastic line, as the Titans continue to use Derrick Henry as a battering ram to victory.
NFL Draft First Round Recap Grade: B+
30. Miami Dolphins – CB Noah Igbinoghene (Auburn)
Miami used their last pick to grab CB Noah Iginoghene out of Auburn. Igbinoghene will join Xaiven Howard and Byron Jones in the secondary for the Dolphins.
He's not bad for some depth, but this pick is nothing to get too excited about.
NFL Draft First Round Recap Grade: C+
31. Minnesotta Vikings – CB Jeff Galdney (TCU)
The Vikings have been absolutely decimated at the cornerback position, with Trae Waynes and Xavier Rhodes both leaving. They needed to go after a cornerback with this pick and they did just that.
Galdney will see immediate action with the Vikings next season, so we'll see this pick pay off or bust rather quickly.
NFL Draft First Round Recap Grade: B
The Chiefs had little to no run game last season, so this pick makes perfect sense. Edwards-Helaire rushed for 1400 yards for LSU this past season and was one of the top running back options in the draft.
I would have loved to see JK Dobbins taken here by the Chiefs, but Edwards-Helaire does the job and then some. Great pick by the Chiefs and watch out to the rest of the NFL.
NFL Draft First Round Recap Grade: A