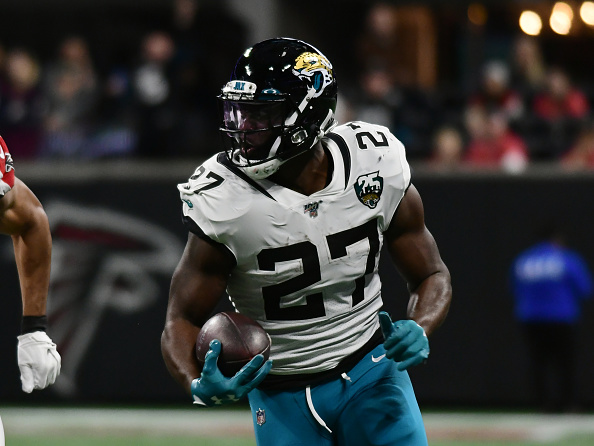 With the 2020 NFL Draft closing in, a new storyline for the Jacksonville Jaguars has emerged. Adam Schefter of ESPN reported Saturday that Jacksonville has had trade talks with several teams regarding Leonard Fournette, clearly indicating the team is ready to move on from the running back after a subpar three seasons. Talks will likely continue up until the draft begins with Fournette possibly being dealt for more draft picks. When evaluating possible trade partners, it's important to consider what teams need the position. Additionally, what teams have the ammo to make the trade happen? Here are three trade partners that make sense for Jacksonville.
Potential Partners for a Leonard Fournette Trade
Tampa Bay had one of the NFL's worst rushing offenses in 2019 totaling only 1,181 yards on the ground (24th in NFL). Peyton Barber signed with the Washington Redskins this offseason, leaving the running back room even thinner in Tampa. The Buccaneers already stabilized the passing game with the addition of Tom Brady and it would make sense that they would look to improve on the ground. Fournette would give the Bucs a bruising inside runner who has also shown pass-catching ability and is a reliable pass blocker. He is as good as any back left in the free-agent pool and much more established than any rookie. With the franchise in win-now mode, adding a solid veteran running back makes sense.
Following the release of Todd Gurley, the Rams have several questions to address at running back. Entering the season with Malcolm Brown and Darrell Henderson as lead running backs would be a risky move for the Rams; the two combined for only 402 rushing yards and five touchdowns in 2019. Coach Sean McVay has centered his offense around the run and pass-catching backs. Fournette is a much more successful runner than Brown and Henderson and showed his pass-catching ability in the 2019 season by hauling in 76 passes.
After drafting Henderson last year, it's fair to assume the franchise sees him as the future at the position. However, he played sparingly in 2019 and adding an established veteran would help ease Henderson into a full-time role. Fournette is in the last year of his rookie deal and could be a perfect rental piece for the Rams.
Despite the infamous pass at the goal line, Pete Carroll loves bruising, downhill running backs. Fournette fits this bill perfectly. Seattle faces serious questions at the running back position heading into the season due to injuries in 2019.
Rashaad Penny finally started to break out as a runner in his 2019 campaign, but a torn ACL cut his season short and leaves questions looming about 2020. His counterpart Chris Carson is a productive back but is entering the final year of his deal while also coming off a hip injury suffered in December. Another reason for concern is ball security, Carson fumbled seven times in 2019. A Leonard Fournette trade would push this offense over the top because he's a strong inside runner with great ball security.
Main Photo:
Embed from Getty Images