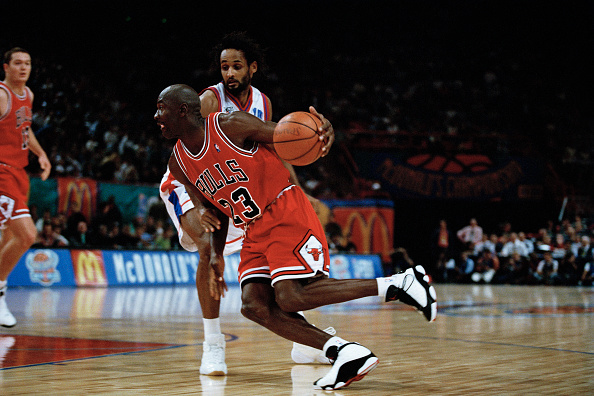 Yet another week has passed without live basketball in our lives. As the world deals with COVID-19, we can still use basketball as a means of escape. The only caveat being we have to look at the past more compared to the present. Last week we talked about the five best NBA teams of the 2010s. This time around, the focus is more position-based. The shooting guard position in basketball has arguably remained the most untouched position in NBA history. In comparison to point guards who've had to add scoring to their game, and big men who've had to add three-point shooting to their game. The position has given us the greatest player of all time, and many others. These are the top five shooting guards in NBA history.
Top Five Shooting Guards In NBA History
1. Michael Jordan (1984-1993, 1995-1998, 2001-2003)
As if there was any doubt. Possibly the greatest to ever play the game, Michael Jordan is easily the best shooting guard of all time. If you've watched Jordan play, you know why he is on this list. From scoring to defense, to simply winning, Jordan did everything in his storied career. But if you haven't watched him, his stats can do the talking. First, he won six NBA championships and the Finals MVP in each one. Add on top of that ten scoring titles and nine all-defensive team selections. Finally, his field goal percentage was 49.7, which is remarkable since he's attempted the fifth most field goals in NBA history. Jordan was as clutch as they come, and seemed to always find an extra gear despite all the odds. There are a plethora of unforgettable moments from Jordan that prove he's the best to ever do it.
Once again we have a no brainer for this list. A five-time NBA champion in his own right, Kobe Bryant took the torch from Jordan and ran with it through the 2000s decade. The decade belonged to Bryant and Los Angeles as all five of Bryant's championships came in this decade. Some career accolades include fourth on the NBA's all-time scoring list (33,643), second-most all-star game appearances (18), and a 15-time all-NBA selection. Bryant also possessed the intangibles that made Jordan so great. Bryant was as tough as they came, as evident by him making two free throws on a torn Achilles in 2013. In the history of the game, there are few players who could make tough, contested shots as well as Bryant. To conclude his career he scored 60 points in his final game, giving us one last moment to appreciate a top ten all-time player.
Before I begin on Dwyane Wade, I want to note that Jerry West isn't in the top five shooting guards in NBA history because he was never a pure shooting guard. Instead of playing the position exclusively, he also played point guard.
On the other hand, Wade was the second-best at his position for a sizable portion of his career. Coming out of college off of his final four birth at Marquette, Wade had the "it" factor. Unlike Jordan and Bryant who were lethal shooters, Wade thrived off of driving to the basket and finishing in the paint. The athleticism Wade possessed was his greatest strength. Wade's athleticism also made him a pesty defender, helping him average 1.5 steals a game in his career. As if that wasn't enough, he was also an outstanding ball-handler, averaging a sneaky 5.8 assists per game in his career. The highlights for Wade include his 2006 Finals MVP where he averaged 34.7 a game. In 2008 Wade put up 30.2 points a night on an efficient 51.6 percent. Finally, his role in the 2010-14 Miami Heat dynasty can't be appreciated enough.
Nicknamed "The Answer", nobody was able to figure out the answer to stopping Allen Iverson when he was at his best. Iverson didn't have the longevity of the three names above, but it's understandable when you consider the fact that Iverson led the league in minutes seven times. Although off the court Iverson wasn't perfect, on the court he was a scoring machine. Like all the top five shooting guards in NBA history, Iverson could score with anybody on any night. Proof comes by being a four-time scoring champion and averaging over 30 points a game four seasons. Like Wade, Iverson was never a good three-point shooter. But he made up for it by being a master slasher with the ball in his hand and being willing to take and make tough shots. Through the 2004-2007 seasons, Iverson added more passing to his game and averaged over seven assists per game.  Defensively Iverson was even better than Wade, averaging 2.2 steals per game. The lack of postseason success holds Iverson back on this list.
Perhaps the most controversial pick on this list, James Harden takes the final spot. Right now Harden is only 30 years old and has plenty of time to work his way up this list. For as great of a scorer as Iverson was, Harden is possibly one of the most gifted scorers we've ever seen. Take this into consideration. At the time of this writing, Harden ranks tied for tenth in all-time in points per game at 25.09. He's averaged over 30 points a game for the last three years, including an astounding 36.1 in 2018. His ability to knock down three-pointers and style of iso-ball is something very unique. His ball-handling is only behind the likes of Kyrie Irving and Stephen Curry, and his passing ability is extremely under-appreciated. Harden also has the ability to get to the free-throw line down to a science. Already he is 32nd in career free throw attempts and converts at a rate of 85 percent.
The two things holding him back are no championships and inconsistent defense over his career. That said, Harden has improved his defensive effort over the last few years after facing much criticism. Although his closeouts are sometimes lazy, he has worked on his defensive effort. In each of the past three seasons, he's increased from the 45th percentile defensively to 88th, to 96th. As for a championship, Harden still has a long career ahead of him to make that happen.
Just Short Of Being In The Top Five Shooting Guards In NBA History
Clyde Drexler (1983-1998)
George Gervin (1972-1986)
Ray Allen (1996-2014)
Watch These Legends If You Can
All of these legends listed above warrant rewatching in 2020. Through April 22nd of 2020, the NBA is offering NBA League Pass for free as an option to do so. There are also many full games posted on YouTube where you can watch the best moments of the top five shooting guards in NBA history. All five of these athletes had the clutch gene, so if you're rewatching their games you better buckle up for a thrill.
Main Photo:
Embed from Getty Images