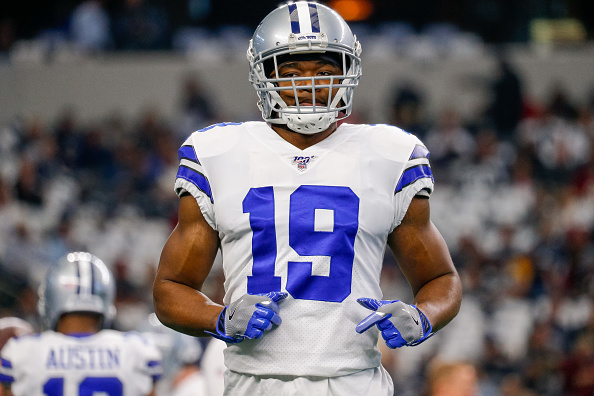 The Buffalo Bills enter the off-season looking to build upon a 10-6 record and their second playoff appearance in three seasons. Buffalo has $80 million in cap space to use for building a true contender this off-season. With a great defense already in place, Buffalo could look to add some pieces to their offense. Or, of course, Buffalo could continue to bolster their defense for the 2020 season. Whichever way they decide to go, here are five 2020 Buffalo Bills free agent targets.
Five 2020 Buffalo Bills Free Agent Targets
One of the Bills' biggest needs this off-season is a pass-rushing defensive end. Shaq Lawson is an unrestricted free agent this off-season and Jerry Hughes going to be 32 when the new season begins. Defensive end is Buffalo's biggest long-term need and getting a talented young end like Ngakoue would help Buffalo immensely. Ngakoue has recorded eight or more sacks in each of his four seasons with the Jacksonville Jaguars.
Ngakoue also has a strong ability to force fumbles recording four or more in three of his first four seasons. Signing Ngakoue would increase the longevity of Buffalo's strong defense and give them a young edge presence to go with their young talent in the secondary and at linebacker.
Another big need for Buffalo is a true top option in the passing game. John Brown served this role well for Buffalo, but Brown lacks the ability to serve the role long-term. Cooper could come into Buffalo and immediately become the best pass-catcher on the roster. Cooper turns 26 this off-season, putting him in his NFL prime. This is the perfect time for Buffalo to acquire a talented NFL receiver in their prime while the rest of their team is young and developing into their own primes. Josh Allen, Devin Singletary, and Amari Cooper would make Buffalo a fierce competitor in the AFC for the next five seasons and beyond.
3. Joe Thuney – Offensive Guard
If the Bills decide to pass on a skill position in free agency, they may want to look at their offensive line. Dion Dawkins and Cody Ford are two impressive offensive tackles who can develop into anchors on the outside. The Bills also signed center Mitch Morse in last year's free agency. Their interior guards are now the main concern on the line and Thuney would be a great addition. Signing Thuney would not only fill a need for Buffalo, but they would steal him away from their division rival New England Patriots. They would also free up the drat in terms of needs so they can properly address roster concerns in the early rounds of the draft.
Hooper is an interesting player for Buffalo to consider. Buffalo has not had a significant tight end on their roster in a very long time. Buffalo has a history of signing tight ends for it to not work out. Recently, Charles Clay and Tyler Kroft have been brought in only to find limited success. Signing Hooper gives Buffalo a great shit to snap this streak of bad luck with an established dominant tight end.
Hooper had 75 receptions, 787 yards, and six touchdowns this season, all career highs, and made his second straight pro bowl. All of this was in only 10 starts and 13 total games played. Hooper projected to have more than 90 catches in a full 16-game season. That large target share would add a dangerous new element to Buffalo's offense. Buffalo's tight ends combined for only 604 yards this season, which is 183 yards less than Hooper had this season. Hopefully, for Buffalo, they get an opportunity to bring in Hooper for the future of their offense.
Another option on the edge for Buffalo could be Arik Armstead. The former San Francisco 49er had an impressive season this year with 10 sacks. He had 11 tackles for loss and 28 total quarterback hits. Armstead broke out in 2019 and established himself as an above-average pass rusher. Armstead will have an easy time finding success in Buffalo like San Francisco because Buffalo has an established defense around him.
Much like the 49ers having Dee Ford and Deforest Buckner, Buffalo has Ed Oliver and Jerry Hughes. Buffalo also has emerging linebacker Matt Milano and Tremaine Edmunds in their front seven. Armstead would out Buffalo's defense over the edge and establish them as a candidate for the best defense in football.
Off-Season Outlook
With so many free agents set to be available this off-season, Buffalo has a lot to consider. Buffalo has roughly $80 million available cap space to work with so signing a big free agent or possibly two is not off the table for Buffalo. Letting free agent Jordan Phillips test free agency is a sign that Buffalo may have their eyes on a specific free agent this off-season. Hopefully, that free agent is one of the players on this list, because if so, they will make an immediate impact for the Bills in 2020. Time will tell who the true Buffalo Bills free agent targets are.
Main Photo:
Embed from Getty Images