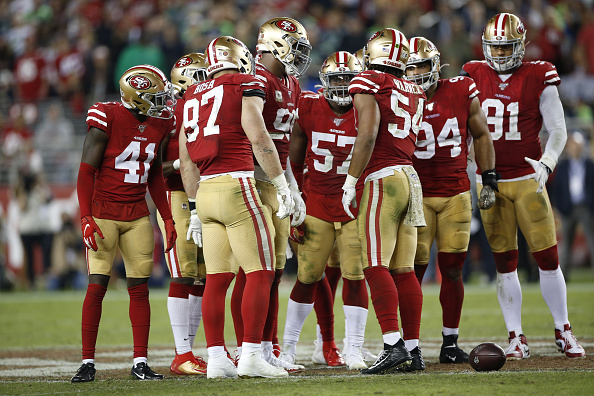 There was little doubt that the San Francisco 49ers would be an improved team this season. It doesn't take a whole lot to bring your win total up from the four games they won in 2018. Now, into his third year as head coach of this storied franchise, Kyle Shanahan has this team rolling. The 49ers are off to an 8-1 start. This establishes them as one of the top teams in the NFC and a true Super Bowl contender. In fact, they had the recognition of being the last team with an undefeated record, before a Monday night loss to the Seattle Seahawks. Let's look at why the 49ers are built to win.
The 49ers Were Last To Lose and Are Built To Win
What History Has to Say
Less surprisingly, but still impressively, the New England Patriots had also managed to go half of the 2019 season without a loss. It's just that their defeat came a little sooner time-wise due to having an earlier bye than San Francisco. Regardless, it's the best start for the Patriots since their path to perfection in '07 that came to a screeching halt in Glendale at the hands of the New York Giants.
It's always interesting to see people jump on the bandwagon for a team. Perhaps it's because they are off to such a hot start and can claim them worthy of a Super Bowl. History shows, that it may be too preemptive of an assumption. Let's break it down, and we'll start by leading off with the fact that only one team since 2000 ('06 Indianapolis Colts) has won it all after being the last to lose during that season. Wait, 19 seasons and the team(s) off to the hottest start doesn't usually bring home the Lombardi? That's right. Those teams aren't even in the Super Bowl half of the time and when they are, they've gone 1-8. 
San Francisco Is Built For a Run
The L.A Rams of last season are an example of a team that began with a boom but ended with a bust. Eight straight wins kicked off the year. They would only suffer two more losses before losing to New England in February. But just like the Rams, the Niners have a young and innovative coach. They have similar quarterbacks who are solid and sound within their system. Unfortunately, they have the potential to get rattled when things are forced to go off-script. I'm not saying the 49ers are destined for the Super Bowl just yet, but they have the pieces.
 Taking a look at the other side, defensive coordinator Robert Saleh is a name seriously starting to pick up traction. He has that unit ranked second in not only in total yards allowed, but points as well. We can't discuss this defense without plugging the number two overall pick in the draft, Nick Bosa. The edge rusher has picked up seven sacks already, putting him near the pace of Jevon Kearse's rookie record 14.5 in 1999.
Each level on this 49ers defense has talent that creates havoc as a whole. Fred Warner is a rangy and instinctive linebacker that can hold it down with Kwon Alexander out. Then there's cornerback Richard Sherman, a well-recognized veteran who may not be as fast as he used to be, but makes up for it with length and IQ. 
Bringing It All Together
The San Francisco 49ers are off to their best start since 1990 and their first non-losing season in five years. We saw the makings of what GM John Lynch was trying to build over the past few years, and now it has finally come to fruition. Adding weapons mid-season like receiver Emmanuel Sanders only shows the necessary adjustments the team needs to make for a title run.  There will be plenty of potential roadblocks along the way, starting as soon as the visit they get from the Green Bay Packers on the Sunday before Thanksgiving. Will we be witnessing a preview of the NFC title game?