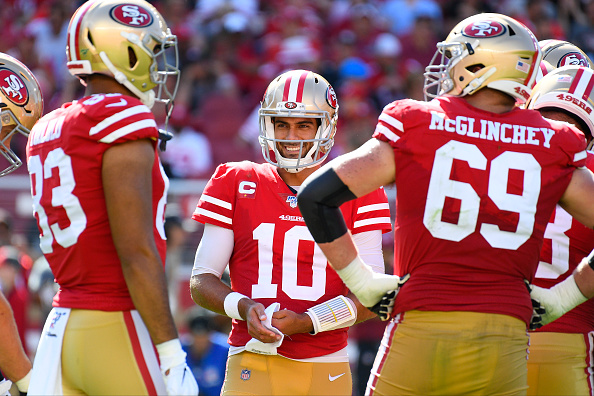 Four weeks into the 2019 NFL season and there have been some surprises. It's still early to say who's a contender and who shouldn't be taken seriously. Every year there are always teams who start strong and finish poorly. Other teams start poor and finish strong. Here are some of my takeaways from the first quarter of the season.
Takeaways From The 2019 NFL Season, So Far
NFC West Is The Best
I expected the Seattle Seahawks and Los Angeles Rams to start strong. The Rams just lost to the Tampa Bay Buccaneers but have enough talent to recover in time. It will be surprising if they aren't contending for the division, if not conference.
Russell Wilson so far looks great, throwing eight touchdowns and no interceptions. So far, their only loss is vs the New Orleans Saints, who could be the team representing the NFC in Miami in February.
The San Francisco 49ers, however, are a surprise at 3-0 so far. While they haven't played a top team so far, they look much better on both sides of the ball. Heading into week five, Jimmy Garoppolo has the most passing yards of quarterbacks who played three games with 739. If he can stay healthy, they have a chance to contend for a wildcard. If he doesn't, it likely ends up like last season in disappointing fashion.
The Arizona Cardinals are currently winless, as expected it's going to be a long season. Kyler Murray has 1,071 passing yards and four touchdowns so far, with four interceptions. For a rookie, he hasn't played horrible but it's clear there's room to grow. I would not be surprised if this division sends three teams to the playoffs, especially with how poor other teams are performing.
The Battle Of The Tanks
So far, five teams are winless and are playing about as bad as they could. One of these teams is the Denver Broncos who are 0-4 but competing hard. In three of their four games, they lost by one score. Two of these games came down to a game-winning field goal. The defense was the first in NFL history without a sack or turnover in the first three games. They've lost Bradley Chubb for the season, and Von Miller has been disappointing so far.
The Cincinnati Bengals have been inconsistent so far, and don't have many more chances to pick up a likely win. Giving up 27-unanswered points to the Pittsburgh Steelers with a backup quarterback is not a good sign. Andy Dalton's time is ticking every game, and eventually, Cincinnati needs to decide when to move on.
A few teams such as the New York Jets and Washington Redskins are playing poorly as well but will likely pick up a few wins eventually. Unfortunately for the Miami Dolphins, this could be an 0-16 season with how little they have in all three phases. If there's a team that can go winless, the Dolphins seem like the same bet.
Undefeated, For Now
The 49ers, New England Patriots, and Kansas City Chiefs are currently undefeated. The Patriots are playing amazing on defense only surrendering 27 points in four games. Many have compared them to the early 2000's defense, and the comparison is certainly fair. While the offensive line has been somewhat of a question, if anyone can figure it out it's Bill Belichick. Against the Buffalo Bills the offense did not score a point, yet still won 16-10. Tom Brady did not look like his usual self, but this happens every year and he and the offenses recover. They should be fine and continue to be a contender for another championship.
Patrick Mahomes is continuing to play like the MVP of last season throwing for an NFL-best 1,510 yards and ten touchdowns. He's getting Tyreek Hill back in a few weeks, and there's no telling what they are capable of. Mahomes is starting to look legit, and the one-year wonder stigma is starting to slip away. On defense, Kansas City is towards the bottom in passing and rushing yards allowed, but Mahomes looks like he can win games without them.
Four Down, Twelve Too Go
With 12 games remaining for each team, there's a lot that can change from now to December. But so far, some teams look strong while others don't. It's going to be hard for someone to repeat last year's Houston Texans who started 0-3 and won 11 straight. Anything is possible in the NFL, and this should be another exciting season.
Main Photo:
Embed from Getty Images