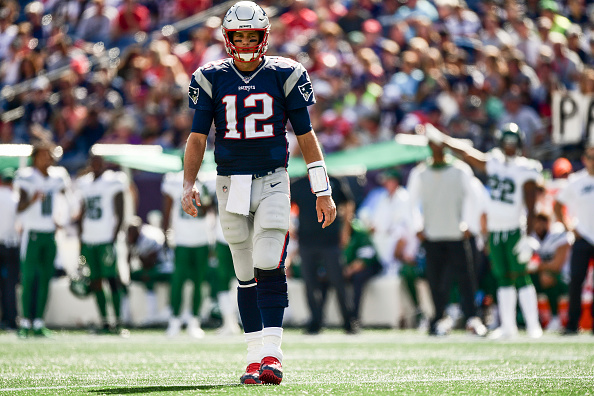 So far the New England Patriots are 3-0 winning by an average of about 30 points. As the defending Super Bowl champions, usually they take a step back the following season. But so far New England looks even better than last year. Many fans are wondering if they can repeat their 2007 season where they went 16—0. Here is why the New England Patriots are not going 16-0.
The New England Patriots Are Not Going 16-0, Here's Why
Offensive Line and Running Troubles
Coming into week four the Patriots offensive line is ranked 12th by Pro Football Focus. Their highest-graded lineman in week three was Ted Karras with a 69.8 grade. Their best lineman Isaiah Wynn is on IR and out for at least six weeks. Before his injury, he was the highest-graded lineman by PFF and only allowed one pressure in 45 snaps. The run game is usually a strength for New England but so far they are ranked 21st averaging 97 yards per game. Last season they finished fifth in total rushing yards helping them win the Super Bowl. Bill Belichick has more than enough time to turn it around, but so far this is one reason they could lose late in the season. Passing wise, Tom Brady is as good as ever, but the run game remains a question so far.
Schedule Has Some Potential Trap Games
On paper, New England should beat every team, but they always drop a few. Last season after losing to the Jacksonville Jaguars and Detroit Lions many were questioning if it was signaling the end of the dynasty. They quickly proved this to be wrong winning 10 of their next 13 games. They are vulnerable and can be beaten. There are a few games that could be a trap this season. They play the Buffalo Bills twice who so far looks promising and could contend for the playoffs. The Patriots have a six-game stretch against some of the better teams in the NFL. It starts at home vs. the Cleveland Browns who on paper have the talent to compete with anyone. They've gotten off to a slow start but they have time to fix it before week eight.
They play the Baltimore Ravens the following week in Baltimore who has historically played New England close. Based on how Lamar Jackson is playing, this could definitely end in a loss for the Patriots. After their bye, they face the Philadelphia Eagles and Dallas Cowboys who could both be playoff teams. The stretch finishes with the Houston Texans and Kansas City Chiefs. If Patrick Mahomes is playing like he is now, this might be when they fall. Kansas City was so close to beating them last season and can definitely do it now. The Patriots will likely win most of these games, but it'll be shocking if they go undefeated in this stretch.
Perfection For The Patriots
It's going to be hard for New England to go undefeated, however, they've done it before. Their defense might be the best Belichick has had, so far they are dominating their competition. Heading into week four they have given up under 200 yards per game, the only team to do so. The Patriots give up an average of 162 passing yards per game and 37 rushing yards. The defense has given up 17 points and has not allowed a touchdown so far. Their defense will be a huge influence on whether they can go 16-0. The Patriots are not going 16-0 this season, but they should continue to dominate for years to come. This is not the end of the dynasty, it's only beginning.
Main Photo: Embed from Getty Images