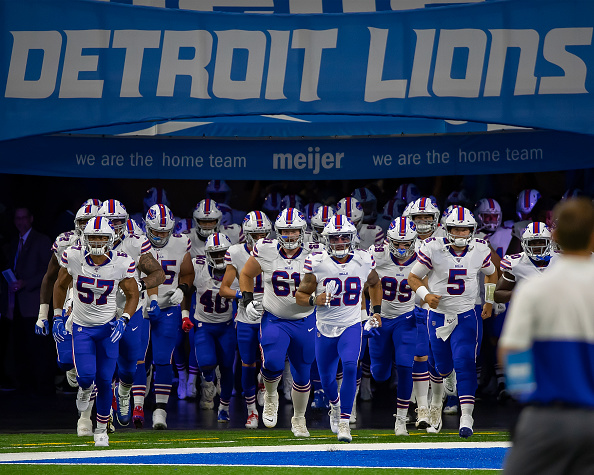 The 2019-20 NFL season is almost here and teams will begin to play meaningful football. The way that each team's season is going to go is hard to predict, but there are reasons for doing so. Predictions help gage expectation for a team. If the Buffalo Bills have a better record than this prediction, they overachieved. If they do worse, they underachieved. While Buffalo's season is still to be seen, here is my Buffalo Bills schedule prediction.
2019 Bills Schedule Prediction
The Bills walk into MetLife Stadium for their first game against the New York Jets and walk out with a victory. The Jets top talent are all very young and need time to come together before they can become a formidable opponent. The Bills' defense has been together for a few years now and should be a top-five defense in the NFL this season. This will be Josh Allen's first of six games against his fellow 2018 draft quarterbacks. He will face all three of his first-round counterparts this season— if Josh Rosen gets the start in Miami—and will look to show that he has as much potential as they do.
The Giants will be without their top two receivers when they face the Bills in week two. This will allow the Bills' secondary to keep the passing game in check, especially if Daniel Jones is the starter, while the front seven focuses on sophomore running back Saquon Barkley. Buffalo has the tools to take down teams that have low expectations and the Giants are one of those teams. Losing Landon Collins hurt their defense and should allow Josh Allen to air it out more often against the Giant's secondary.
It is difficult to predict the Bills a 3-0 start, but the schedule makers gave them an easy path to do so. Cincinnati has struggled recently with team performance and the Bills should be able to take advantage of that. This game will also be Buffalos home opener and the fans will play a large part in this game. Buffalo will look to take advantage of A.J. Green being injured and limit Joe Mixon's impact. The offense will have to respect William Jackson's abilities at cornerback, but the rest of their defense is something Buffalo can exploit.
The Bills have a wave of momentum with their 3-0 start and face New England at home in week four. I believe they will keep it close until the end and Buffalo will take down the Patriots in week four. The momentum combined with the home game atmosphere and New England's habit of starting off slow allows Buffalo to overcome their biggest divisional opponent this season. The Bill's ability to run the football will be the deciding factor in this game. Allen will be limited by New England's secondary, but Brady will also be limited by Buffalo's secondary while not having Rob Gronkowski.
The Bills will show their own habits in week five against Tennessee. The Bills have a habit to lose a game they should win. This game against Tennessee is the perfect spot for that to occur. Tennessee has Marcus Mariota looking to prove himself with Ryan Tannehill lurking behind him. The Titans run-heavy offense eliminates the Bills' top aspect on defense and attacks the Bills' front seven with multiple weapons including Derrick Henry and Dion Lewis. Buffalo's offense might underestimate Adoree Jackson's progression and fall victim to his breakout season. A well-played game by Tennesse gives Buffalo their first loss of the season.
Week Six: Bye Week
Buffalo has an early bye week this season which may affect them late in the season with fatigue issues.
Buffalo comes out of the bye with a home game against a weak opponent in Miami. The starting quarterback for Miami is not easy to predict for a week seven-game, but I believe Josh Rosen will be starting by then. Rosen will not fair well against Tre'Davious White, Micah Hyde, and Jordan Poyer. Buffalo lost a close game against Miami last season on the road and will beat Miami easily at home this season. This season should be more of the same. Josh Allen scored seven touchdowns in two games against Miami last season. This included a five-touchdown performance in week seventeen of last season. This should give Allen confidence against Miami this year.
The Eagles are possibly the toughest opponent Buffalo will face this season. Luckily for Buffalo, the game is at home. Unfortunately for Buffalo, they still lose to the Eagles. Carson Wentz is going to look for every opportunity this season to remind people he was an injury away from an MVP trophy and a super bowl. Buffalo will remain in a good spot despite the loss in week eight.
In week nine, Buffalo bounces back and gets the victory at home against the Redskins. Washington is in a rebuilding period with their team. Rookie quarterback Dwayne Haskins might be thrown into the starting role by this point in the season, or Case Keenum may hold onto the job. Regardless, the Bills' defense will be the leading force of the team's success and Allen and crew will do what they can to secure the victory.
Buffalo faces the new-look Browns in Cleveland and walk away with a loss. Cleveland has a talented roster this season and they should have built significant chemistry by week ten. The game between Baker Mayfield and Josh Allen should be entertaining, but both team's defenses will show their skills against the sophomore quarterbacks. Fans in Buffalo will be pleased to have only three losses through the first ten weeks.
Week Eleven: @ Miami Dolphins: W 7-3
Much like their first meeting this season, Buffalo takes care of business against Miami. The Dolphins have major issues at multiple positions and it will take a season or two of mediocrity to fix the roster. Meanwhile, Buffalo and Josh Allen will blow past them on their way to Buffalo for their next game against Denver.
Buffalo faces Denver in week twelve this season. Last season, Buffalo faced off against Denver and were victorious. This should be the outcome in this meeting as well. Denver has arguably a worse roster than the last meeting and Buffalo has drastically improved their offense since then. Buffalo will have to contain Von Miller to be successful in this game, and they should do enough to get the win.
Buffalo faces Dallas on Thanksgiving Day and Dallas will put them away in this game. Dallas has experience playing on Thanksgiving—something Buffalo does not—and should be able to capitalize. Dallas is a talented team and Buffalo hasn't faced many of those at this point in the season. Buffalo's season gets tougher from here, but their early-season performance has given them some breathing room to drop this game to Dallas.
Buffalo will lose two in a row for the first time this season. Baltimore's defense will be too much for Buffalo's offense to handle and Lamar Jackson will use his feet to get Baltimore the victory in Buffalo. This could be viewed as another game Buffalo loses that they should win but Baltimore's defense is serious and should never be underestimated.
Buffalo's struggles continue against another AFC North opponent. Pittsburgh may not be the same powerhouse they've been in recent years, but Ben Roethlisberger at home is a different player. No defense can stop Ben when he's locked in and Buffalo suffers that exact fate in week fifteen. Buffalo drops three in a row with a big game against New England looming in the following week.
Week Sixteen: @ New England Patriots: L 8-7
Buffalo begins to show itself late in the season with four straight losses after falling to New England. Home field advantage helped Buffalo defeat the Patriots in week four and fail on the road in week sixteen. Buffalo has let seemingly guaranteed odds at making the playoffs fall into a must-win situation in week seventeen. Luckily for them, they are at home.
Week Seventeen: vs New York Jets: W 9-7
Buffalo's final regular-season game is a home game against the New York Jets. Buffalo's offense has something to prove and their defense has been carrying them all season long. Buffalo shuts down the Jets in all aspects of the game and ends the season with a dominant victory.
Last Word
It remains to be seen if nine wins put Buffalo into the playoffs, but it is a successful season for Buffalo nonetheless. Improvement and hope for the future are evident with nine wins. Hopefully, Buffalo can achieve this when the 2019 NFL season begins. If not, a regime change may be looming for Buffalo and the cycle, that has plagued Buffalo since their super bowl era, will continue.
Main Photo:
Embed from Getty Images