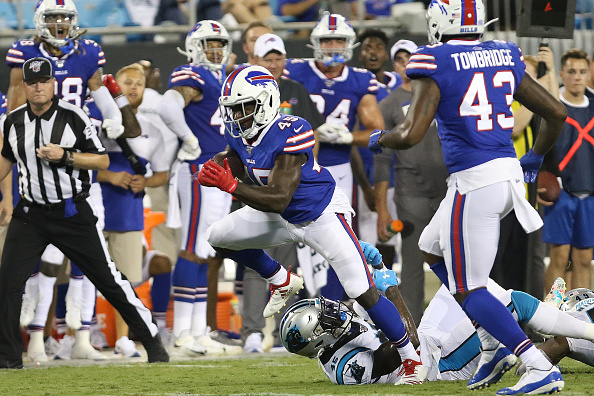 The pre-season is where NFL teams fill out their roster and determine their starters for the upcoming NFL season. Players battle each other for roster spots and success is rewarded with roster spots. Undrafted rookies look to prove teams wrong and veterans look to keep their careers going and evade the youth from overtaking them. All of these stories are taking place during the Buffalo Bills pre-season and it is an interesting story to follow. Here are 3 Bills winners and losers from pre-season week two.
Buffalo Bills Pre-Season Week Two Winners and Losers:
Winners:
1. Christian Wade, RB
Christian Wade has been a sensation this pre-season. The former Rugby player has impressed in his limited time during Buffalo's first two games. His first NFL carry went for a 65-yard touchdown and his first NFL reception went for 48 yards, two yards short of a touchdown. Wade's big-play ability has put him in the conversation for Buffalo's fourth running back spot.
Veterans LeSean McCoy and Frank Gore have the top two spots seemingly locked down and rookie Devin Singletary has impressed this pre-season as well. T.J. Yeldon has struggled and may find himself back on the free-agent market if he does not improve in the final two weeks. Yeldon's struggles give Wade an opportunity to keep his NFL dream alive after the pre-season if he continues to impress.
Kevin Johnson was once a first-round draft selection for the Houston Texans, but he failed to live up to his draft value. He has landed in Buffalo and is looking for a second chance. The Bills' third cornerback spot has been an interesting battle so far. This week, Johnson took a leap forward by returning a Will Grier interception for a touchdown. Buffalo will keep at least four cornerbacks this season and Kevin Johnson's performance this week gives him a good chance at being in that group of four.
3. D'haquille Williams, WR
Williams had a small contribution in week one of the pre-season but made up for it in week two. Williams had three catches on four targets in week two and had a touchdown as well. He totaled 38 receiving yards and had the best wide receiver performance for the Bills in week two. Williams is fighting for the bottom half of the Bills' receiver depth chart. He had an impressive week and can make the roster if he continues to perform.
Losers:
Senorise Perry had a touchdown in week one of the pre-season and looked to be trending upward for Buffalo, but week two did not give the same feeling. Perry fumbled his first carry, which resulted in a turnover, and did not see the ball again. This same thing happened in week one to T.J. Yeldon. Bills' Head Coach Sean McDermott has shown that he will not tolerate fumbles at the running back position. Perry had an uphill battle heading into the pre-season and his week two fumble combined with Christian Wade's emergence has him looking like an easy cut for Buffalo.
Tyree Jackson is a big-bodied quarterback who surprisingly went undrafted in this year's NFL draft. It is less surprising now after Jackson's pair of performances this pre-season. Jackson went 4 for 10 passing and threw an interception. He also fumbled, but Buffalo recovered. Making an NFL roster as an undrafted free agent rookie is a tough road. Pairing that with weak performances in the pre-season makes it seemingly impossible. Jackson will need to bounce back in a big way to make the Bills' 53-man roster.
David Sills is another Bills undrafted free agent rookie who has had a tough time getting things going so far. Sills did himself no favors in week two failing to catch his only target. Sills is an example of a player who may miss a roster simply due to not getting the opportunity to show his skills. There are a lot of receivers trying to make the Bills' roster and they can't abandon the running game either. This means some receivers will have limited opportunities to impress and failing to catch a pass does not make the coaches want to throw it to you again.
Main Photo:
Embed from Getty Images