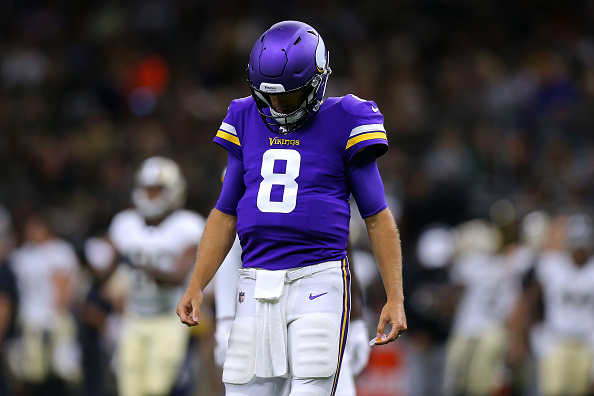 Pressure is a word that any NFL quarterback with the most to prove can certainly relate with. Each game, the ball is in their hands on every offensive play. With that sort of responsibility, times can get tough and patience can run thin with the coaching staff. You're always going to have a handful of guys whose job is, to say, secure. Others are fighting for it with every step they take on the field. Let's take a look at those who are facing some extra scrutiny and have the most to prove during the upcoming season.
NFL Quarterbacks With The Most To Prove In 2019
Like many NFL passers in the realm of average, Jameis Winston can make it look smooth with all the right things clicking for him. Whether he has four or more seconds to throw or his slot receiver is wide open on a crossing route, Winston can certainly get the job done. The problem is, more times than not, things aren't running fluid in that Buccaneer offense. Only four of his 19 total passing touchdowns in 2018 came from outside of the red zone. That is expected to change with Bruce Arians taking over the offense. The former O.C. for Pittsburgh and Arizona has a track record of high flying passing attacks. Couple that with a potential rising star tight end O.J. Howard and the far more proven pass catcher Mike Evans, and things can get pretty explosive quickly in Tampa Bay. 
You'd think in 2019, the verdict would be out on a quarterback who was drafted in 2011.  Maybe it is, and Cincinnati is truly comfortable with the 'Red Rifle' under center. I have some different beliefs. Another season of missing a playoff spot and the Bengals will truly be moving forward with their future. We're talking about an organization that at one stretch in this past decade managed four straight first-round playoff exits. In turn, they elected to let go of Marvin Lewis, their head coach, rather than the signal-caller.  With that said, Dalton is certainly capable of delivering when needed. In fact, Pro Football Focus had him as the 12th highest rated QB last season. He's a seasoned veteran who understands the game well. Now we're just waiting on that move to the next level while he still has the chance. 
Derek Carr is an enigma. After an MVP-like dominating 2016 campaign, the Raiders pulled out plenty cash for the Fresno State product. They inked him safely through 2022.  Since then, over the past two seasons, Carr has put together 49 touchdowns to 23 interceptions. On paper, that seems more than efficient enough but the Raiders have missed the playoffs two years running. Along with that, Carr's pocket awareness is lacking at times and his inability to hold on to the football shows that. He coughed up the ball 20 times since the start of 2017, including a league-leading 12 last season. Some of that is attributed to what has been a poor offensive line in Oakland. Above all, Carr has to take the leap in 2019, especially with the addition of star receiver Antonio Brown.  
A man who was seemingly the heir apparent to Tom Brady, Jimmy Garoppolo is now ready to take control with the keys the kingdom in San Francisco.  The only concern is, do we even know if he has what it takes to be franchise QB?  The 49ers seem to think he does.  All I know is he has a very small sample size for someone who is getting paid close to 30 million dollars per season. Garoppolo has been pretty proficient in 10 career starts for two teams. But something to keep note of was his four fumbles in just a matter of three games prior to his 2018 season-ending injury. Working with a mastermind coach like Kyle Shanahan will aid his progress tremendously. So while the body of work isn't built up much yet, there's plenty of promise for "Jimmy G" moving forward.
When you take a look at the numbers, Kirk Cousins actually had his most efficient season as a starter in 2018. He tossed 30 touchdowns and threw a career-low 10 interceptions. But as we know, there's much more to the game than the stat sheet. Cousins seemed to struggle during late-game moments or critical situations. Ultimately, the Vikings missed the playoffs and that's not going to cut it. Not for a quarterback that at the time of his signing was the highest-paid at his position and the first to receive a fully guaranteed contract. Minnesota has Cousins locked up for two more seasons, and you can best believe they are depending on him to lead down the stretch. With running back Dalvin Cook back in the backfield mix this season, Cousins' play should open up even more. It is time for the Vikings to truly discover what they paid for.
Last Word on Unproven QBs
Whether they're playing in a contract year or they have a young backup barking up the tree, there are different ways a starting quarterback with the most to prove can find the motivation to bring out the best in themselves. I gave you an idea of who has the most to prove but there are at least another half dozen players who are in a similar situation to the ones listed above. Now in a matter of weeks, we get to see how it all begins to play out.
Main Photo:
Embed from Getty Images