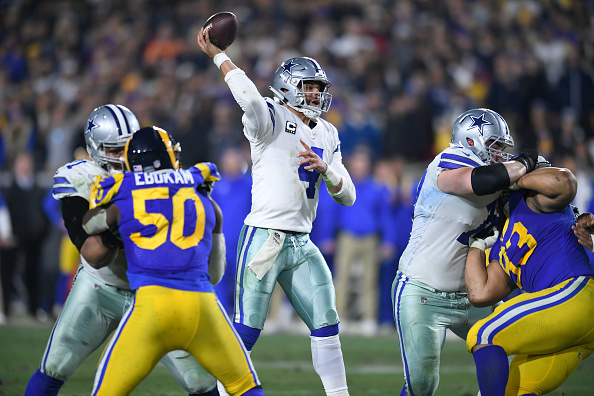 In this part of the divisional quarterback rankings series, we dive deep into the NFC East quarterback rankings for the 2019 season. Let's look at how their quarterbacks rank going into the new season.
2019 NFC East Quarterback Rankings
4. Case Keenum
While all four NFC East quarterbacks have stayed consistent to themselves over the past two years, the Washington Redskins seem to have the least security at the position of quarterback. The best indications are that Case Keenum will be the starter at least at the beginning of the season. With four other quarterbacks on the roster, any mistakes can easily make Keenum replaceable.
The main area Keenum had a problem last year was interceptions. Keenum just doesn't have the stats to back up that many interceptions. And while he is an okay runner in a pinch, he can't rely on his legs to make the big plays. He will need to tighten up his accuracy and get more yardage and points on the board to keep his starting position.
3. Carson Wentz
Carson Wentz could have easily been put in the top two of this division, but his injury history is what's holding him back. Wentz hasn't put up the same numbers he did in 2017 when he set the Philadelphia Eagles up for their super bowl run. A run that he, unfortunately, missed due to injury. This was not only personally devastating to him, but a huge missed opportunity to gain playoff experience.
While Wentz's numbers were certainly respectable last year, they weren't near what he is capable of. With five missed games he still put up just over 3,000 yards and 21 touchdowns. Injury has prevented him from getting as much playtime as he could. With the receiving weapons he has on the field, and a healthy season, he could do another playoff push easily.
2. Eli Manning
Eli Manning comes in as number two in this list. Indeed some may debate this choice. Manning still has enough in the tank to keep this spot. While he has a great resume and two super bowl titles under his belt, over the past few years his numbers have been shaky. Of course, a much needed but yet non-existent stat is the 'should have been caught'. Manning has the horrible luck of hitting his receivers right in the numbers and they still are not catching them. Making his numbers look worse than they should. For example, in 2017 Manning had the most dropped passes in the league (43), hurting his numbers and the win/loss record. The next closest QB with dropped passes is Derek Carr and Phillip Rivers both with 35.
No quarterback had to deal with more dropped passes than Eli Manning in 2017. pic.twitter.com/Kkhai8pv21

— PFF (@PFF) May 17, 2018
He also is a straight-up pocket quarterback. He has little skill in scrambling and almost none in running the ball in a pinch. With those limits, Manning needs to take command of his team in the general role as all quarterbacks must be. The inconsistency of catching can't all be blamed on Manning, but perhaps extra drills or working on communication will bring Manning's numbers up and the wins up for the New York Giants.
1. Dak Prescott
Why is Dak Prescott ahead of the other NFC East quarterbacks? He has several things going for him. For one, he's younger than Manning, therefore he has a lot more stamina than Manning has left in the tank. While Prescott's numbers aren't hugely better than Manning, unlike him he can run when the pocket collapses. Six times in each of the past two years he has scored a touchdown when he has run the ball. This makes him a double threat to the defenses he goes up against.
When Prescott took the helm for the injured Tony Romo a few short years ago, he showed he could lead the team. He is now positioned firmly to be the future of the team. However, Prescott needs to produce soon as the Dallas Cowboys front office is currently mulling over a contract extension.
In Conclusion
The NFC East is usually a tightly contested division and 2019 should be no different. The weakest link of the group would have to be the Washington Redskins as of this moment. Whether they can turn things around will depend on whether Keenum can take control and do it.
Also, Manning, as good as he is, only has a limited amount of time left in his career. If he is going to make another push for a third ring, he needs to step up now and get it done. How will this division play out? We shall soon see.
Main Photo:
Embed from Getty Images