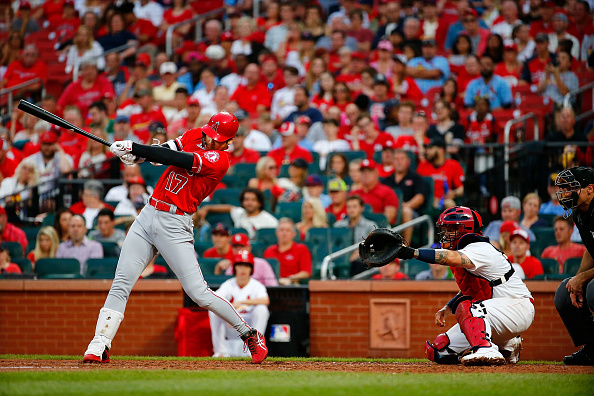 The participants for the 2019 MLB Home Run Derby have not yet been announced, but Shohei Ohtani said he would be "honored" to compete in the event. The Los Angeles Angels' designated hitter has not been formally invited to the event as far as we know and he has not discussed it with the Angels. Nevertheless, imagining Ohtani belting 450-foot home runs at Progressive Field in front of a nationwide audience is a fun exercise. Not to mention, a new $1 million prize for the winner makes the Home Run Derby as intriguing as ever.
In his second MLB season, the two-way phenom is limited to a full-time hitter. He underwent Tommy John surgery in his throwing arm during the offseason, preventing him from taking the mound until 2020. Nonetheless, Ohtani is proving his value at the plate. Here's why Ohtani should be invited, and why he could win.
Shohei Ohtani is Open to Competing in the 2019 Home Run Derby
The Productivity is Back
In 2018, Shohei Ohtani hit 22 home runs and slugged .564 en route to American League Rookie of the Year honors. He also showed his ability to hit for contact, finishing the year with a .285 average. It took him just 104 games as a hitter to reach those numbers.
Ohtani's 2019 numbers will likely be an improvement. He has already racked up nine home runs in just 170 plate appearances. Ohtani suffered from a sluggish start after returning to the lineup in May, but since has bumped his slugging percentage to just under .500 while manning the middle of the Angels' order.
His numbers shot up during the month of June, with an OPS nearing 1.000 and 17 RBIs in just 21 games. He also became the first Japanese-born player in MLB history to hit for the cycle, accomplishing the feat in Tampa Bay.
The Legendary Bombs are Garnering Attention
More impressive than Ohtani's in-game numbers are his legendary batting practice shots. Gaining a kind of social media following themselves, Ohtani's bombs during pre-game batting practice reach seats in Angel Stadium that few others ever have. His swing is quick, clean, and without much unnecessary motion. Yet somehow, Ohtani is able to generate enough power to launch balls close to 500 feet away from home plate.
His batting practice sessions were made for the Home Run Derby. Imagine Ohtani following up sluggers like Christian Yelich, Cody Bellinger, Joey Gallo, and Vladimir Guerrero Jr. His ability to lift the ball out of the ballpark is perfect for the prime time, national television attention that the derby demands.
Ohtani Hits the Ball as Hard as Anyone
Baseball today is all about the advanced analytics: home run distance, launch angles, and exit velocity. The Home Run Derby provides a platform for the most powerful hitters in the sport to showcase their baseball-crushing ability.
Ohtani's average exit velocity on batted balls this season is 93.5 mph, good for 16th in baseball. In that category, he beats out superstars like Bryce Harper and J.D. Martinez, as well as past participants like Joc Pederson and Ryan Braun.
Ohtani's swing is capable of competing against the best in baseball. Not only would Ohtani be downright fun to watch, but he would also have a chance to show east coast baseball fans what he does on a nightly basis in Southern California.
Main Photo:
Embed from Getty Images