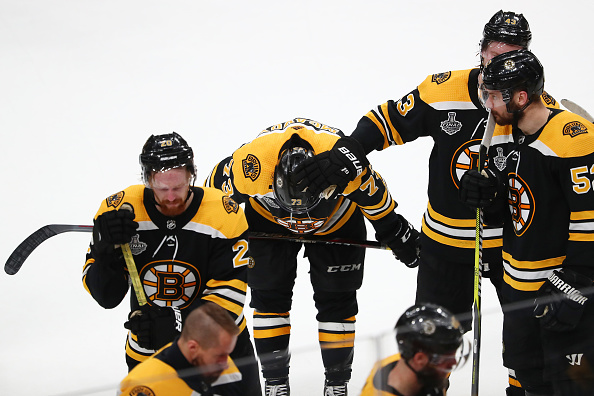 Devastated, heartbroken, and sickened. Those are just a few feelings many Bruins fans are carrying amidst the game seven loss to the St. Louis Blues. The city of Boston was buzzing hours before the big game, but it now sits in silence and emptiness, questioning the Bruins future.
But Boston has been through this. The city knows how it feels to win, but it sure knows how it feels to lose. Life will go on and although the memory will forever sit in the mind of players and fans, it will not define what the Bruins represents.
A season filled with ups and downs ends with the biggest freefall possible. However, the future of this team is not in trouble or in question. We won't see a blowup as we did in the 2014 and 2015 seasons. The Boston Bruins have been built from the ground up in these past few years and many of the decisions made were for this exact situation. Boston has depth, they have talent, and the Bruins future is as bright as ever.
Boston Fans Shouldn't Be Worried About the Bruins Future
Top Line is Still a Top Line
The poor play from the Bruins top line this past post-season has caused many to question this line's ability to mesh with each other and rightfully so. However, let's not forget what they did in the regular season. Brad Marchand had his best season to date, totaling 100 points and scoring nearly 40 goals in 79 games. Patrice Bergeron was his regular self, accumulating 79 points in just 65 games. He was also a +23 which was good enough for 22nd in the NHL. David Pastrnak continued to shine in his young career, scoring 38 goals and totaling 81 points in just 66 games.
With Bergeron expiring in 2022, Pastrnak expiring in 2023 and Marchand expiring in 2026 offseason, this top line is going nowhere anytime soon. Baring some major trades, these three will be together at least until Bergeron retires. Either way, the next 3-4 seasons will feature these three together.
Although their performance in the playoffs and more specifically the Stanley Cup Finals was very lackluster, they still deserve recognition for what they did over the course of the season. Their poor playoff performance has caused people to forget how dominant this line really is. They weren't proclaimed as the best line in hockey because they were mediocre. Although the playoffs may have said otherwise, this line will continue to dominate the NHL.
Healthy Mix of Veterans and Young Guns
It goes without saying that the Boston Bruins have some of the best leaders on and off the ice. Patrice Bergeron is quite possibly the most likable guy in the NHL. Along with that, his leadership skills are also second to none. Zdeno Chara has held the "C" since 2006 and although his play off the ice continues to decline, his voice in the locker room is undeniable. Brad Marchand and David Krejci complete this quartet of veterans on this roster and behind the obvious needs for a playoff team, veteran leadership is very important.
Boston went through a quick rebuild from 2014-2016 and it is starting to pay off immensely for the Bruins future. In that span of just three drafts, the Bruins drafted David Pastrnak, Jake Debrusk, Brandon Carlo, and Charlie McAvoy. All four of those players have had substantial impacts on this team. Not to mention, the Bruins have numerous prospects in the system from these years that may have an immediate impact next season. Guys like Urho Vaakanainen, Trent Frederic, and Jeremy Lauzon may be used to fill some voids left by expiring contracts this offseason.
Boston has one of the most unique team builds in the league. With an average age of just under 29, they don't exactly scream youth. However, they aren't a team viewed as "old" either. This is why the makeup of teams like this have worked so well in the past. Chicago in the early 2010s was built off veterans like Marian Hossa, Brent Seabrook, and Duncan Keith, while still maintaining a youthful trait with guys like Jonathan Toews and Patrick Kane. Although the Bruins may not mirror this team to a tee, the framework is generally the same. Mix veterans with quick and young players; good things will happen.
Are the Bruins Bound For Another Trip to the Cup?
A heartbreaking season leaves everyone wondering what went wrong. mistakes and decisions are critiqued. Quite possibly the most promising Boston Bruins team in recent years has been defeated. But that doesn't mean another trip isn't in the Bruins future. A tough Eastern Conference will challenge Boston for many years to come, but I caution Bruins fans about writing this squad off too quick.
The offseason will go by, changes will be made, and lineups will change. But do not worry loyal Boston fans, your team will revamp, retool, and reignite the burning passion for the o so coveted Stanley Cup.
Main photo:
Embed from Getty Images