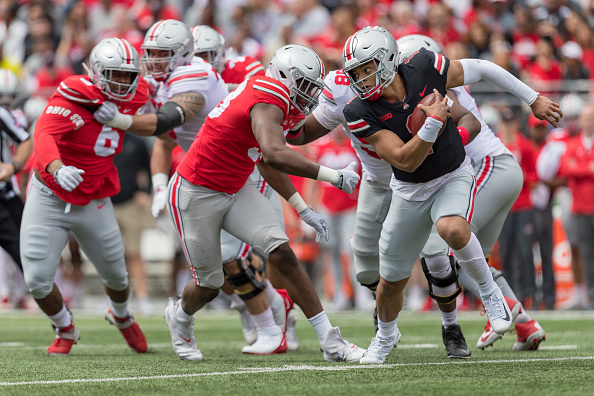 Following up with the previous installment, would bowl game success and recruiting in the Big Ten Conference go hand in hand? The past 19 years of bowl games, recruiting rankings, and coaching moves certainly provide some insight. Eight teams have been represented thus far, so who will top out the B1G?
Is There A Link Between Bowl Success and Recruiting In the Big Ten? Part 2
Maryland (Average Class Ranking: 34.60)
Coaches: Ron Vanderlinden, Ralph Friedgen, Randy Edsall, D.J. Durkin, Matt Canada, Mike Locksley (twice)
A school that many would have included in the lower half would have to be Maryland. Despite fighting with Rutgers for the bottom of the B1G East Division, Maryland has had decent success on the recruiting trail. This success actually comes in spite of a meager 5-5 bowl record. Would you believe it if I told you that Maryland actually has a conference title since 2000? The Terrapins won the ACC in 2001 and was rewarded with better-recruiting classes in the next three cycles. Their current Junior class was ranked 18th in the nation, so maybe they can compete within their division this year.
Michigan State (32.25)
Coaches: Bobby Williams, John Smith, Mark Dantonio
Aside from a rather abysmal 2016 campaign, the Michigan State Spartans have been a model of success and consistency. Despite the fact that they have won the B1G three times and have a 7-7 bowl record, Michigan State does not garner pre-season hype. Their best recruiting class was their class of 2000, which was ranked eighth. An interesting pattern within the bowls and recruiting has to do with their appearance in the College Football Playoff. Leading up to the game, their recruiting classes were trending upwards. Starting in 2013, Michigan State signed the 37th, 26th, 23rd, and 17th ranked classes, respectively. After getting completely demolished by Alabama, the Spartans signed the 36th, 31st, and 30th ranked classes, respectively.
Nebraska (25.80)
Nebraska kicks off the final four of the B1G teams who can and will utilize their history and brand to recruit. As the proud owners of a single conference championship (Big XII, 1999) and an 8-8 bowl record, Nebraska has posted a top-20 class five. Of those five, their most recent class (ranked 18th) is their highest ranked class since their 16th ranked in 2011. With the addition of Scott Frost, as well as their strong finish to the 2018 season, it can certainly be reasonable to expect that the Cornhuskers will contend for the B1G West Division. However, to do this they must get back into the bowl conversation, considering they were left out each of the last two years.
Penn State (22.55)
Coaches: Joe Paterno, Bill O'Brian, James Franklin
Don't tell James Franklin, but Penn State's recruiting classes have been elite as of late. Outside of the outlying 2012 class, which was ranked 47th, Penn State has posted six top-20 classes since 2009. This lowly-ranked class makes sense considering the atmosphere, scandal, and confusion surrounding the program following the 2011 season. The Nittany Lions have won the B1G three times since 2000 and own a 7-7 bowl record. Penn State will continue to compete for the B1G East title and their bouts with Ohio State and Michigan will be what decides it all.
Ohio State University (18.45)
Coaches: Jim Tressel, Luke Fickell, Urban Meyer, Ryan Day
The Ohio State Buckeyes are the single-most dominant program within the B1G in the last two decades. Despite knowing this, why are they still ranked second behind their arch-rivals? Between 2003 and 2007, the Buckeyes signed three classes ranked lower than 50th in the nation! Buckeye fans love to remember the 2002 Fiesta Bowl against Miami (FL), but they want to forget the 2006 and 2007 BCS National Championship games. Well, considering that their 2007 class was ranked 72nd nationally, it seems like the recruits also wanted to forget it.
By hiring Urban Meyer, Ohio State launched themselves into the top 10. Meyers lowest ranked class was in 2015 after the Buckeyes went on their historic College Football Playoff Championship run. Since 2000, the Buckeyes won the B1G ten times (I am counting the 2010 campaign) and own an 11-8 bowl record. Ryan Day's first class as Head Coach is ranked 14th, so the Buckeyes are not going away.
Michigan (12.95)
Insert: Hail! To The Victors. The Michigan Wolverines actually possess the best average recruiting ranking in the B1G, despite only winning the B1G three times, the most recent of which was in 2004. Jim Harbaugh has gotten Michigan back to national prominence, but he does have work to do. Lloyd Carr was routinely signing highly-ranked classes. Both Rich Rodriguez and Brady Hoke started off strong on the recruiting trail but severely declined before being let go. At Michigan, if you do not beat Ohio State, you do not survive. If Michigan's 2019 campaign ends with more than three losses, expect the seat for Harbaugh to get increasingly hot.
Last Word
Did you expect Michigan to possess the highest average recruiting class? Given the absolute dominance that Ohio State has enjoyed within the B1G since 2000, I would be surprised if this result was expected. So, is there a link between bowl success and recruiting within the B1G? In my honest opinion, no. However, it must be noted that each of the B1G champions (outside of Ohio State after the 2006 loss to Urban Meyer's Florida) enjoyed better-ranked classes. It seems that recruits care less about bowl success and more about conference championships. If a team un-seats the Buckeyes and enjoys their level of success in these next two decades, look for the recruiting landscape to switch to their favor.
Main Photo:
Embed from Getty Images